Social & Emotional Learning (SEL)
Rearrange the Desks: Reposition the Students' Seats to Help Retain their Attention
Move the chairs to open their minds.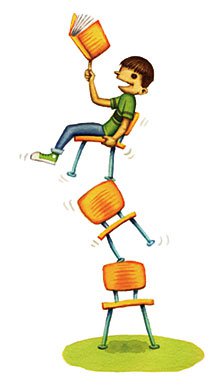 Credit: Hugh D'Andrade
Long gone are the days when desks were literally bolted to the classroom floor. (Did anyone really want to steal those uncomfortable contraptions?) Yet in some of today's schools, they might just as well still be permanent fixtures, lined up in a grid with regimental rigidity. Students continue to sit in the back of classrooms, unable to hear or see well, disengaged and eventually discouraged, while their teachers long for inexpensive ways to improve the classroom's effectiveness.
Enter Franklin Hill, a well-regarded facility planner and futurist who advises educators on how to do just that. "School classrooms should have no bad seat," says Hill, a former middle school and high school teacher. "Poorly designed learning environments distort the information presented to our students by hindering their ability to see and hear and participate. This hampers their ability to learn."
For nearly two decades, his Bellevue, Washington-based educational-design firm, Franklin Hill & Associates, has worked on major projects throughout North America, including the Disney Celebration School. But Hill is keenly aware that most public educators don't have the luxury to design a school from the ground up -- or even renovate existing structures.
Despite limited resources and occasional administrative resistance, however, Hill believes public school teachers can enhance learning in their classrooms simply by applying what he calls "no-cost or low-cost" solutions that include making sure no student is more than 15 feet from the instructional source, whether that's a teacher, an overhead projector, or a video screen. He also advises being aware of light sources to prevent glare on computer screens or chalkboards. He cautions against seating arrangements that either create awkward viewing angles for students or prevent them from hearing information clearly. However self-evident such tips may seem, if they're overlooked, as Hill claims they frequently are, students easily can be stymied.
Robert J. Wankmuller, science chairperson for the Hauppauge School District, on New York's Long Island, knows this firsthand. When he taught chemistry in another school district, Wankmuller had two classrooms with different seating arrangements. One had tables and lab stations in the middle of the classroom, where students faced each other the entire period; the other combined rows of desks in the front of the room with a lab-activity and cooperative-learning area in the back.
"I saw a big difference in student behavior," says Wankmuller, explaining that kids in the classroom with two distinct areas behaved better and performed better on exams. "It wasn't because they were any brighter. It was the seating."
Wankmuller says seating arrangements should reflect the type of activity going on. "Students need to know that different things are expected of them based upon where they are sitting. They should have a different mind-set [for each area]."
So, he explains, in the lab and cooperative area, they should be talking together and figuring things out. When they're arrayed in more traditional rows of front-facing desks or chairs, they should raise their hands when they want to ask or answer questions.
"Students need to see some direct connection between what they hear in lecture and what they do as a hands-on activity," Wankmuller says. The transition from one classroom layout to another can be used to segue between one approach to learning and another. "When they regroup, they need to talk about what they discovered [in the other setup] and link that to the next topic. It's not easy to do, but the variety helps them focus."
Evantheia Schibsted is a contributing writer to Edutopia.