Professional Learning
Sometimes All It Takes to Spark Literacy Is a Little Effort
I have always loved books, and love reading. When I was a child, I told my mother I was born reading, but she just laughed.My mother taught me to read when I was three. She was of Native American descent and wanted to make sure I was able to go to school in my own community, and not at a boarding school. She made personal storybooks for me. I read highway signs. We wrote about our adventures, and I drew pictures. (What I love about books is how they make pictures in your mind.)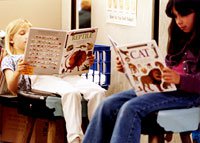 When I first started teaching, I thought about ways to help kids learn to love reading. I took a course from a librarian who had us reading stories with flashlights (scary stories), bedtime tales, and adventures -- just so many ways to tell stories. We selected poems to share, and made a picnic lunch with the favorite foods of a main character from beloved children's books.
I would often read aloud to children to get their imagination and ideas started with a really good book. But I wanted my students to want to create and tell their own stories. Therefore, I allowed the students to select their own topics based on personal interests. The storytelling process became a creative and artistic endeavor that included not only words but pictures and personal drawings, too.
There was a parent who would find paper from the trash of a print shop and make little books for us to use in the classroom. I felt that drawing made writing easier for those for whom words were hard to come by. I would tell them to explain the picture, and we would write the words. They would read their stories to me. What a joy it was to hear their stories! And they had hand-drawn books to take home.
I learned to know my children a lot better through these stories. Sometimes I would tell my own. It created a bonding. Reading aloud teaches children to listen. When you listen to a child, and remember what they share, it makes a big difference, particularly to minority children, who sometimes feel out of the loop. (The problem for many at-risk children is that they do not own books, and do not practice the habit of reading for pleasure. I always tried to help them own reading as a delightful, personal thing.)
One magical year, when I was first on the Internet, a person I met online inquired as to whether she could help me create libraries for my students. She would give a book to each child in the class, and, after they completed it, she would send them another book to read. She was a suburban mother, not a wealthy woman, who, with her daughters, did this work to help at-risk students. She and I would think and plan online together: What book would most of the kids like to read, and what book would they finish? We would make lists and discuss this task. We worried about whether the kids even wanted a book to own. We decided to have them create a personal library.
This is how it worked: First, each student received a personal letter from the woman and her daughters. Each child in the class responded to the letter, and was rewarded with a book. At first, we received all the books in a big package, but we then thought it would be exciting for each child to get a personally addressed package.
We worried about the children who lagged a bit on the books. But when the mail came and others got their books, most of these kids were inspired to read and finish their books. They just read at different rates. I started worrying about how much the books were costing the benefactor, because some of the children started and finished books in record time!
After completing their books, the kids would write to the benefactor and discuss their impressions. This communication with their special friend outside the classroom was critical.
At the end of the year, these poor kids had a minimum of thirty-two books, and one child had fifty-two -- and this was in addition to all the required reading that we had to do. Reading and writing just became natural for those children.