Professional Learning
Rain Check: Backup Systems Move Front and Center
Disaster preparedness in schools gets serious.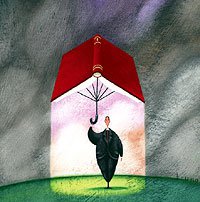 Credit: Bruno Budrovic
The most alarming headlines of the past decade -- school shootings, terrorist attacks, tsunamis, and bird flu outbreaks -- make this prediction something of a nobrainer. Hurricanes Katrina and Rita hammered the point home: The antiquated evacuation plans and duck-and-cover drills of the nation's schools don't come close to adequate anymore. Disaster planning will become more extensive and realistic this year as schools face their own vulnerability, and communities, loath to replicate the specter of an entire city's schools shutting down, demand that they prepare.
A preview of these impending changes came just weeks after Hurricane Katrina hit, when administrators in Louisiana's nearby Calcasieu Parish Public Schools learned that their district was projected to come under the eye of Hurricane Rita. Organizing quickly, Sheryl Abshire, the district's administrative coordinator of technology, and her staff took the computer servers containing their critical data -- student attendance and achievement records, staff service histories, payroll information -- and personally drove them to safety in northern Louisiana and Texas. After the hurricane, with staff still scattered around the country, the team came back through National Guard checkpoints, fired up the central office's natural gas-powered backup generator, restored the computer system, and deposited everyone's paycheck on time, even though the schools remained closed for thirty-four days.
Elsewhere in the region, where school staff did not get paid, "what was a natural disaster turned into a personal and human disaster," recalls Abshire, who is also president of the Consortium for School Networking.
The lesson? It is not enough for a school or a school district to sketch out a safe evacuation or lockdown plan. Districts will now have to plan how to continue operating when local infrastructure and school buildings are damaged or destroyed. As more critical information is stored on computers, they will have to back up their data somewhere far, far away. (Imagine, suggests John Ketterer, associate professor of educational resources at Alabama's Jacksonville State University, that your school in New Orleans had backed up all its health records in Biloxi.)
The business world understands this notion, calling it business-continuity planning, but Ketterer says schools remain extremely vulnerable. It's hard to develop and test recovery plans with limited resources and time, but, as Abshire argues, educational systems are a community's scaffolding; when they fail, as they did in New Orleans, the fallout hurts in ways we have yet to measure. School districts, whether impelled by their own foresight, parent demand, or, in the not-too-distant future, state law, will soon have no choice but to get it done.