Teacher Collaboration
Solving Student Problems as a Community
Using weekly staff meetings and peer mediation to address conflicts and other student issues.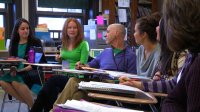 Overview
The faculty at University Park Campus School (UPCS) meets weekly to address problems from student conflicts to social media safety, solving problems before they get out of hand, actively meeting their students' needs, and creating an environment where students feel supported to tackle any challenge -- no matter how big.
"We have a diverse urban population, and the range of issues we have is pretty broad, whether in or outside the classroom," says Dan St. Louis, University Park's principal. "Because we do so much team problem solving, our kids know that they're not alone, they know that a team of smart adults are on their side, and that no problem is too big to be addressed in some way. It doesn't mean that we can fix everything tomorrow, but nothing can't be addressed."
How It's Done
Make Time in Your Master Schedule
The first step for any school aspiring to foster a problem-solving culture is having its leaders commit to prioritizing this approach. Every week, the UPCS faculty meets in a classroom, arranging student seats in a circle to discuss issues that have arisen and how to address them. They meet for one to two hours weekly, depending on how much they need to cover, but two hours are always available for this meeting.
"When we build the schedule every year, the two-hour entire-faculty common planning time is the starting point," says St. Louis. "Nothing will conflict with that. We will move heaven and earth to keep that time sacrosanct because we believe in it that much."
To support this faculty-wide common planning time:
Most students take internships or enrichment classes like health and music during this time so all core teachers can meet.
Student teachers are brought in to cover classes.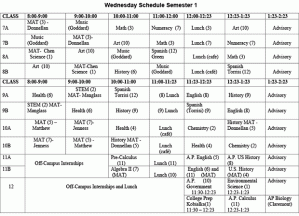 Image credit: University Park Campus School
The staff schedules its team problem-solving meeting from 8-10AM when students are at their off-campus internships. (Click image to enlarge.)
"We don't have kids falling through the cracks, because we meet every single week and address what's going on," states St. Louis. "There's nothing quite like getting everyone in a room, getting everyone's brains on the same issue right now, and coming up with a solution."
Build Your Problem-Solving Team
University Park's team problem-solving meetings include the entire faculty -- core teachers across all grade levels, instructional coaches, adjustment counselors, guidance counselors, and administration -- to address the needs of all 252 students from grades 7-12.
Tip: Bring a range of perspectives from different staff members to solve student behavioral and social issues.
Frequent, transparent communication among staff who work with the same students is the foundation of team problem solving. St. Louis emphasizes that as long as teachers with students in common can meet to talk about those students, it's still possible to meet their needs through problem solving without gathering the entire faculty. "We're a small school," he explains, "but the essential structure -- working in teams -- is the same for any size school. We only have one team, but even if you've got two or three teams, it would still be valuable if you've got the same folks talking about the same kids."
If you're a larger school, instead of having one schoolwide team, you can create multiple teams -- a middle school and high school team or grade-level teams, suggests St. Louis. With multiple teams, it would also be important to schedule time for cross-team communication, and that could take place during regular faculty meetings.
Create an Agenda to Maintain Focus
To stay on track and ensure that each issue gets addressed, University Park's problem-solving meetings are agenda driven. Staff members email Principal St. Louis during the week or come by his office to add issues to the agenda, and each Monday, he emails everyone an update on what to expect at the Wednesday meeting.
Tip for Principals: Create an open-door policy.
Frequent and open communication is important for creating a problem-solving culture. St. Louis always has his door open, and faculty and students know that they can drop by anytime to discuss problems that they're facing and add them to the agenda. "There might be as few as ten or as many as 20 items that we need to address," he says. "Some are small and some are bigger. It's agenda driven so that we can stay on track."
This is how the agenda is typically handled:
Principal St. Louis will go over the agenda item by item.
Whoever added the item will share the problem and update the team on its current status.
The team will discuss what they'll do about the problem and delegate ownership over carrying out the solution.
Sometimes the solutions are simple. In the video above, when St. Louis shared a conflict that occurred between two students, one teacher came up with the idea of a five-minute check-in with those students every day after school. Not every issue has an easy answer, and when that's the case, it's best to delegate to smaller groups to keep the meeting moving.
Delegate to Solution Groups
Once the team comes up with a solution, the entire faculty won't carry it out, but it will be delegated to one person or a small group. With a wide range of faculty at the meeting, it's easier to immediately delegate follow-through to the appropriate people.
"The solutions may range from connecting a younger student with a mentor or tutor, referring a student into our student support process, calling parents in for a meeting, or asking the student adjustment counselor to check in with someone, to asking older students to present a workshop to younger students," explains St. Louis.
Tip: Look for opportunities to involve students in problem solving.
When University Park discovered that some students were using online dating sites, they thought it best to have their student peer mediation group solve that issue by presenting on internet safety to other students. "Sometimes hearing it from a student perspective is better for our kids," says Kaitlin Kelley, the school's instructional coach.
Create a Student Peer Mediation Group
At University Park, two faculty members lead the student peer mediation group: the guidance counselor and the school adjustment counselor. The group, consisting of upperclassmen, meets during lunch when issues arise.
There are two levels of peer mediators: a group of seniors and a group of juniors, says Lauren Mills, a UPCS adjustment counselor. One senior fills the role of peer mediation coordinator, which entails keeping track of paperwork and scheduling times for mediators and disputants to meet during the day. "The seniors train the juniors in the techniques of mediation, along with support from the advisors," explains Mills, "but the rest of the team works together without any other specific roles."
Both the guidance and adjustment counselors oversee the whole process, including:
Selecting mediators to join the peer mediation group
Training mediators
Promoting the program at the beginning of each school year
Suggesting specific mediations
Brainstorming more global and proactive ways for the mediators to be helpful within the school community
Peer social issues -- such as cyberbullying, internet safety, and conversations about racism -- are commonly brought to the student peer mediation group. "We use the mediators to help us with issues that have to do more with the school community, rather than confidential individual student concerns," says Mills.
Tip: Students are more likely to listen to and act on advice given by their peers rather than faculty.
"Our kids see themselves as problem solvers and keepers of the culture," says St. Louis. They come up with a variety of ways to solve these issues, such as school assemblies and class discussions. "Sometimes our mediators break away from the standard four-person peer mediation module and help follow up on individual conversations with disputants, do check-ins along the way, and even lead smaller group meetings to resolve issues with those involved," adds Mills.
Be Proactive yet Flexible When Problem Solving
Some problems can be solved quickly, and others take more time. However big the problem, UPCS figures out what first step can be acted upon immediately. Although they make quick action a priority, they also need to be flexible and patient. Not every plan works out.
Tip: If the problem isn't solved, bring it up again at the next meeting, and ask who else has an idea on how to solve the problem.
"Sometimes it's a multi-year process," admits St. Louis. "We want to provide some sort of support tomorrow, but be patient enough that if that doesn't work, we'll try something new the next day. But above all, we show students that they do not need to hide from their problems out of embarrassment or shame. They have the power to address and take charge of their lives in healthy ways."
School Snapshot
Grades 7-12 | Worcester, MA
Enrollment
252 | Public, Urban
Per Pupil Expenditures
$13794 District
•

$14518 State
Free / Reduced Lunch
82%
DEMOGRAPHICS:
52% Hispanic
20% Asian
14% White
10% Black
3% Multiracial
1% Native American
Demographic data is from the the 2015-2016 academic year. Fiscal data is from the 2014-2015 academic year.