Student Engagement
Having Students Lead Parent Conferences
When students guide the parent-teacher conference, they take ownership of their learning.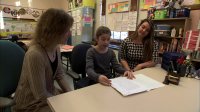 Overview
Students Take the Lead
Parent teacher conferences at Wildwood Elementary are actually a time when the teachers do very little talking. Instead, the students run the conferences, informing their parents about how they're doing, what their goals are going forward, and what kind of learners they are.
How It's Done
Start Small
It sounds like a cliché, but Wildwood teachers all say the same thing: "Start small." When the school piloted the idea of student-led conferences five years ago, a few of the teachers were simply asked to find ways to give the students a little more presence at the conferences, whether through a letter to the parents, a podcast, a poster or by just being at the conference themselves.
"We started slow with student-led conferences," says eighth-grade teacher Brigid Jennings. "It was almost like a gradual release to full student-led conferences. It's important to remember that not all teachers are at the same level of comfort with giving over this time to the students. We spent a lot of time as a professional community discussing ways student-led conferences could work, and then found whatever format was best for us as teachers and also our students."
As they piloted the change, these teachers saw a big difference in the levels of engagement for both parents and students. The teachers also liked the new model better, saying that it felt less like they were defending the grades they gave students and more like a conversation about the students' learning. The pilot group's success convinced the rest of the teachers at Wildwood to keep building on the idea, and within a few years, it had become a school-wide practice.
Designating a Time
Conferences at Wildwood happen twice a year. Each conference lasts ten minutes, due to the number of families that teachers have to see. While that time seems like much, setting reasonable constraints can help the students feel more comfortable presenting.
"We never get through everything," says eighth-grade teacher Rebecca Braun. "We actually include more work than time allows. This helps the students feel less anxious and also keeps the conversation flowing."
Students know that it's OK if they don't get through everything, and teachers know that the conversation doesn't have to end after ten minutes. Parents are given the option of taking the students' presentation binder or folder home for the night to continue reviewing and discussing the work.
Teachers also work around the time limits by rearranging their schedule to allow for 15-minute conferences, or by making sure that the time blocked off for student-led conferences isn't usurped by other issues.
"If I have serious concerns and need to have a conversation with a parent," says Jennings, "I reach out to those parents and schedule separate times. I still keep their regular scheduled time for student-led conferences because I believe it is important for all students to present their learning to their parents and spend that vital time reflecting as a family."
Preparing the Work
The students prepare some kind of presentation, which differs by grade and is scaffolded to their skill level. For instance, the eighth grade classes prepare binders with their work and reflection sheets, while younger grades may prepare a poster board or packet to show their parents. But all students keep and manage a portfolio of their own work. (For examples and more information on portfolios, see the Resources section at the bottom of the article.) When students complete something that they're proud of or want to keep, they simply file that item in their portfolio. When it is time to start prepping for conferences, students can then go to that portfolio and choose what they want to include in the conference binders or folders to show their parents.
"When we begin to prepare for student-led conferences," says Jennings, "I have a conversation with students around what they feel should be included in their binders. We continue the conversation then through different lenses: What would you like to see as the student? What would your parents like to see? What would your teachers like to see? The student is the primary driver of what goes into the binders."
Some teachers set loose guidelines about what must go into the binder or folder, but the students are given a lot of freedom over what to include.
"We don't get too crazy about guidelines," says Jennings. "Each subject area must be included, and the reflection pieces also must be included. But it's important for the students to have choice in what goes into their binder. It's all about their learning and what's important to them. When students are given ample time to reflect, you would be surprised that they won't just fill their binder with every A+ paper they have. They'll include places where they struggled, places where they improved, and places where they need help. This doesn't always happen easily, but this is where teacher/student reflection and conversation come in."
Preparing Students to Lead
In addition to preparing their binders or folders, students spend the weeks before conferences talking about how to present and lead the conversation with their parents. Helping the students feel secure in talking about their learning makes their limited presentation time go much more smoothly, Wildwood teachers say.
"It's important to make sure the students understand they are in control of the conversation," says Braun. "It's not a 'got ya,' and their very best strengths are the highlight of the conference."
Teachers do this by setting expectations, facilitating student reflection, and going over the necessary elements of a successful conference.
"The teacher should be giving mini-lessons and having conversations about quality work, good conferences/bad conferences, planning, etc.," says fourth-grade teacher Georgia Melidis. "Teachers must build the capacity of their students. After all, students are in school, they are learning skills, and conducting a student-led conference is a skill that must be taught . . . We start prepping about a week before conferencing, and we practice 10-15 minutes per day. I got creative and made the prepping a station in my Daily Five reading centers."
Practice is a large component of their preparation, and students practice their presentations with each other, their teacher, and students from other grade levels. "Typically, what we do is we get with a buddy, and they can read to their friend," Melidis says. "They're giving each other feedback on their paper, so it's really an authentic way to design and conduct a student conference. And the shy ones are able to practice with people and feel prepared and then feel confident."
While preparing for conferences does take some class time, teachers find that it's just as valuable as curricular lessons. "We view the prep work as a critical time for reflection," says Braun. "Students look back on their work for the quarter and write about their areas for growth, their successes, things they'd like to work on. Kids have a tendency to forget about all the wonderful learning they've experienced in a quarter."
For teachers that may have the time flexibility to prepare, "I would say to get creative," suggests Melidis. "They can start two weeks prior to the conferences and practice for the first five minutes of class, or they can tie it into their daily journal, daily goal setting, reflection time, they can make it their exit ticket, etc."
Not only does investing time in conference prep ensure a successfully led conference, it also encourages student and parent attendance. Students are excited to tell their parents what they've learned, and parents are more apt to attend because their kids are excited. "This year, I had every parent and student show up for conferences," Melidis recalls. "Conference time was not taken as seriously before, but now the school is full and lively on conference night. I mean, let's face it -- no parent wants to let his or her own child down."
Resources
School Snapshot
Enrollment
426 | Public, Urban
Per Pupil Expenditures
$8624 Instructional Spending
•

$13791 Operational Spending
Free / Reduced Lunch
17%
DEMOGRAPHICS:
59% White
22% Hispanic
10% Asian/Pacific Islander
6% Multiracial
4% Black
Data is from the 2014-15 academic year.