Parent Partnership
Demystifying Student Data for Parents
Visit an elementary school that shares student data with parents so they can help their kids with homework.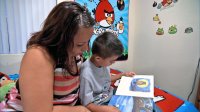 Overview
Sharing Data to Create Stronger Parent Partnerships
Parents are used to seeing report cards come home with their children a few times a year. But Maureen Holt, Humboldt's Title I teacher and reading specialist, wanted to share student progress more often and let parents in on the data that teachers were seeing. She began sending home data reports on every child she saw in Title I. She also organized Parent Data Nights, events where she met with each parent to demystify the reports. She explained acronyms, test scores, and trouble areas for their child, as well as providing tips and tricks for helping their student at home.
How It's Done
Sharing Data With Parents
Humboldt decided to send home the data that teachers were seeing so that parents could be informed about how their children were doing and the progress they were making. "Sometimes grades don't show progress," says Maureen Holt, Humboldt's Title I teacher and reading specialist, "but data shows even the little progress that is being made." The goal was to increase parental involvement, because informed and engaged parents have a better chance of helping their kids at home.
Creating a Data Folder
Data drives every area of instruction at Humboldt, so Holt has a wide range of tests and assessments that can be included when creating the student data reports. She shares every indicator and test given in the report, so that parents are seeing the same data as teachers, "because then everyone is on the same page." She breaks each test out into its own chart or graph, and always prints the first copy in color, helping parents easily see how their child is performing on each indicator.
Holt also gives parents a cheat sheet of teacher acronyms, with the complete assessment title spelled out and a short paragraph explaining the acronym in layman's terms. This not only helps parents understand the data report, but also aids in getting everyone speaking the same language around the child's learning.
The data folder also includes examples of what each assessment is testing and, when possible, a worksheet or handout that will allow parents to practice that skill at home with their kids. Holt also shares tips and tricks for using the worksheets, such as practicing reading in the car on the way to school or working on letter naming in the evenings. This way, parents know exactly what their children are being tested on and feel empowered because they now know how they can help.
Parent Data Night
Scheduling a Parent Data Night allows parents a chance to ask questions and understand the interventions being done to help their child. At the beginning of the year, Holt schedules a large group Data Night after the school completes its first DIBELS test. Parents whose children will be receiving Tier 2 or Tier 3 interventions are invited. This is a chance to explain to parents their students' scores relative to their peers nationwide. The meeting is scheduled after the end of most parents' workday, and Holt uses a projector to walk them through the data folder she created, explaining each piece of it.
After that initial Data Night, Holt holds smaller one-to-one data meetings throughout the year as needed or as requested. She sends home data every three weeks and usually meets with a few parents after those reports go home.
For parents that can't make it to the data night, Holt also makes herself available to do one-to-one meetings after school, and schedules her prep period to free up the first half hour of her day in case parents come in with questions about their child's data. She also shares the data report with teachers in a meeting where she explains the folders and graphs to the entire staff. That way, teachers can share the folder with parents who missed Parent Data Night, and they'll know how to field questions about the data. "When I send it home, then they'll start calling and they'll start coming in," Holt says.
Tips for Successful Parent Meetings
Holt says that she learned from her first attempts at a data night how the key to getting parents to come is to first make them feel comfortable in the school. Humboldt has Family Math, Reading, and Science nights throughout the year, where parents play games with their kids and learn about what they're studying, which helps parents feel more at ease with coming into the school and start seeing it as a happy place.
When meetings go wrong, Holt says, it's important to stay positive. She'll talk about a student's strengths and lay out clear steps for moving him or her forward. Setting expectations is also useful in helping parents understand that progress will come in baby steps and their child is not expected to completely turn around their performance in an unreasonable period of time. Holt also asks those parents what kind of communication they want, whether it's email, phone, sending notes home with their child, etc., so that parents are made to feel like collaborators and partners in helping their student improve.
Resources
School Snapshot
Grades K-6 | Dewey-Humboldt, AZ
Enrollment
450 | Public, Rural
Per Pupil Expenditures
Free / Reduced Lunch
64%
DEMOGRAPHICS:
82% White
13% Hispanic
2% Native American
2% Multiracial
1% Black
1% Asian
Data is from the 2014 academic year.