Differentiated Instruction
Guiding Students to Success at Their Own Level
The Response to Intervention model has helped a school reduce the gap between the highest- and lowest-achieving students.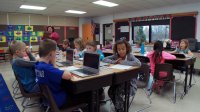 Response to Intervention (RTI) allows Meyer Elementary School teachers to assess how their students are doing weekly -- even daily -- to better support their needs and growth. Meyer Elementary uses RTI to provide targeted instruction and support to meet students at their learning ability.
"The way we deliver RTI has everything to do with the end results we've seen with student achievement," states Donna Barrier, Meyer Elementary's principal. "There is a small discrepancy between our highest-achieving students and our lowest-achieving students."
Meeting Students' Needs
"RTI, which is Response to Intervention, just means that we look at where students are struggling," explains Donna Barrier, Meyer's principal. "We try to figure out what we need to do to meet that need, whether it is in reading, writing, or math. In the 2012-2013 school year, for the demographic profile of our school, our students would be expected to be at about the 47th percentile in the top-to-bottom ranking of all schools in the state of Michigan. We actually performed at the 94th percentile, and that has been pretty much what the state has seen from Meyer Elementary School for the past four years."
Set Up Tier Instruction
"If you see a child who is completely lost in a general ed classroom, all day long," says Amanda Kuhlman, a Meyer Elementary second-grade teacher, "that wears on a kid socially, emotionally, and academically, and with the RTI program, they're receiving support that's planned for them."
RTI consists of a three-tiered structure:
Tier One: Tier one is universal instruction. Every student receives this level of instruction.
Tier Two: Students who need additional support (for example, in reading accuracy, fluency, or comprehension) work in small groups of four to six students. Here they'll practice additional activities focused on their needs, giving them more exposure to develop those skills.
Tier Three: Students who need even more support go to Tier Three, which is either one-on-one instruction with the teacher, or working in small groups of two to three students.
Tiers Two and Three students are monitored for progress about every two weeks. "Ongoing assessing is happening all the time, and students are being scooted from one group to the other, up, down, however they need to be," says Barrier.
Making Students Feel Comfortable
"Learning is very personal to children," explains Barrier, "and when they're there in close proximity to their teacher, the teacher has a calm voice. It's conversational. They're more apt to be at ease."
When students are learning among two to six other students, it creates a more relaxed environment than whole-class learning. A student who feels comfortable is more likely to ask questions, speak up, and elaborate on his or her thoughts.
Here are practices that Meyer teachers do to make their kids feel comfortable:
They use a calm and conversational voice.
They model skills and thinking processes aloud, daily.
They give their students affirming and sustaining feedback.
They make the learning and classroom expectations known to their students.
Creating common experiences that continue from class to class and from grade to grade -- such as the process in the guided instructional groups that stem from RTI -- also helps foster comfort for their students. Having the familiarity of that process in different environments and grades helps students to feel comfortable as they work in different rooms throughout the school year and as they continue on to the following grade levels.
Adopting Grade-Level Teaching
At Meyer, they use grade-level teaching to make tier instruction seamless. In grade-level teaching, teachers share all of the students, which allows for small-group instruction in reading, writing, and math in Tier One.
"When we are practicing our tiered instruction, it's easier because of the way that we deliver our core instruction," reflects Barrier. "Our tiers happen naturally. You might not necessarily realize that students are getting additional support because of the movement in the room."
Meyer teachers plan together for the whole grade. They build formative assessments, design rubrics for writing, and decide on science projects together.
"We do that together with everybody in mind," shares Barrier, "and that is our ongoing focus. We teach the collective group and share that ownership."
One reason that Meyer's RTI program works well is because teachers are able to plan together.
They meet once a week for a grade-level professional learning community.
They meet for 40 minutes.
During their meeting, a guidance counselor, Barrier, or another staff member is with the students.
"We're doing other appropriate activities that support character education, or sometimes it's content from the classroom," explains Barrier.
In their agenda, they discuss:
Student progress
Recent data they've collected
What they think they'll need to cover based on their district-level pacing guide
"It's looking at what they've already done, the data they've gotten, and where they still need to go," says Barrier.
Check Your Students' Understanding
The great thing about Tier One, Two, and Three groups is that the teacher is with the students as they learn and is able to see if they really do understand the content.
"The teacher needs to see that in the moment, not later when it's time to test," stresses Barrier. "You need to see it, and you need to know it right then. We use common formative assessments at each grade level to gauge progress."
Decide Which Teachers Will Teach Which Tiers
When deciding which teachers will teach Tiers One, Two, and Three, Barrier and the teachers consider:
What are students' scores?
How are they performing in the classroom?
After analyzing the students, Barrier reviews the teachers' strengths and teaching styles to decide who will teach which tier. However, this isn't a fixed designation. Teachers switch from tier to tier so that all of them have the opportunity to work at each level and gain insight from every student.
"At the trimester, when we're doing benchmark assessing tends to be when we do our regrouping," says Barrier, "and at that time, a teacher who had been working with struggling students may begin working with the students who are in the middle. Sometimes they've gone from working with the students who are struggling most to those struggling the least. That's a discussion that I have with the teachers at that time."
Be OK With Change
When practicing RTI, your program will change constantly to fit the needs of your students.
"Our RTI program does not look the same necessarily from the beginning of the year to the end," reflects Barrier. "That's the beauty of it. You really have to go by what your students need. You have to be on the same page with your teachers. We have to really look at where we are, look at what we need, and figure out a way to get there. It is a fluid thing."
School Snapshot
Grades 1-4 | Lexington, MI
Enrollment
317 | Public, Rural
Per Pupil Expenditures
$14417 District
•

$11037 State
Free / Reduced Lunch
54%
DEMOGRAPHICS:
93% White
4% Hispanic
2% Multiracial
1% Black
Demographic data is from the 2013-14 academic year. Fiscal data is from the 2011-12 academic year.