Integrated Studies
Connecting Vocational and Academic Interests
A project combining radio broadcasting with social studies content deepens student engagement.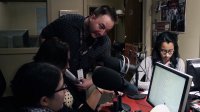 Overview
Integrated Learning: Broadcasting and Social Studies
At High Tech High School, students choose one of several vocational majors that are offered. These include architecture, engineering, culinary arts, graphic design, film/video, science research, theater, or dance. In addition to the vocational majors, students take all the regular academic courses required of high school students, including language arts, math, social studies, and science.
High Tech teachers find ways to collaborate and integrate vocational and academic content through projects that span multiple disciplines. Teachers have found that student interest in their vocations helps to drive their learning in many of the academic areas. When teachers collaborate and build these connections into the curriculum, students thrive, feel more engaged in the learning, and make real-world connections to what they are learning.
How It's Done
High Tech High School encourages vocational and academic teachers to collaborate and integrate as they can. Sometimes this is done across the grade level, so that the 11th grade math teacher is working with the 11th grade dance teacher. At other times, it's done with a whole cohort of teachers working within a grade level. Teachers meet during common planning times or before and after school. They also have a summer planning sessions that allow them to explore new ideas or build themes across classes and disciplines.
Social Studies on the Radio
At High Tech High, the broadcasting and social studies teachers collaborate to create a unique semester-long radio show featuring social studies content.
John Jefferson teaches United States History II, which meets every day for a 40-minute class period. There are about 15 students in the class, all in 11th grade. During a typical week, usually three days are spent on learning and discussing content (i.e. the Vietnam War, Watergate, etc.), and two days are spent in the broadcasting studio. Instructional days are filled with discussion about the content, which helps students engage in good conversation and think about what they may want to discuss on the air.
In the Studio
On studio days, the class is split into two groups. One typically preps and does research for their studio show, while the other is on the air. Each on-air broadcasting session lasts about 20-25 minutes, giving students enough of the class period to settle into broadcast mode and wrap up afterward.
The social studies students don't worry about how to operate a broadcasting studio. The broadcasting teacher John Pluchino, or one of the many broadcasting majors in the school, will operate the board. In this class, there were a few social studies students who were also broadcasting majors and could play both roles.
The radio show is always done with John Jefferson, the history teacher, at the table. Often he hosts the show, but as the semester progresses, students take turns hosting as they feel comfortable. Mr. Jefferson is always there to push or add a bit to the conversation if necessary, but students always take the lead.
Behind the Scenes
The broadcasting and social studies teachers meet once a week for a common planning period. Sometimes the broadcasting teacher will come into the social studies classroom to help students think about framing conversations and questions for a radio audience.
Each week, a theme is selected for the radio show. Topics include the end of the Civil War, the Reconstruction era, the Spanish-American War, World War I, World War II, the Cold War, the Cuban missile crisis, the Reagan Administration, the Strategic Defense Initiative, and 9/11 and terrorism.
Students are responsible for researching and preparing an argument for the radio show. They complete reading assignments and independent research. Often they will come to the history teacher with ideas such as, "I want to talk about nuclear weapons and Japan." So they'll read on their own and bring in articles that they've found.
Real-World Skills
Social studies students don't need a lot of technical skills, but they do need to know some of the basics about what it's like to be on the radio. These are simple things like speaking into the microphone, not making random or restless body movements while on air, and most importantly, how to be comfortable talking to an unseen audience. This means coming prepared with a few bullet points and the background to build a discussion around them. The basic goals are:
Having a good argument
Doing adequate research
Having something to say
All of this motivates and excites students to think about content and how to present it in the real world. Of course, some students do get nervous and say "um" a thousand times, but that's part of the learning process. Mr. Jefferson has seen that by the end of the semester, all the students have come a long way in feeling comfortable and more conversant on the radio.
Start Small!
The show is broadcast on High Tech High's own radio station, WHIT, in New Jersey. And while not every school has a fancy broadcasting studio on campus, high-end technology isn't a requirement for putting student voices on the air. Initially, the social studies teacher at High Tech started the project with $70 worth of materials from Staples and Radio Shack -- a few microphones and a digital recording device was all it took to create a podcast. This could even be done on an iPhone. The point is to engage students in creating something that takes their learning to the next level. This can be done by posting a podcast on the school's website, or sharing it with an audience of family and friends.
Student Engagement and Real-World Connections
The benefits of creating a collaboration like this are innumerable. Students feel like it brings the learning alive, and they get to apply what they know in a real way. Engaging and exciting students like this is the big payoff.
Resources
School Snapshot
Grades 9-12 | North Bergen, NJ
Enrollment
620 | Public, Urban
Per Pupil Expenditures
$14154 District
Free / Reduced Lunch
39%
DEMOGRAPHICS:
36% White
36% Hispanic
20% Asian/Pacific Islander
8% Black
Data is from the 2013-14 academic year.