Assessment
Gaining Understanding of What Your Students Know
Quick, ungraded assessments help teachers know what their students understand from the day's lesson.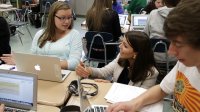 Exit tickets are a formative assessment tool that give teachers a way to assess how well students understand the material they are learning in class. This tool can be used daily or weekly, depending on the unit being taught. A good exit ticket can tell whether students have a superficial or in-depth understanding of the material. Teachers can then use this data for adapting instruction to meet students' needs the very next day.
Teachers typically use exit tickets to assess what students have understood from the day's lesson. Exit tickets are not a test, but a way to understand students' comprehension of a particular topic. With this information, teachers can adjust instruction and plan how to best meet student needs by modifying and differentiating instruction. Exit tickets allow teachers to see where the gaps in knowledge are, what they need to fix, what students have mastered, and what can be enriched in the classroom.
Designing An Exit Ticket
Teachers design their own exit tickets. A good exit ticket is linked to the objective of the lesson, focusing on one particular skill or concept that students should have understood that day. Exit tickets can pose questions that are multiple choice, short answer, or even a couple of sentences in response to a question. Three to five questions make for a good exit ticket, and students should be able to complete the whole thing in just a few minutes at the end of a class period.
Exit tickets are only as good as how they are designed. It may take a little practice to get your questions precise enough for students to give you the information you need. General questions ("Do you understand?", "Yes or no?", etc.) don't really give the information that will help you work with your students. Exit tickets with questions that assess understanding, apply the concept, or demonstrate the concept work best.
Technology offers an easy way to work with exit tickets, using Poll Everywhere or Google Forms. Students can easily use their tablet, smart phone, or computer to fill out exit tickets, and these apps can immediately compile the information for teachers. The first time you organize your class roster into these apps will require a bit of set-up, but once completed, you'll have an easy recourse to manage your data. Paper and pencil are a great option, too. This requires more teacher effort to compile responses, but still gives you the benefit of knowing where you students stand in relation to the material.
Spend some time designing an exit ticket the day before you teach. Upload the form and set it up in Google Drive for students to access, or print out the copies if it's pencil and paper.
How Often and When?
Some teachers use exit tickets daily, while others use them only once or twice a week, depending on the unit. Exit tickets are given at the end of a class period, and should only take a few minutes for students to complete. Remember to set up an exit ticket by letting students know it's not graded and not a test or a quiz, just a reflection of what they understood that day.
Compiling Data
After students submit their exit tickets, a teacher will have to compile and "read" the data results. If you've used a Google form, the information can be uploaded to Google Drive to automatically create an Excel spreadsheet. If you've used pencil and paper, it will take a few minutes to organize and compile your data in a way that gives you an overall picture of your classroom.
Using Data to Differentiate Instruction
Exit ticket results help teachers differentiate instruction:
How did the group of students do overall?
How many kids really understand the purpose of what you're doing in class and can move forward with it?
For those who can't, how will you change your lesson plans that night so that you can meet your students' needs the next day?
Exit tickets allow you to use your data to identify student strengths and weaknesses, and then plan for the next day's instruction. Perhaps one group will get more direct instruction around the basic concept, while another group will work independently. Perhaps only one or two students need some additional help, and you'll plan accordingly. The key to differentiation is that you have high expectations for all students and a clear objective. If you know what you want students to master, differentiation allows you to use different strategies to help all the students get there.
Other Uses for Exit Tickets
Exit tickets could also be used to preview what students know about topics that the class hasn't even discussed yet. It can give a teacher some information about where to start his or her lesson on a new topic the next day.
Sometimes teachers also use entrance tickets, which are given at the beginning of a class period. You start off with two questions assessing what students know from the previous day's lesson. And right away, you understand from these questions how you need to start today's lesson. Entrance tickets help you answer this question: "What do I need to do differently right now in order to meet the needs of my kids?"
Additional Resource
School Snapshot
Grades 9-12 | Allison Park, PA
Enrollment
1112 | Public, Suburban
Per Pupil Expenditures
$13864 District
Free / Reduced Lunch
9%
DEMOGRAPHICS:
96% White
2% Asian/Pacific Islander
1% Black
1% Hispanic
Data is from the 2013-14 academic year.