Professional Learning
Celebrity Q&A: Poet Jack Prelutsky on Developing a Love for Learning
The first U.S. Children's Poet Laureate reflects on his school years.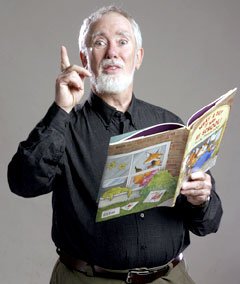 Credit: Yuen Lui Studio
At various points in his childhood, Jack Prelutsky wanted to be an opera singer, a baseball player, a fighter pilot, and a cowboy. He never, however, envisioned being a poet, and in fact he failed several college English classes. But his love of words and happy talent for composing delightful rhyme has its rewards: He's now the first U.S. Children's Poet Laureate. His books include The New Kid on the Block, The Dragons Are Singing Tonight, and The FrogsWore Red Suspenders. His most recent book is My Dog May Be a Genius.
What is your idea of a perfect teacher?
Someone who's more interested in nurturing his or her students, treating each of them as individuals, recognizing their unique gifts and abilities, and getting the best out of them, rather than simply sticking to a routine syllabus.
What was your most memorable school experience?
It's hard to pick one, but I do remember playing a Christmas tree in a second-grade production, and having to suddenly run off stage to go to the bathroom, leaving the stage treeless.
What was the low point of your school career?
Again, it's hard to pick one. I had a big argument with my fourth-grade teacher over a math problem. I told her I didn't want to be in her class anymore, and stormed out of the room and went to the office, where I applied for a transfer. Nobody had ever done that before, so my parents were summoned to school to sort out the whole business. Years later, my teacher's son became one of my best friends.
Did you go to public school, or private school?
Public school. I grew up on welfare and didn't even know private schools existed. There certainly weren't any in my neighborhood. My public school was in the shadow of elevated train tracks, so it was a pretty noisy place.
Where did you fit in your schools' social hierarchies?
I was little and skinny, the shortest boy in my class, and had big buckteeth and jug ears. I tried to make up for these shortcomings with a smart mouth. I was unsuccessful, and was at the bottom of just about any hierarchy you can imagine.
What was your favorite subject?
I remember loving history and geography. Curiously, I was not particularly interested in writing.
If you could change one thing about education in America, what would it be?
I would take money that's spent on senseless and tragic wars and spend it on education. It sounds trite, but children are the future, and deserve everything we can give them.
What is impossible to learn in school?
How to deal with all the sinkers and curveballs that life throws you.
What should they teach that they don't teach now?
Schools should teach how to be a good green citizen and take responsibility for our planet. So far, it's the only one we have.
What did you learn today?
I've been teaching myself computer graphics, and today I figured out how to wrap a bird around a cylinder or a sphere.
What did you teach?
I tried to teach the crows outside my window to shut up. Needless to say, they ignored me.
What is in your dream lunch box?
A large antipasto with plenty of imported prosciutto and marinated artichoke hearts, a bowl of San Francisco cioppino, and my mother's baked macaroni and cheese that I loved when I was in elementary school. There should be salt-and-pepper chicken wings from my favorite Chinese restaurant in Seattle. Also, I'd like to wash it all down with a genuine New York egg cream.
If you wrote a textbook, what would it be called?
Actually, I just wrote a sort-of textbook for kids about writing poems called Pizza, Pigs, andPoetry: How to Write a Poem.
If the prom were tomorrow, whom would you take?
I'd take my wife, Carolynn, partly because I'd really want to, and partly because I'm sure she'd be mad at me if I didn't.