Assessment
Phoenix Rising: A New School Design Fosters New Attitudes Toward Learning
An innovative mix of students and design turns a troubled school into a startling success.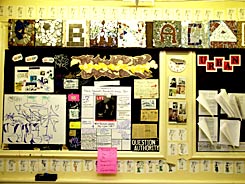 Credit: Gregory Cherin
Board of Education: A showcase of wildly varying art from students in prekindergarten through high school inspires classmates.
What first strikes you upon entering the Julia Richman Education Complex (JREC), in the heart of New York City, is how neatly the past intersects the present.
Rows of yearbooks from previous decades line the high beige walls as today's students whiz by on their way to class. The students of 2005 bear little resemblance to the photographs gracing the old annuals, though. It isn't just the clothes and the hairstyles that have changed. The building that was once a high school for thousands of adolescent girls is now home to six schools, serving students from prekindergarten through high school.
Built in 1923, Julia Richman (named after the city's first woman district superintendent of schools) was a thriving all-girls high school for fifty years. It began to flounder in the mid-'70s, battered by budget cuts, overcrowding, low student achievement, and crime.
In 1993, when the school's graduation rate hovered around 35 percent, the school board voted to close it. Instead of giving up, however, they decided to reconfigure one large failing high school. It was a radical move -- well ahead of the high school reform efforts that have since taken root countrywide.
Stretch Goals: An innovative art project challenges students to excel.
Community by Design
JREC is an eclectic mix of schools and students, as well as a sterling counter-argument to the typical large public high school. The complex, home to 1,900 students, comprises four small high schools, an elementary school for students in prekindergarten through eighth grade, a school for autistic children, and First Steps, an infant and toddler center for the young children of students. Also on site are the Mt. Sinai Student Health Center and the Center for Inquiry in Teaching and Learning, a professional-development institute for JREC's teachers.
Each school has its own staff, schedule, curriculum, and dedicated space, but they also share several critical facilities, including a mini theater, an art gallery, a sports center, dance studios, a distance-learning lab, an auditorium, a cafeteria, and a library. By using common spaces, schools save money and foster community.
The complex is governed by a building council, which consists of all six principals and a program director. Their actions are guided by six fundamentals: multiage communities, autonomous schools, dedicated school space, shared services, and common spaces and governance. These goals have contributed to low staff turnover and high graduation rates -- more than 85 percent, on average, for all the high schools.
Some schools do markedly better. "Ninety-eight percent of our students graduate," says Phyllis Tashlik, director of the Center for Inquiry and an English teacher at Urban Academy, the first high school to move into the converted space. That's an astounding statistic, considering that most large urban schools typically graduate only about two-thirds of their students. The rate is even higher than at other multiplex schools, which claim 90 percent student graduation.
Educator and author Deborah Meier (see "All Aboard"), one of JREC's planners, says that multiplex schools work because of the critical sense of community they create. "Most schools, even suburban schools, are not communities," she says, "because they're too large and anonymous."
Emily Santiago, a seventeen-year-old senior at Urban Academy, agrees. "You build a common bond. And for some students, building that trust is what's needed to encourage them to do their work." Santiago's case proves that the small-school system works. Unhappy with her previous, 1,500-student high school, she transferred to Urban, which has just 120 students. She plans to graduate early (five months ahead of her classmates) and study criminal justice at a small college in the fall. In the meantime, JREC staff members helped her secure an internship with a forensic psychologist.
Stretch Goals: A creative dance class challenges students to excel.
Old Space, New Ideas
At JREC, the end of class is signaled not by the deafening sound of a bell but by music. "It could be a Louis Armstrong song," says Urban Academy's Phyllis Tashlik. "Teachers bring in their favorite music. It's fun. As soon as the music starts, students stand up and shimmy down the halls to their next class." Or to one of the many couches strewn about the large hallways, where students gather to talk or work.
Although the facility upgrade cost about $2.5 million, the original structure remains intact. "The beauty of having an old 1923 building is that you have these great, wide halls," says Victoria Bergsagel, president of Architects of Achievement, a Seattle-based firm specializing in the design of small schools. In addition, she notes, "Richman has captured some of the circulation space to create a sense of community." The sofas and easy chairs, for instance, are student hangouts.
The atmosphere is further softened by the presence of the younger children from the Ella Baker School and the First Steps center. For example, students from the high schools often volunteer to care for the infants and toddlers in First Steps. For Santiago, having the younger students in the building keeps high school from becoming too serious. "It was fun seeing them in their costumes during a Halloween parade last fall," she recalls, noting that such sights are rare on most high school campuses.
Having a leadership council govern the building is also beneficial, says Laura Garcia, principal of the Ella Baker School, because it reinforces the belief that for one school to succeed, all the schools must succeed.
"Here," she says, "there is a sense that the whole is much stronger than each of the parts."
Jo Cavallo is a New York-based freelance writer.