Professional Learning
All Aboard: An Example of Innovative School Reform
Pioneering educator Deborah Meier has a new plan for softening up tough schools.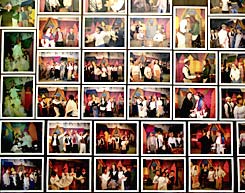 Credit: Gregory Cherin
Stage Door: Playacting replaces acting out aggression, providing a release valve for kids from rough urban neighborhoods.
For more than three decades, Deborah Meier has worked to improve the physical space that frames intellectual learning. As a teacher, principal, and writer, Meier has long been one of the most vocal proponents of the small-schools movement.
In 1974, she founded Central Park Elementary School, in New York City. Later, she opened two more elementary schools, along with Central Park East Secondary School and Boston's Mission Hill School. All have been praised as models of urban education reform for giving teachers and parents greater power in running their schools and encouraging a family-friendly environment -- what she calls "a democratic education." From her early small-schools experiences emerged her book The Power of Their Ideas: Lessons for America from a Small School in Harlem. Meier was also one of the principal designers of the Julia Richman Education Complex.
How did the idea for the Julia Richman Education Complex emerge?
Deborah Meier: We wanted to close down the worst high schools in Manhattan, the Bronx, and Brooklyn and [then develop] a four-year plan for turning them around. I directed the project, which involved six very small schools. Julia Richman was the first school to be closed. Our goal was to have most of the new schools move back into Julia Richman once the project was finished. We also committed ourselves to serving the same population of students who had attended the original Julia Richman High School.
Why wasn't the original Julia Richman High School successful?
It was largely a dumping ground. Students couldn't get in anywhere else, and they traveled long distances to get there but then were lost once they settled in. Teachers working with 150 kids a day couldn't possibly help all the students, so they became selective in who they helped. You've got to be if you've got a load that's too big. In contrast, Urban Academy [one of the high schools in the new complex] is particularly successful, not only because it has an extraordinary staff, but also because there are only 120 kids to worry about instead of, say, 350. That makes a big difference. Every adult in that school knows every student well.
How do students benefit from attending a school that's part of a multiplex campus?
Having the older kids around the younger kids is enormously good for both groups. The older kids are softened by the existence of the little kids, and the little kids are fascinated by the big kids and see them as role models. I think it's a mistake to have too many people the same age in any building. I wouldn't want a big building full of elementary schools or full of middle schools or just high schools. Kids need to pass people in the hall doing many different things in many different ages and have a sense that their worth fits into a larger setting.
Jo Cavallo is a freelance writer living in New York City.