Assessment
Command Performance: Creating Accountability That Works
Using portfolios and presentations, schools take assessment into their own hands.
While schools wait for innovation in accountability testing, some are taking matters into their own hands, creating performance assessments that guide and strengthen teaching and learning. Typically, these assessments come in the form of portfolios and presentations -- tasks that bear something in common with the kind of work students may ultimately do in college or in a job.
At Anzar High School, in San Juan Bautista, California, students must complete a series of exhibitions to graduate, each one including a research-based written piece and an oral presentation. The topics are of the students' own choosing, fashioned (with guidance from a teacher-adviser) to cover language arts, science, history, math, and service-learning and postgraduate plans -- areas typically combined into three cross-disciplinary exhibitions. Students work for asemester or more on each project, and a panel of jurists, including teachers, alumni, and community members, evaluates their performance.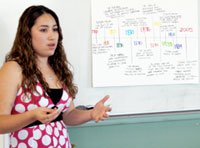 Credit: Grace Rubenstein
Diagramming Sentences: Marisol Garcia presents her argument about the effects of prisons on Latinos.
"If things are going as intended, students are really passionate about their issue, which means they're getting to devote a whole class period to working on something they adore," says Principal Charlene McKowen, whose school serves 420 students from San Juan Bautista and Aromas, rural communities south of San Jose. "It's almost eerie once they get going. You just hear 'Click-click-click,' and it's pretty quiet."
On exhibition day last spring, presentations covered such diverse topics as "Is Prison an Effective Rehabilitation for Latino Males?" "How Do Pets Affect Health and Education?" and "What Materials Will Be Used in the Future of Surfboard Manufacture?" Marisol Garcia, a junior who had researched the merits and failings of prisons, faced three panelists, a teacher, an alumnus now working at an international staffing company, and a San Jose State University professor. She told them about her interview with a prison guard, and drew connections between the data she'd found and a memoir she'd read, Always Running: La Vida Loca: Gang Days in L.A., by Luis J. Rodriguez.
The verdict: Garcia excelled in analyzing the book but needed more substance in her factual presentation, the jurists said. They gave her a 2 ("minimal pass") for the history component and a 3 ("outstanding effort all around") for language arts. Said Garcia, "You have to actually know what you're talking about. It takes a lot of time and effort."
These assessments don't take away the pain of state accountability tests, but they do steer instruction toward critical thinking and endow students with confidence and useful skills.
In other schools, says McKowen, "I would just see over and over again that students would gooff to college and be afraid or feel like a fraud, because they'd learned how to play the game. We wanted to be sure that any student who graduated from here would know what they were capable of doing."
Grace Rubenstein is a senior producer at Edutopia.