Project-Based Learning (PBL)
Live Wires: In Pursuit of the Future
Pennsylvania remakes teaching through technology.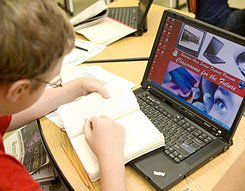 Credit: Klaus Schoenwiese
Laptops for Lessons: Fremont Area High School uses Classrooms For the Future laptops in many of its classes.
In an unusual move for a state government, Pennsylvania is buying computers for its schools in pursuit of a goal far more nuanced than mere technolust: State officials want to transform high school instruction, moving it away from lectures and drills and driving it toward project-learning lessons that prepare students to work in the modern world. Technology is their means to that end.
But if you cut through the jargon, what does the Keystone State's approach truly mean? It's the difference between having students use computers for Internet research every now and then and enabling students at Freedom Area High School, in Freedom, to watch a knee surgery remotely, in real time, in contact with surgeons. It's the difference between kids using digital cameras just to snap photos of school events and using them, as they did at Springfield Township High School, in Oreland, to create images of their interpretations of Hamlet and post them on the photo-sharing site Flickr for group discussion.
"Everyone's going to have to change," says Eric Ambler, a math teacher at Punxsutawney High School, in Punxsutawney, who resisted participating at first but now swears by the new technology and his new ways of teaching. "Not just one classroom, but one step at a time."
Teachers Learn and Students Teach
Classrooms for the Future (CFF), as the initiative is called, provides every core-subject classroom in participating high schools a suite of equipment: an interactive whiteboard, a printer, a scanner, a webcam, speakers, a laptop for the teacher, and a cart of laptops for students. A shared set of digital still and video cameras for each school also comes with the package. Schools may also choose to have noncore classes, such as foreign language or music, outfitted, but outfitting those classes occurs at school district expense.
The most significant component of CFF, however, contains no memory chips or wires. It's the professional development that comes with the gear, including an on-site coach. Then there's the project's message: These tools are meant to change the way we teach.
"Classrooms for the Future is about creating environments for deeper cognitive development through inquiry, real and relevant project-based learning, and differentiated instruction," explains the state's Department of Education Web site. "In a Classroom for the Future, teachers are facilitators, guides, and coinvestigators; students are producers, apprentices, and coexplorers."
The state pays for a half-time coach to help improve teaching and learning and help teachers make the often rocky transition into tech integration; more than half the CFF schools have pitched in their own money to make their coach full time.
Participating teachers must also commit to take a partly online and partly on-site thirty-hour course each year with colleagues from their school. (Some teachers choose instead to take the course for master's-level credit at Wilkes University.) The five-course series, commissioned by Pennsylvania and provided by Learning Sciences International, bears such course titles as The Need for Change, Authentic Teaching and Learning, and Project-Based Learning. (Here's a caveat: Ambler, the Punxsutawney math teacher, feels that the courses are too theoretical and that it's hard to make time for them.)
The Price of Change
Governor Edward Rendell's administration launched the initiative in 2006 as a three-year project. Pennsylvania has equipped 450 schools so far for nearly $200 million. Rendell is asking the state legislature for another $45 million for a fourth year, a figure that would equip another 60 schools, bringing CFF to every full-day public high school for grades 9-12 in the state.
By many accounts, the project's impact has been powerful. Pam Drane, an English teacher at Wilkinsburg High School, in Pittsburgh, says she initially feared she'd appear incompetent. "I came late to the tech age," she notes. "I still am humbled by my students sometimes, but it's a nice experience, because it makes the students feel good, too."
Now, Drane tries to use the laptops and whiteboard as much as possible, and she says she's "sticking her neck out" by having students produce videos using Microsoft's Windows Movie Maker. She finds her students more attentive and engaged. For instance, when she uses the laptops daily, she can go for two weeks without needing to write a discipline referral. Before CFF, she wrote as many as ten a day.
When Pennsylvania State University researchers studied the program in its first year through student and teacher surveys, interviews, and classroom observations, they found that CFF teachers spent significantly less time lecturing and more time working with small groups and individual students. They noticed a shift in assignments away from worksheets and toward more practical, hands-on projects. And they found that students were more engaged and on task.
Part of the proof of the initiative's effectiveness will, of course, ultimately lie in its sustainability. CFF's project manager, Holly Jobe, says the state is requiring districts to plan for maintaining the equipment and coaching. So far, ideas for doing so include reallocating money from more traditional materials and textbooks, partnering with parents and private funders, and using free open source software.
Less than a year of state funding is left, some districts have yet to come online, and time for local sustainability planning seems short. But one can hope that now that educators have seen the possibilities, they won't want to go back to the past.
Grace Rubenstein is a senior producer at Edutopia.