Professional Learning
A Week in the Life of PASA's After-School AfterZone
Some Providence, Rhode Island, students are finding that their after-school learning program might be more enticing than an afternoon at the mall.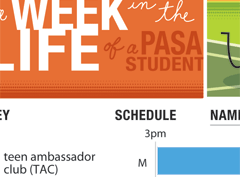 Credit: XPLANE
Click here for a visual map of a week in the life of a PASA student.
"Joely is highly motivated, and her game is very good," says coach Maureen Phillips, reflecting on the tennis prowess of an eighth grader at Gilbert Stuart Middle School. The school, named after the American artist whose portrait of George Washington adorns the one-dollar bill, is in the Lower South Side of Providence, Rhode Island, a predominantly immigrant neighborhood of shuttered factories and small but well-tended duplexes.
The Lower South is physically and psychologically cut off from the urbanity and opportunities of downtown Providence by Interstate 95. This isolation makes Gilbert Stuart an important one of the six host sites for the Providence After School Alliance (PASA) and the City of Providence's AfterZones. This citywide network of after-school programs is geographically split into three zones that connect two or three schools in each zone with nearby after-school providers. Programs available through each AfterZone have given local kids like Joely a chance to shine in a sport once as little considered in the tough Lower South as the artist after whom the middle school is named.
It's three o'clock on a Thursday afternoon, and the school's gym reverberates with the squeals and sneaker squeaks of a dozen excited PASA kids warming up for their AfterZone tennis class. Watching Joely fire unreturnable serves, Coach Phillips ticks off the qualities in her star player's game: "She can do it all -- forehand, backhand, and volley," Phillips reports about the 13-year-old whose family emigrated from Venezuela, and who had never even held a tennis racket until signing up for the program two years before.
After-School Enrichment
Phillips is a self-proclaimed "mom trying to help kids play tennis," and one of hundreds of volunteers who responded to the 2003 campaign pledge of Providence's then new mayor, David N. Cicilline, to create a comprehensive student- and parent-friendly after-school system designed to provide a safe haven and an exciting learning experience for Providence's 5,400 sixth, seventh, and eighth graders. These are the public school students most in need of after-school programs that PASA coordinates, because, as PASA executive director Hillary Salmons notes, "When the afternoon bell rings, early teens are the ones most likely to go out and have an adventure" on the sometimes unfriendly streets of Providence.
Since its 2004 founding, PASA has grown into an umbrella organization and an orchestrator of more than 60 after-school programs that occupy the interest, creativity, and late afternoons of nearly 2,000 Providence middle school kids. The sports, arts, and skills enrichment programs include basketball, tennis, capoeira, break dancing, guitar, cooking, sailing, video production, and others. These activities can take place on or off school sites; on-site enrichment programs last one or two hours, and off-site activities at provider locations last two and a half hours.
PASA's Club AfterZone, located in Providence middle schools, gives students the flexibility to alternate their on-site enrichment activities with an additional "learning time" session, during which students receive individual help on schoolwork from volunteers, many of whom are students at local colleges. These one-hour segments can also be dedicated to other "zones," such as Chill Zones, that involve kids with lower-key game play, reading, and math exercises.
At the end of each day, PASA offers 5 p.m. bus rides home, by which time working parents have returned to welcome home Providence's middle school kids. "PASA completes a seamless, full day of great learning opportunities," Salmons says about the program, which has won a five-year, $5 million Wallace Foundation Grant.
Game On
At the beginning of the 2007 school year, Joely brought PASA's AfterZone brochure home, and, with her mother's encouragement, she signed up for a karate course. After learning through a school announcement about after-school tennis classes sponsored in conjunction with the U.S. Tennis Association, she then decided to try tennis because her relatives in Venezuela were playing.
Joely immediately stood out from the crowd, her natural tennis ability recognized almost as soon as she picked up a racket in the PASA/USTA after-school class. The school year ended on a huge high for Joely with a scholarship to the July 2007 Nike Tennis Camp, held in Massachusetts, where Joely got to know kids from Germany, Israel, and Mexico and rubbed tennis elbows with celebrities like John McEnroe and Tim Courier.
The experience has done wonders for Joely's game, not to mention for her self-esteem. "I like tennis because when I beat another player, it feels good," Joely says in a tone that makes clear she would rather be out on the court playing than stuck in a boring interview. More importantly, she says, "I like tennis because you can get places." And what places would she like tennis to take her? "I want to go to Classical High School," she says, naming one of Providence's most prestigious college preps, "and then on to Harvard and Harvard Law School."
Upping the Academic Ante
To achieve what are huge goals in Providence's Lower South, Joely understands that she needs to do more than play great tennis. This has led her to sign up for another two-day-a-week PASA program, an art class helping augment her regular school-day course load with additional opportunities to sharpen her critical competence and artistic ability.
Joely's after-school week begins, in fact, in what is called the Teen Ambassador Club, a course held at Gilbert Stuart Middle School on Monday and Wednesday afternoons focused both on the expression of creativity and basic techniques of painting and drawing.
During one recent Monday TAC class, Joely and a half-dozen of her fellow students discussed the AIDS crisis with their two PASA volunteer teachers. In two hour-long sessions, students explored various ways to dispel the stigma attached to being HIV positive, during which, according to Joely, "we learned that people with HIV couldn't hurt you." After the discussion, the kids moved to their easels to paint posters reflecting what they had just talked about. Joely's painting featured the Grim Reaper lurking behind a girl with HIV who was sitting and crying while those around her were smiling as if nothing was wrong. "My message," she says, "was, 'Stop pleasing the Angel of Death.'"
Joely returned to finish the poster on Wednesday, that week's second TAC meeting. Following both her art and tennis classes, Joely's after-school week continues with an hour in HomeworkZone, a part of the Club AfterZone schedule. For the most part, Joely uses this time to brush up on prealgebra, a course she knows she needs to excel in to win admission next year to Classical High School.
Joely is a bit disappointed there is no AfterZone on Fridays. What does she do instead? "I go home, relax, and stay with my family," she says. Not to mention counting down the hours until Tuesday and her next tennis class.
Richard Rapaport is a journalist and consultant in San Francisco.