Project-Based Learning (PBL)
Outlaw Educators: Taking Education Outside the Box
Creative teachers mix unconventional methods into their lesson plans.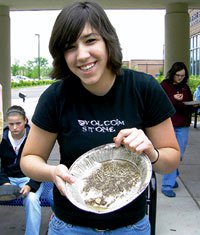 Credit: Eric Langhorst
For Eric Langhorst's eighth-grade students in Liberty, Missouri, social studies is more interactive than sitting through a lecture. Alexis Hansen finds some gold in dirt from a South Dakota gold mine.
On May 1, the ninth graders in Camsie Matis's South Bronx classroom were supposed to study how to graph and solve inequalities. The teens would need those skills to pass the state exit exam and, ultimately, secure a diploma.
But on that particular day, hundreds of thousands of people were marching in cities across the country to protest a pending federal immigration bill. Matis dropped her original lesson plan to launch a project in which students explored the impact of immigrants in the United States, sidestepping political spin for mathematical certainty.
Such spontaneity in the classroom is even bolder now than it would have been five years ago, before the No Child Left Behind Act accelerated the push toward what National Education Association (NEA) president Reg Weaver calls a "one-size-fits-all" approach to teaching. While some teachers tap the Web for unconventional, engaging lessons (see "Taking Back the Class: Teach to the Test? No Way!"), others prove there are myriad ways to break the mold -- as long as you have the courage and determination to try.
Credit: Brian Farrington
"The public school system doesn't motivate urban kids," Matis asserts. "The drill style of teaching to a test ends up defeating many kids who just can't keep up with the torrent of problems thrown at them. I find that kids will do more work, better work, if they care about what they are learning. And they care about what they can relate to."
Don't get Matis wrong; she respects the testing mandates. She recognizes that a public school's survival hangs on test scores, and she bases the content of her classes at the New Day Academy on the state math exam. But she grounds her lessons in problems of everyday life and insists there are some things her students must understand -- gas prices, buying on credit, compound interest -- whether or not they're tested on them.
Earlier this year, for example, she spent a full week with the teens pricing the most cost-effective phone plans for calling the Dominican Republic, where many of their families come from. More recently, she took her students to a car dealership as part of a project called So You Want to Buy a Hummer. Later, students calculated lease/purchase payments and gas, insurance, and maintenance costs.
Traditional math classes typically cover one skill at a time (for example, a day's lesson on denominators), but Matis finds that by engaging kids through exploration of real-life problems, she can pack three or four skills into one lesson. "That's how you can sell it," she adds, "if your principal says to you, 'This is not in the curriculum.'"
Credit: Brian Farrington
Eric Langhorst, who teaches eighth graders at South Valley Junior High School, in the Kansas City suburb of Liberty, Missouri, inspires his students' creativity through hands-on projects. For Langhorst's classes, learning social studies entails panning for gold with dirt from a South Dakota gold mine and putting Lansford Hastings, who recommended a deadly shortcut to the Donner Party, on mock trial for manslaughter. Each year, the students use a green screen and video software to create a "live" news broadcast at the Boston Massacre, complete with eyewitness reports and interviews from London.
Like Matis, Langhorst bases his curriculum on the content the state requires, yet he considers that only a starting point. "Tell me what you want me to get to, but let me get to that goal the way I want to," he says.
Matis insists that every teacher can think outside the test. Even where teachers must follow a strict scope and sequence of lessons, she says, "instead of just doing the textbooks or the worksheet, spend at least one period a week on a real-life problem, and then the kids will be hooked." Matis starts lessons this way so that when she shifts back into traditional instruction and practice problems, the germane application keeps her students going.
The key, Matis and Langhorst agree, is being able to justify what you're doing -- especially by demonstrating improved student performance, as both have. "How does playing with pans of dirt fit into what you're teaching?" Langhorst says. "If you can prove at the end that you're getting to the point, I think most administrators will let you do what you want."
Fueled by their passion, these teachers make their methods sound easy. But here's the rub: Teaching as creatively as Matis, Langhorst, and other mold breakers do is really hard. Martin Haberman, distinguished professor emeritus at the University of Wisconsin at Milwaukee, has spent four decades researching what makes great educators. By his definition, only about 8 percent of teachers are what he calls "stars" -- those who hold themselves personally responsible for motivating and engaging students. He says, "It's the difference between brain surgery and a Band-Aid."
Natural innovators will innovate no matter what constraints they face, says Kate Nolan, chief officer of the Professional Services Group at Learning Point Associates and a specialist in professional development. But, she adds, they'll do it with more success and less strain if their principals support them.
Educators recommend a host of steps for encouraging innovation. Nolan and Weaver, the NEA president, both say it's crucial to nurture new teachers through programs such as mentoring (see "Teacher Preparation: Learn from the Masters"). Weaver adds that principals can help by allowing teachers to take risks. "A lot of the time, if you make a mistake, you're punished or penalized, so teachers go straight by the book," he explains. "If they are allowed to make mistakes while being creative, it sends a big message."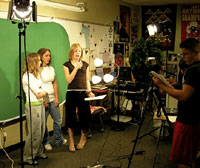 Credit: Eric Langhorst
South Valley Junior High School students in Liberty, Missouri, become journalists to study the Boston Massacre. Rebecca Dillon (with microphone) interviews 'eyewitnesses' Breanna Ormsby (left) and Brittany Ruechert.
Scott Painter, a physics teacher at Atlanta's South Atlanta High School who served as a commissioner with the nonprofit Teaching Commission, a three-year bipartisan project aimed at elevating the teaching profession, says schools can help by scheduling time for collaboration -- not just "meeting for meeting's sake," but real brainstorming to keep classrooms from being islands. Langhorst suggests connecting with fellow educators by any means possible: conferences, professional organizations, Google searches. "I'm teaching the same thing as literally thousands of other teachers," he says, "so it would be insane for me to think, even if I have great things going on in my classroom, that what I've done is the best way to do things."
Why go to the trouble? Langhorst admits creative lessons take more work than photocopying worksheets. The point, he explains, is to keep it interesting -- for students and teacher alike.
"The whole point of testing is really good," says Matis. "The problem is that kids are still getting left behind, and what do we do? I get them excited about math -- and I'm not going to get them excited about math by saying, 'We're on section three, problem ten, on Thursday, October 17.' I say, 'Hey, there were a million people marching for immigration. Let's look at the numbers.'"
Educationally speaking, that's brain surgery.
Grace Rubenstein is a senior producer at Edutopia.