Technology Integration
How Online Simulations Work in the Classroom
Thanks to simulations expert Christopher Walters for providing the following thoughts on virtual simulations for classroom use.
For years, corporations have used computer-based simulations with employee-training programs, augmenting traditional on-the-job training with virtual reinforcement, regular updates on company issues, and so on. Classroom use of simulations, however, has been sporadic, even though many teachers report that children of the MySpace generation thoroughly enjoy online work and simulated activities.Pair that interest with the push for twenty-first-century skills -- collaborations, problem solving, group work, decision making, real-life problem solving, and the like -- and you have an ideal situation for simulated computer activities.
Proponents of simulations suggest that they offer a somewhat risk-free environment, one where learners are free to experiment, make mistakes, and rethink and redesign without fear of destroying something that cannot be easily replenished in a traditional setting. For example, a classroom set of frogs might be the ultimate method for teaching biological concepts though a dissection activity, but perhaps that setup isn't practical or even acceptable.
However, a dissection can take place in the simulated world through programs such as Lawrence Berkeley National Laboratory's Virtual Frog Dissection Kit or the University of Virginia's Net Frog. The procedure follows a typical lesson -- teacher introduction and focus on a set of standards, student experimentation, manipulation, assessment, and so on. But simulating the experiments might allow for more individualized variation and the addressing of mistakes in a way that could easily be reset. A simulated experiment allows us to make mistakes and learn from them -- and even make more, new mistakes, and learn even more, over and over.
Taking a classroom full of students to the Smithsonian Institution might be the ultimate field trip. Financially speaking, though, that's a tough task if you're more than a few hours away from DC. However, take a look at the Smithsonian online. If your students aren't able to visit the real one, perhaps the next best thing is a virtual tour.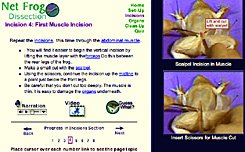 Also, check out Kar2ouche, a product of Immersive Education that asks students to work together in groups to "compose role-plays, storyboards, movies, and animations"; according to the Web site, this experience "encourages creative self-expression, engages learners to develop narration and storytelling, and fuels collaboration, peer discussion, and debate."
Lack of funding and resources is one reason to venture more into the simulated world. In addition, our students are becoming more and more tech savvy, allowing us to let them use simulated tools and experiments with more ease. I think online simulations offer a great chance for students to work in a realistic learner-focused environment, as either an addition to the classroom or a substitute for the real thing. Being able to use technology, work in groups, simulate real-life scenarios, and make and correct mistakes emphasizes the twenty-first-century skills our students need to survive in a flattened world.
So, tell us what else is out there. Do you use simulations? What role do they play in your schools or classrooms? What are your favorite ones?