Professional Learning
The Life.com Photo Archive Brings History to Your Classroom
Seven million free images are available to teachers and schools.
Humphrey Bogart and Lauren Bacall appear at a protest against the blacklisting of Hollywood writers and actors.
Credit: Courtesy of Life.com
Alabama governor George Wallace stands in the doorway of the University of Alabama, physically blocking African American students from integrating the school. Humphrey Bogart, in Washington, DC, protests the blacklisting of artists by the House Un-American Activities Committee. Neil Armstrong and Buzz Aldrin walk on the dusty surface of the Moon.
These and seven million other images of American history and culture are available on Life.com. The relaunched site -- accessible to everyone but especially useful to educators -- makes the entire archives of photo giants Life magazine and Getty Images available free. Users can view galleries curated by the site's editors or search the library by names, dates, subjects, and locations. The archive chronicles current events, too, with daily news galleries and the addition of 3,000 new Getty photos a day.
Once America's leading photo-centric news magazine, Life chronicled the nation and the world for seven decades before issuing its last print publication in 2007. Life's last editor, Bill Shapiro, who heads up the project, wants students, teachers, and parents to use the site to make history more tangible. "The most iconic moments in American history -- we have those," Shapiro reports. "We didn't want simply to create a historical repository or a dusty archive. We wanted these events to feel as alive as they did when they happened."
Photos on the site are organized into five channels: news, celebrity, travel, animals, and sports. Visitors can print individual images and share them through sites like Facebook, Twitter, and Delicious. Life.com also allows users to create their own photo galleries (on, say, the life and work of Maya Angelou, for English class, or animal life in the Everglades, for science). All the site's tools are free.
The site also allows visitors to flip through a series of Life covers on World War II, view a gallery of backstage images from the opera (from the New York Metropolitan in 1943 to the Peking Opera during the 2008 summer Olympics), and compare portraits of Miss America 1945 and Miss America 2009. A search for "civil rights" turns up 7,104 photos and 10 curated galleries on such themes as the vote, the Freedom Riders, and Coretta Scott King. A search for F. Scott Fitzgerald returns 21 photos. Albert Einstein: 187. Jackie Robinson: 248.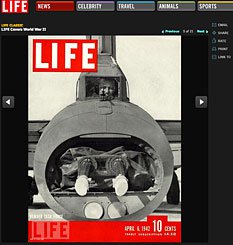 Credit: Courtesy of Life.com
An April 1942 cover of Life magazine highlights the U.S. Army Air Force's Bomber Task Force.
Many of the photos and captions, taken together, tell a full story. For instance, there are 558 images of the 2000 Elian Gonzalez incident, which started when a woman fled Cuba with her young son for Florida. The boy's mother drowned en route, and after spending months living with her relatives in Miami, he was returned to Havana after the intercession of U.S. attorney general Janet Reno. The images show the boy's father and his lawyer, Cuban-American demonstrations in Florida, announcements by Reno, and Gonzalez celebrating his birthday with Fidel Castro after his return to Cuba.
Last Martin Luther King Day, as Shapiro and his team were building the archive's launch version, he used some of the images to illustrate his discussion with his own kids about the meaning of the holiday and the civil rights movement. "Until I showed them the pictures, I sensed they didn't grasp what I was talking about. How could they imagine what it's like to have fire hoses turned on them?" When he showed them the famous photos of protesters being hosed and attacked by police dogs, he recalls, "you could see an understanding. The pictures brought it to life."
In spring 2009, Edutopia.org and Life.com offered our visitors the chance to choose an educational theme for a photo gallery created by the curators of Life's newly released online library. You voted, and here's a link to your winning choice: Civil Rights: Teachable Moments. And be sure to read how Life.com deputy editor Ben Cosgrove put together this gallery.
Grace Rubenstein is a senior producer at Edutopia.