Technology Integration
Online Education Is a New Way of Learning — and Teaching
Educators can find being a teacher for a virtual school to be a challenge.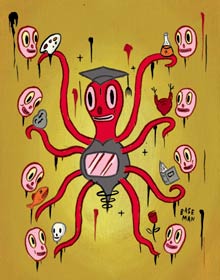 Credit: Gary Baseman
This article accompanies the feature "The Virtual Classroom Redefines Education."
For veteran teacher Kelly Myers, moving from the traditional classroom to the world of virtual teaching and learning was like starting over. "It was almost as if I was a brand-new teacher again," says Myers, who teaches English for the Florida Virtual School. "The transition was more difficult than I ever imagined. It probably took six months until I felt comfortable."
Fortunately for Myers, she had a mentor teacher to hold her hand (virtually speaking) and plenty of professional development through FLVS as she made the transition to online teaching.
Personal and professional support are critical for anyone beginning to teach an online course -- regardless of how many years they've taught in a traditional classroom. "There's this persistent opinion that people who have never taught in this medium can jump in and teach a class," says Bob Blomeyer, senior program associate with the North Central Regional Educational Laboratory. "A good classroom teacher is not necessarily a good online teacher."
Part of the transition has to do with style: The online teacher has to be more of a guide and director for the students. Teachers who are accustomed to using lectures, rather than projects and other inquiry-based activities, for example, will find their style ill suited to the virtual classroom. Online teachers also quickly discover that developing a relationship with their far-flung students takes time -- lots and lots of time.
Joyce McClanahan is a lead teacher with the West Virginia Virtual School's online Spanish courses. Her day starts at about 6 a.m., when she logs on to her computer to answer email messages. She finally winds up by 10 p.m. or so, after logging many emails and phone calls with students throughout the state.
"You're always available for the students, and they know they can email you anytime and you're going to respond," says McClanahan. "Their class day with you doesn't end at 3:30, like it does with a normal class. They can go home, and any time at night, they can email you about personal problems or school problems." And it's not just email. McClanahan has a toll-free line students can call after school hours when they need a little extra help with their work or to study for a test.
That dawn-to-dusk (and beyond) access is great for students but can be all consuming for the online teacher. FLVS's Kelly Myers soon realized that she needed to create some boundaries, or her online teaching would consume every waking hour.
"The biggest struggle is to arrange a schedule, because now you're open to this great flexibility that you've never had before," Myers says. Unlike with the traditional classroom, which you lock up and leave at the end of the day, the Internet is always there."