Project-Based Learning (PBL)
Paths to Paradise: A Virtual Guide to the National Parks
Whether you and your students pay a real visit or a remote one, America's natural treasures offer a wealth of learning resources.
Natural Resources: A Wealth of National Parks Information
In addition to visually stunning landscapes, flora, fauna, and wide-open spaces, America's national parks offer teachers and students a wealth of rich instructional and learning opportunities, both on site and online. And there's never been a better time -- you could even say more critical time -- to use the parks in this way.
Follow along for a virtual hike through the National Park Services Web site that will point out those areas you won't want to miss if you are hoping to make a park visit with your class and save some preparation time along the way. Let's go.
Ironically, the Web is an excellent place to begin connecting your students with the nondigital, nonelectronic parts of the world. As you know, preparation is what it's all about when it comes to successfully presenting a lesson. Fortunately, most of the parks make it easy by providing online information for teachers that is specifically focused on preparing for and enhancing class visits. From podcasts to photo galleries, maps, and direct phone numbers for park personnel, the sites make preparing for a field trip relatively simple.
Cyberspace National Park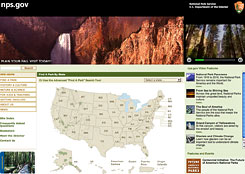 States of Nature: The home page of the National Park Service Web site.
The National Park Service (NPS) oversees the country's national parks, which consist of about 400 natural, cultural, and recreational sites across the country. Its Web site is nearly as vast. The site's home page features an interactive map of the United States that enables you to quickly locate national parks in your state -- most of which have their own Web sites. (More about those later.)
Getting you and your students to a nearby national park promises to be a rewarding experience for all of you, but if that's not possible, the NPS provides an array of park-related activities your class can benefit from without leaving school. Once you've found a park to visit or plan a lesson around, visit the Interpretation and Education page.
Interpretation and Education
This page is the first stop on your real or virtual national park visit. From here you can follow links to
LearnNPS, where teachers and students can explore national parks.
WebRangers, the National Park Service's Web site for kids.
GoZone, which offers park-specific online games and other fun activities.
There are usually also several multimedia features and podcasts on the page.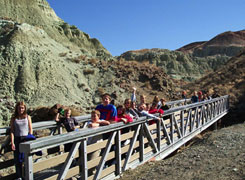 Credit: National Park Service
Bridge to the Past: John Day Fossil Beds National Monument
The NPS site recently featured a presentation about central Oregon's John Day Fossil Beds National Monument and another commemorating the 400th anniversary of Jamestown, Virginia -- America's first English colony. Such features are enormously useful as a preface to a field trip because they're a quick, visually appealing, information-rich way to introduce the location and its history and special features to your students.
These resources can be viewed in class or assigned as homework the night before the trip. They also function as excellent stand-alone teaching tools for classrooms with a broadband connection and an LCD projector. Many of the presentations offer a Plan Your Visit component. In the case of the Jamestown page, this feature includes a dozen links to other relevant Web sites.
The LearnNPS page gives you access to a truly handy For Teachers area, which includes links labeled Parks in Your Curriculum, Resources, Workshops, Field Trip Planning, and Share Your Ideas.
Parks in Your Curriculum
Credit: National Park Service
Beachhead: Point Reyes National Seashore
The Parks in Your Curriculum link, which leads to a page titled Curriculum-Based Programs in Your National Parks, is an alphabetical list of every national park in the country, many of which offer curriculum-based programs, curriculum guides, and lesson plans. Among the five parks whose names begin with the letter P, for example, you'll find a link for the Web site of northern California's Point Reyes National Seashore, which offers a trove of materials for educators and students, stating something that is music to any teacher's ears: "Visiting . . . with your class is easy and free of charge."
A DVD titled Science Behind the Scenery is free for the asking to teachers, as is a complimentary curriculum CD and seven comprehensive study guides in PDF format you can download or print. (One study guide, "Defining Habitats at Point Reyes National Seashore," designed for middle school students, is 188 pages long.) And that's just the beginning. You'll find abundant links to other relevant online offerings and a special page for helping teachers plan field trips.
TeacherZone
TeacherZone, the page that launches when you click Resources on the LearnNPS page, offers a range of tools to "bring your students to the parks and the parks to your students." You'll find links that direct you to information on teacher workshops, tell you how to borrow or buy park-related traveling trunks and kits to use in the classroom, and provide you with audiovisual materials, some for free. There are also links to "online environmental education resources for students and teachers." Other features accessible from this page include the Field Trip Center, which you'll want to explore when you start planning for your class to visit or study a national park.
History and Culture
The History and Culture section of LearnNPS is another gold mine for teachers. In addition to parks, the NPS oversees myriad historical sites, from Gettysburg to Alcatraz, and these also have their own Web sites, which typically include components designed for teachers and students.
The fact is, the NPS Web site is so capacious that sometimes, while wandering its virtual corridors, one will stumble on something like the Teaching with Historic Places lesson-plan index page. It gives you access to 130 lesson plans, a jackpot of prepared teaching materials on major themes of American history -- from the Revolutionary War to art to women's history to archaeology, and much more -- all available on the Web. You can sort the entire collection by location, time period, U.S. history standards, and social studies standards.
Nature & Science
At the risk of sounding like one of those old late-night television commercials for Ginzu knives, wait, there's more! LearningNPS's Nature & Science page also has a generous selection of information for before and after the visit, links, and other resources that will help teachers prepare for a trip to a national park, supplement curriculum, and aid students in researching their assignments.
The Nature & Science page offers links to non-NPS Web sites, including EarthScope. The program, which describes itself as one that helps educators and students "explore the structure and evolution of the North American continent and understand processes controlling earthquakes and volcanoes," runs its own education and outreach initiative.
You'll also find a link to the Arthur Carhart National Wilderness Training Center, which offers K-12 curriculum in the form of interactive, online teaching tools: books in PDF format, transparencies for overhead projectors, and other materials in a course called the Wilderness and Land Ethic. (There's one version for K-8 and another for 9-12.) Two representatives each from several federal agencies that established the center -- the NPS, the Bureau of Land Management, the U.S. Fish and Wildlife Service, and the U.S. Forest Service -- supervise management of the education programs it offers.
Institutes & Field Schools
Finally, you may want to check out the Institutes & Field Schools page, where you'll find an A-to-Z list of nonprofit organizations that offer K-12 school programs, teacher training, field seminars, and other educational experiences in cooperation with specific parks throughout the country.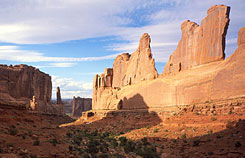 Credit: National Park Service
Golden Age: Arches National Park
At Utah's Arches National Park, for example, the Canyonlands Field Institute runs daylong and multiday programs aimed at secondary school groups. Sandra Sermos, a middle school teacher from Clayton, Missouri, says on the site, "I dreamed of excitement, adventure, education, and safety for my students. We got it all. It was the perfect expeditionary experience."
Likewise, at Point Reyes National Seashore, the Point Reyes National Seashore Association offers teacher-training workshops and seminars (The Natural World, Birds of Point Reyes, The Arts, and Especially for Educators, to name just a few). Similar programs, given by nonprofit organizations working with the NPS, are available for Honolulu's USS Arizona National Memorial (the Arizona Memorial Museum Association), Alaska's Denali National Park and Preserve, and nearly twenty other parks.
Turn Off the Computer and Go!
What's of key importance, naturally, is getting your students out to these extraordinary national parks for an immersion in the splendors -- monumental and microscopic -- that they offer. Multimedia presentations, impassioned lectures, in-class study and discussion, video, and audio are all great ways to complement the wilderness experience, but the difference between walking through a park and learning about one through media is the difference between looking at a photograph of a flower and smelling one.
Douglas Cruickshank is the former editor of Edutopia.org.
Nature Calls: Get Out to the Outdoors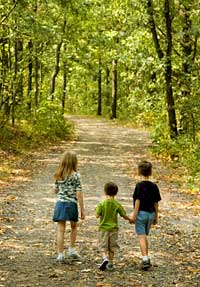 Credit: Leslie Banks
Forest Rangers: Every child should have a chance to walk in the woods.
At the beginning of this article, I wrote: "There's never been a better time -- you could even say more critical time -- to use the parks in this way."
Why is it so critical? Because today, a large percentage of children rarely, if ever, hike or go for a walk in a wild, natural environment. Indeed, a recent poll by the Public Policy Institute of California found that 30 percent of children ages 13-17 "never took part in outdoor nature activities such as camping, hiking, or backpacking," while 17 percent had engaged in those activities only once. Either figure, frankly, is a heart-breaker.
It gets worse, however, when you hear that science courses in elementary grades are, as an October 2007 San Francisco Chronicle story put it, "nearly extinct." The survey of 923 elementary teachers that writer Nanette Asimov referenced reveals that "about 80 percent of those teachers said they spent less than an hour each week teaching science." Elsewhere in the article, Asimov writes, "About 16 percent of the elementary teachers said they spent no time on science at all." As one fourth-grade teacher told the writer, "The demands of No Child Left Behind have made it almost impossible to devote enough time to science."
The good news is that national parks offer teachers and students a rich, varied, and surprisingly affordable means of rectifying this problem. And in addition to the opportunities for science lessons, the parks can also be great resources for teaching history and, for that matter, the importance and pleasure of individual and group physical activity. -- DC