Assessment
How to Organize a Design Project for Your Class
Students take on the task of designing a state-of-the-art high school.
Editor's Note: Educational consultant Eeva Reeder passed away in August of 2010 at the age of 53. We are grateful for her many contributions to the field of project-based learning and to Edutopia, and she is greatly missed. Mountlake Terrace High School discontinued the Schools for the Year 2050 project when Eeva Reeder moved on from the school in 2002, but it remains a great example of a rigorous high school math project.
Students applied their mathematical knowledge to building scale models, drafting site plans, and making cost estimates.
Last spring, Eeva Reeder, a math teacher at Mountlake Terrace High School, in Mountlake Terrace, Washington, issued a challenge to her geometry students:
"Working as a member of an architectural team in 2050, you are competing against five other companies to win the contract to design a state-of-the-art high school on a given site. You must present your proposed design to a panel of professional architects who will award the contract. Your design must meet the learning needs of students in 2050, must accommodate 2,000 students, and must make use of the natural benefits of this particular site, while also preserving at least half of the existing wetland."
Teacher Eva Reeder helped students envision their site by posting this image on a classroom wall.
The Process
Students broke into teams of no more than four and set to work designing the school for the future. Over the course of six weeks, they considered the conditions that might best promote student learning in 2050, applied their mathematical knowledge to building scale models, drafting site plans, and making cost estimates, and prepared written proposals and oral presentations. All the work was completed in preparation for their final presentations to the panel of architects.
Instructions and Guidelines
When Eeva Reeder presented her students with the challenge of designing a state-of-the-art school for the year 2050, she provided them with specific guidance about the assignment, reflected largely in the following documents:
Project Description: This document provides students with an overview of the design problem they are to address, what products and performances will be required of them, what the timeline is, how students should work together, and how the projects will be assessed. (Download a project rubric and an assessment rubric.)
Site Description: This document describes the physical attributes of the site for which the student teams will design a school. (Download a PDF of the site-description document.)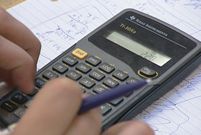 Each team had to calculate -- and justify -- the cost to build out its proposed design.
Team Operating Agreement: This one-page document asks each student team to address the question, "If we are working together exceptionally well, what will it look like?" Each team specifies how decisions will be made, conflicts resolved, and misunderstandings clarified as they work together as a team. (Download a PDF of a team operating agreement.)
Cost-Estimate Sample: This document models the types of calculations teams are required to do in preparing cost estimates for construction of their school designs. (Download a PDF of a cost-estimate sample.)
The Presentation
The nine design teams in Reeder's freshman-sophomore geometry class presented their school designs, plans, and budgets to Seattle architects Kirk Wise and Mark Miller, who were charged with selecting the project with the best concept, best use of site features, and best building and classroom design; cost was also a factor. (Download a PDF of architect criteria.)