Project-Based Learning (PBL)
An MBA for Kids: The Minnesota Business Academy
At this school, curriculum revolves around the workplace's demands for knowledge and critical-thinking skills.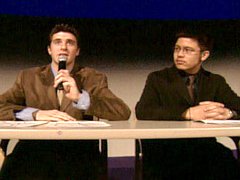 Credit: Edutopia
Minnesota Business Academy: Kids Learn the Connection Between School and the Real World
Editor's Note: This article was originally published in January 2003. Despite an innovative curriculum, the support of the local business community, and the best efforts of educators and administrators, the Minnesota Business Academy ceased operating in 2006.
Teachers who care and assignments that have real-world applications are attracting students to the Minnesota Business Academy, one of the state's most unusual public charter schools.
Opened in 2000 in the renovated former Science Museum of Minnesota, in downtown St. Paul, the high school known as MBA boasts a technology-oriented, project-based curriculum that incorporates a business element in everything from art to English.
"Every school should make the curriculum more practical," says Bob Kaitz, president and chief executive officer of BestPrep, the philanthropic state business group that helped MBA become a reality. "A lot of kids don't do well in school because they don't see a connection between what they're studying and what they're going to do."
Art students make a model of their ideal Minnesota monument.
Credit: Edutopia
Art/Geometry Collaboration
Teachers like Kirk Sklar and Lynda Rupp link all their teaching to an aspect of business. Setting up an experiment using the scientific method includes product-testing and producing a Consumer Reports-like publication. Jewelry making becomes a lesson in the fine skills used in making dental equipment. And in a joint math/art project, geometry and sculpture are used to determine what it would take to build Minnesota's answer to the Eiffel Tower.
Working in teams, Sklar's sculpture students make rough sketches of would-be monuments that honor a range of North Star State treasures: natural resources, the iron-ore range, the shipping and flower industries.
The sketches, along with descriptions of proposed materials, then go to geometry students in Rupp's class. Rupp starts off the process with an introduction of the concepts of formula and scale. The geometry students head for the Internet to research construction possibilities and the costs of materials and labor. Based on those cost estimates, they make paper-and-pencil and Excel-spreadsheet calculations that show how big the monument can be. The sculpture students then carve out a final proportional model out of Styrofoam, an assignment, notes Sklar, that not only improves their carving skills, but their collaboration skills, and their knowledge of prop making.
Literature is linked to business ethics and practices.
Credit: Edutopia
Business Seeking Skilled Workers
Schools like MBA address the complaints of many corporate leaders who say U.S. schools are graduating ill-prepared workers whose lack of skills threatens the nation's global competitiveness. They say they are hard pressed to find employees familiar with state-of-the-art technology who can work in teams on projects that encompass many disciplines, communicate articulately, solve complex problems, and understand a marketplace that extends far beyond America's borders. Soft skills such as public speaking, perseverance, getting to work on time, and dressing appropriately for the setting also are in short supply, they say.
BestPrep conceived the idea of the 480-student MBA and mobilized 150 volunteers from the business and education community to create the school. It helped design the school building and curriculum, and raised money toward the $12 million building and operations startup costs.
MBA executive director Paul Durand says the school has the advantage of "being small enough to be a very caring community and large enough to offer creative, innovative programs."
Among those innovations are a night program that started this fall, the International Business Venture (in which students study local companies and then visit their counterparts overseas), a student-run foundation, computer-assisted learning, cyberdays for those snowed-in periods when getting to school is perilous, and Interim, which consists of two-week community-service projects.
Monique Tenison refined her Web-design capabilities during an internship at Ruckus Interactive.
Credit: Edutopia
Internships and Web Design
The school also provides a half-time paid parent advocate, videoconferencing with a German school, Web designing for area businesses, daily opportunities to meet and learn from working adults, and eighty-five-minute classes. Internships, which typically take three or four hours two days a week, have included stints at a newspaper, a music company, a stock brokerage, and an engineering firm.
Monique Tenison is among the many MBA students who have participated in an internship. Tenison sought to expand her knowledge of the business world and Web page design at Ruckus Interactive, a combination software-development firm and advertising agency. Tenison had learned HTML and JavaScript at MBA.
At first, her Ruckus mentor had Tenison create a fictitious Web site. She posed questions to her "client" about his company's Web site needs, made suggestions, and then built a Hitchhiker's Guide that included information on exciting destinations, on-the-road necessities, and products available for the well-outfitted hitchhiker. Tenison also was given real work that included redesigning the Web site for 3M, which wanted to eliminate a product from its Web site offerings. "I didn't think it was possible being a high school intern to do something like that," Tenison says. "It was a great experience."
In the two years since it opened, school administrators point to higher test scores, growing enrollment, and positive student, parent, and teacher surveys as indicators of success. The personal attention, close relationships with teachers, and determination to individualize the academic program to each students' needs and strengths wins high praise.
Student Dixon Bordiano was inspired by MBA classes to go into business with his mother, Genu.
Credit: Edutopia
A Nice Size
Michael Sutherland says he left 2,200-student Central High School "because I didn't feel I was getting the kind of help I needed from the teachers." Now he has one-on-one relationships where he can "talk on a personal level.
The school's executive director knows what Sutherland is talking about. "Believe it or not, you actually get to know the kids," Durand says.
Genu Bordiano, parent of student Dixon Bordiano, says the interest and encouragement of the teachers in her son, along with a small-school atmosphere and a curriculum that engages him and allows him to mold projects to his particular learning style, has changed him. "When he started MBA, he was a problem student," she says. Dixon Bordiano himself admits he was disruptive, wouldn't listen to anyone, and got into trouble all the time. He had no interest in high school, much less pursuing a college education. Now he's using his newfound marketing and business plan knowledge to help his mother get her dressmaking and alteration business, Where Things Are Lovely, back on its feet, making plans to design clothes himself, and planning on going to college.
"I knew this was the school for me," he says.
Diane Curtis is a veteran education writer and former editor for The George Lucas Educational Foundation.