Assessment
Technology Workshops for Teachers Make Computer Connections
The key to efficiency and innovation in the classroom is using tech tools.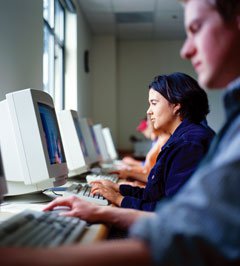 Credit: Daniel Lincoln
This article accompanies the feature "A Louisiana School Leader Answers the Call of Duty."
Twice a month, it's Technology Thursday for teachers at New Orleans's Martin Behrman Charter Academy of Creative Arts & Sciences, where Assistant Principal Cherie Goins, also the school's technology coordinator, presents a three-hour training session that brings staff up to speed on technology for teaching, record keeping, research, and more. Here is a rundown of the content she covers throughout the school year.
Lesson Plans
This session covers how to set up and save weekly lesson plans in a digital format. Teachers learn about the school's lesson-plan template in Microsoft Word and Excel, review the essential elements of the plan, and find out how to name and save each lesson plan in their own folder on the school's server, which allows for safe storage and easy access.
Curriculum Mapping
After an introduction to the basic elements of a curriculum map, teachers become familiar with the tools and skills they need to map out their course content for the year.
Creating E-Portfolios
The school uses electronic portfolios for documenting students' academic growth and success. To set these portfolios up, teachers learn to scan and save a variety of documents and pictures and to create hyperlinks inside a Microsoft PowerPoint slide show.
Laptops in the Classroom
The teachers review the dos and don'ts of using laptops with students, including procedures for loading and unloading the laptop cart, basic troubleshooting, and how to use TrackStar to focus students' Internet browsing. They also get an introduction to Web- and server-based software programs.
Handheld Computers
Teachers get hands-on training in using handhelds with students and learn basics such as how to take pictures, search for educational software, and use a stylus to input text.
Grade Keeping on the Computer
The school maintains its student data in a Web-based application called PowerSchool. Teachers receive introductory and ongoing training on how to use the program to access student data and input grades and notes for their students.
Taking Advantage of Interactive Whiteboards
These ongoing sessions provide teachers first with the basics of using interactive whiteboards as instructional tools, then move on to more advanced topics such as downloading and creating flip charts. Teachers begin by using a blank page as an electronic blackboard. Later, they practice more sophisticated skills, such as preparing interactive flip charts for use in every subject.
The Power of PowerPoint
Teachers learn the basics of creating a PowerPoint presentation and discover the software's many classroom uses. They leave the session with a PowerPoint slide show they can present.
Handy Resources for Effective Teaching
This session explores ten top online resources for teachers, including teAchnology (lesson plans), Twitter for Teachers (networking), and Delicious (bookmarking). What's more, teachers find out how to conduct an effective Internet search to uncover additional learning resources.
Innovations in Classroom Technology
Teachers get first-hand knowledge about the hottest topics in technology to keep up with the latest applications and approaches to interactive teaching and learning. They learn about blogs, wikis, Twitter, podcasts, e-books, WebQuests, streaming video, widgets, and other ways of engaging students.
Email as a Management Tool
Because email volume can be overwhelming, this session demonstrates how teachers can better manage their email and use it as a tool for personal organization. It also shows them how to use email to save lesson plans, pictures, and other important documents for easy access, and, perhaps most important, to document correspondence with parents and administrators.