Project-Based Learning (PBL)
Classroom Literature Circles Expand Thought
Discussing books creates a full learning process for students.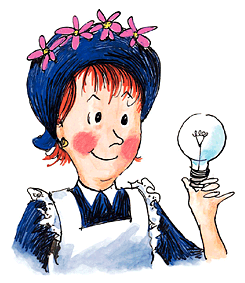 Credit: HarperCollins
Maid of Error: Literature circles can discuss the antics of the title character in Amelia Bedelia.
The sixth graders sit with their desks pushed together, paperbacks scattered across the makeshift table. The conversation bounces from how a Revolutionary War-era character reacted to the death of his father to a personal story about how one of the students handled her sister getting sick while her parents weren't home.
Never mind the book; teacher Alisa Gladstone asks Courtney what she did about her sister. "Instead of screaming my head off, I called my mom and told her to come home, and then we had to go to the hospital," Courtney relates.
This is how Gladstone runs her literature circles at Blue Ridge Middle School, in Purcellville, Virginia. Students meet in small groups based on themes and start talking, with some prompting from Gladstone. If the discussion veers off course, well, that's part of the point: Literature circles are designed to help students connect with the material, whether it's characters in a novel about war or the antics of Amelia Bedelia.
Courtney's personal story was a response to a question: "Did you ever find yourself in a situation in which you had to make an adult decision?" The students were discussing the theme of childhood to maturity in the young-adult war novel My Brother Sam Is Dead, talking about how events in the book forced the main character to grow up.
"When they have to tie what they're reading to themselves, it becomes more real to them," Gladstone explains. "The students remember what happened in the book because they are able to relate to it, and it helps them grow."
Literature circles essentially are small group discussions about a book. But they're much more than chatter about the parts students liked (or didn't like) in the novel. Through literature circles, students learn how to think in terms of why, not just what. In Gladstone's class, it's not enough for a student to say that the death of the main character's father affected her. She has to explain how it affected her and what that means in relation to the theme they're discussing. The circles also teach interaction, as students take turns talking about and listening to various opinions on the same topic. Afterward, students write reflections and do projects based on the reading.
Name-Dropping:
A sixth-grader created an acrostic poem to illustrate some of the traits of the lead character in Johnny Tremain for her literature-circle project.
Credit: Alexandra R. Moses
Teaching the Art of Conversation
Gladstone teaches the same students language arts and history, so she uses the circles to tie the subjects together, and she mixes academic levels. The students choose from one of three books heavy in the historical facts she wants them to know. In this case, they're studying the American Revolution, so she offers up My Brother Sam Is Dead, Johnny Tremain, and Fighting Ground. The students pick a book and then choose from one of five themes: childhood to maturity, friendship and loyalty, war, law, or family.
To talk about the first theme, the eight students involved came to the circle with three relevant facts or quotes from their books. A couple of students chose the statement by the title character from Johnny Tremain that he is "a boy in time of peace and a man in time of war." Gladstone asks the group what it means to be a grown-up. "If you get into trouble, you don't just get grounded," Conor answers. "There's no one to tell you what to do."
The conversation veers quite a bit off course after that, as the students break into laughter and someone tells a story about a television commercial they saw recently. Gladstone, who says some amount of social diversion is necessary for their age, gently guides them back on topic by asking a student who hasn't spoken up yet to share her insights.
Gladstone says giving students a choice about which book to read, which theme to discuss, and, later, what type of project to create, gets the more reluctant readers interested in the books, because they can pick one that speaks to them. The circles have helped improve history test scores, she adds.
"They're able to retain the information a little bit better because they've lived through it with their characters," she states. "On the tests, they'll imagine Johnny Tremain, and they can think through some of those facts and about the people who were there."
The Learning Process
Just how a literature circle looks in practice depends on the students, the teacher, the subject matter, and the curriculum goals. Literature circles in Jennifer McFarland's first-grade class look and sound very different from Gladstone's sixth-grade class. The seven students at Oakland Terrace Elementary School, in Silver Spring, Maryland, just finished reading Good Work, Amelia Bedelia, one in a series of popular books about a maid who misunderstands her employer's directions, to comic effect.
McFarland keeps her circles structured -- giving each student a role, such as connection conductor, scene setter, and word sleuth -- to keep her six- and seven-year-olds on track. Only select students with better reading abilities take part.
"They're getting a full learning process," McFarland points out. "Literature circles hit on the main points that you need to read, think, discuss, and then reflect. If they remember those are the four things they need, they're going to excel in every subject and every grade."
McFarland wants her students to learn what it means to be professional, so they have guidelines. To take a turn speaking, students must say what their role is and why they are speaking, and if someone wants to comment, he or she must say "I agree" or "I disagree because . . . "
In handouts on each role, McFarland has prompts to get the students thinking more deeply about the reading. The connection conductor, for instance, needs to bring examples of real-life connections to the story. McFarland notes that getting them to look for additional meaning in what they read for the literature circle also helps them think beyond simple facts in other subjects as well.
"I am the word sleuth, and I would like to go next because I have a lot of words to share," announces Carl. He has brought a list of words with the page they appear on in the book and their definitions. Today's words include dinner, serve, and table. McFarland uses a marker to copy the words and definitions onto an oversized piece of paper. The students briefly discuss his definition of table as a place to eat, and they finally agree that the definition isn't specific enough. Later, the students will take a quiz on the words.
McFarland uses the circle to meet her district's writing-curriculum goals on persuasive writing and letter writing. For part of their project, the students must write a persuasive letter to Amelia Bedelia's employers, telling them how to be more specific with their hapless maid. They also write reflection journals about the reading and the discussions.
Though Gladstone and McFarland's methods differ, they share the same goal: to encourage a love of reading. McFarland says the practice of digging deeper into the books teaches her students to stop and think about how they know something to be true.
"I love to see where the children's minds go when they're reading the book," McFarland declares. "They're going into this whole extra level of understanding."
Alexandra R. Moses is a freelance writer in the Washington, DC, area who specializes in education.