Professional Learning
Celebrity Q&A: Linda Ellerbee on the Power of Great Teachers
The award-winning journalist, television producer, and author credits a teacher for her success.
Linda Ellerbee is an outspoken journalist, award-winning television producer, best-selling author, breast-cancer survivor, mother, and grandmother. She began her career at CBS, and then moved to NBC News, where she pioneered the late-night news program NBC News Overnight, cited by the duPont Columbia Awards as "the best written and most intelligent news program ever."
In 1991, Ellerbee began producing, writing, and hosting Nick News for Nickelodeon. Known for the respectful and direct way it speaks to children about the important issues of our time, the show has won four Emmy Awards. Ellerbee's first foray into books for kids, an eight-part fiction series titled Get Real, was published in 2000.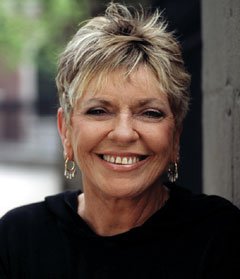 Credit: Olivier Laude
What is your idea of a perfect teacher?
Someone who makes you believe you can do more than you think you can. I had such a teacher. For four years, Mabel Scott told me I would be a writer, and she encouraged me. She just kept piling books on, saying, "Read this, and then write about it."
Later, at age twenty-seven, I found myself in Juneau, Alaska, with two small children, no college degree, and no job. All I had was the memory of a teacher saying, "You will be a writer." I wrote to every newspaper and wire service in America, and I got hired by the Associated Press. I am where I am today because of Mrs. Scott.
What was the low point of your school career?
The fact that I never learned my multiplication tables past the sevens.
Did you go to public school, or private school?
Public school. I wanted to go to a private school, and my daddy said, "You're going to live in a public world; you'll go to a public school."
It was a good choice, but I also know how lucky I was. I got a first-rate education that included art and music and sports. In high school, I took French, Spanish, German, Latin, and Greek.
What was your favorite subject?
English, history, and geography, always. I'm a writer now because I was a reader then. My most prized possession was my library card.
Where did you fit in your schools' social hierarchies?
I was shy, and to compensate for it I was loud and obnoxious. I made jokes, and I didn't understand that my humor could hurt people. I felt like everyone else got it but me.
If you could change one thing about education in America, what would it be?
That's so easy. Give teachers the respect and money they deserve for the valuable work they do: educating our children.
What is impossible to learn in school?
Who and what you'll be in twenty years. If you had asked me at any time in my adult life what I'd be doing and who I'd be five years from that point, I'd have gotten the answer wrong. But that's OK.
What should they teach that they don't?
More art, more music, and media literacy -- how to be an enlightened, critical consumer of information.
What did you learn today?
I learned you can't glue a broken glass together with Krazy Glue. However, you can glue your hands together while trying.
What did you teach today?
I read a column in the National Review, and there was a line in the middle that said, "'And so it goes,' as that woman with the big glasses used to say on television, tiresomely." I emailed the columnist, saying, "Nevertheless, I enjoy reading you, as I enjoy reading anyone whose view is not to let others do his thinking for him. And so that goes, she said tiresomely. Sincerely, the lady with the glasses." Well, he sent me back this amazingly apologetic email saying it was the most embarrassing moment of his life. I taught someone today that you never know who is going to read your stuff.
What is in your dream lunch box?
Anything but a PB&J sandwich, and I don't want there to be a banana near it. I grew up in the South, and we had little metal lunch boxes. If you put a peanut-butter-and-jelly sandwich in wax paper with a banana, and it's 100 degrees, do you know what it smells like when you open it? Extremely dirty feet.
If you wrote a textbook, what would it be called?
Linda Jane's Guide to Almost Nothing.
If the prom were tomorrow, whom would you take?
Johnny Depp! I go to bed every night in the sincere hope that the tooth fairy will leave Johnny Depp on my pillow the next morning. Never mind that I'm probably old enough to be his mother.