Project-Based Learning (PBL)
Teaching Kids to Pursue Their Dreams — and More
Students cross the bridge from school to career at MetWest.
VIDEO: The Met: A Passion for Learning
Running Time: 8 min.
In the late fifties, Harvard University president James Bryant Conant envisioned a one-size-fits-all high school in which all students could access the courses, extracurricular activities, and support they need. But the current reality has fallen far short, as the timid, the ambivalent, and those students without access to academic or emotional support fall through the cracks of crumbling, factory-model schools. Some new school models, however, stand the one-size-fits-all notion on its head.
Clarence Wells fires up a throaty, rusting Dodge while classmate Chiem Saechao buffs a candy-apple-red '54 Volvo inside the sprawling garage that serves as their classroom two days a week. As interns at Gallant Racing Supply, in Oakland, California, they get one-on-one mentoring and discover real-world applications for the academic subjects they study the rest of the week at nearby MetWest High School, part of Oakland's school district.
"I've learned a lot about cars and how math relates to real-world stuff," says Wells as he helps mentor Dan Gallant position a rear-deck spoiler. "I'm taking a physics class, and that's tied in with the stuff I do here. I wrote a paper about aerodynamics, and I'm learning a lot about that."
Across town, Evelyn Sanchez wrestles with a golden retriever at the Woodminster Veterinary Hospital. "I really like being here on Tuesdays and Thursdays," says Sanchez, expertly trimming the large dog's toenails. "I want to pursue veterinary medicine in the future -- hopefully become a doctor, and see where that goes."
Her mentor, Elena Hocking, believes the internships help motivate focused learning. "I think it's better for the kids, because they have a track to follow. Evelyn knows now that if she wants to go to UC Davis, it's a hard school to get into. You have to keep your grades up. When we were in high school, it was more like, goof off and do whatever -- and then, toward the end, try to pick it up."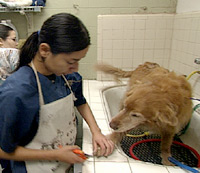 Credit: Edutopia
During their three "regular" school days on the MetWest campus, Wells and Sanchez study core academic subjects in small advisory groups. Classes range from remedial math and reading workshops to college courses offered at nearby Laney Community College, and electives like Art and Ecology, offered by another neighborhood resource, the Oakland Museum of California.
Each faculty adviser works with seventeen students, helping them create unique personal learning plans (a mix of classes and internships designed to address a student's needs and interests) and supervising their independent studies over the course of their four years at the school. Students work on projects, which are often inspired by their internships, creating reports and presentations or other "products" that combine several disciplines. They also make regular presentations to their classmates, teachers, parents, and community members, which are scored on a standard rubric.
"We're good at building relationships of trust between teens and adults," says MetWest principal Matt Spengler. "We do a pretty good job of getting students excited about school. But to leave it there is not enough. The goal is for everyone to be eligible for a four-year college."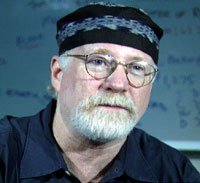 Credit: Edutopia
Dennis Littky, Co-Director, The Big Picture Company
Small Schools, Big Picture
MetWest is one of twenty-seven small public schools around the country -- enrollment in each is limited to 150 students -- opened since 1996 under the aegis of the nonprofit Big Picture Company. Big Picture's "one-student-at-a-time" curriculum concept was developed in Providence, Rhode Island, by company cofounder Dennis Littky.
"Just think about how people learn," says Littky. "If you're homeschooling your kids, you wouldn't put them in the living room for forty-five minutes and then ring a bell, and then bring them to the kitchen and then study science for forty-five minutes. You'd have them meet great people, read great books, and do real-world stuff. We said, 'Let's see if we can create a school that has real work that the kids love -- around their interests.'."
The concept is clearly scaleable, limited only by a community's capacity to support the requisite number of internships. And it seems to be succeeding. Working with a large population of at-risk students, the Big Picture school in Providence boasts a 90 percent graduation rate, and Oakland's MetWest senior class had the highest pass rate on the California High School Exit Exam of Oakland's eighteen high schools. "They did not come to this school having aced that exam in tenth grade," says Spengler. "But, as a small school, we can identify a specific skill set that a student is lacking and then create an individual education plan to address that need."
Back at the Gallant garage, Saechao removes a large chuck of engine manifold and heads toward a workbench. "I'm still learning," he says. "I'm getting a chance to do stuff that I would never get a chance to do at other high schools. MetWest is good. They gave me an opportunity to come here and pursue my dreams."
For more information about MetWest and other high school transformations, see the Edutopia article "High School's New Face."