Project-Based Learning (PBL)
Learning from the Pros: Experts Help Students Move from School to Career
Animation students link up with professionals for modern-day mentoring.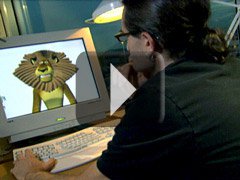 VIDEO: Animating Dreams: The ACME Animation Program
Running Time: 8 min.
Every other Tuesday afternoon, from 2:30 to 3:30, Camilla Sanders-Avery's students at Carver High School, in Birmingham, Alabama, have a videoconference with some of the most successful animators in Hollywood.
The students display their animation projects and get immediate feedback from the experts. No sugarcoating here: "They tell you exactly what your work needs," says senior Eric Gates. "They don't hold anything back." The frank critiques can initially rattle kids accustomed to handing in assignments, getting a grade, and moving on. But many students rise to the challenge. Soon, they're revising their illustrations, storyboards, and film clips, laboring mightily to show the pros, and perhaps themselves, what they're capable of achieving.
"The feedback is invaluable," Sanders-Avery says. "As a teacher, you can say what students need to focus on in their education. But when they hear it from someone in the industry, they take it more seriously."

Credit: Randi Berez
Art Work: Century High School students Albert Quintanar (from left), Josue Maciel, and Ivan Horta draw animation cels at light boxes.
The Carver students are part of ACME Animation, a program that uses twenty-first-century technology to forge an almost Old World style of mentor-apprentice relationships. Founded by Dave Master, a former high school art teacher, ACME links learners and experts through videoconferences and a dynamic Web site.
The give-and-take tends to be technical: how to stretch and squash an image, for instance, to create an animated sequence of a bouncing ball. But the power of ACME lies in its human connections. The program brings young people into a guild -- one that happens to be cool, whose members are highly paid, and whose labors are exacting. In exchange for hard work and dedication, students receive the sort of intense, sustained, eye-opening feedback they rarely get in the classroom.
"I wish more of education was like that," says Mihaly Csikszentmihalyi, professor of psychology at Claremont Graduate University and author of numerous books on creativity, positive psychology, and adolescence. "When you know an adult takes an interest in you personally, not because you signed up for the class or you have to do it by law but because the adult likes you and thinks you have potential, that's a tremendous motivation. It gives you a goal to strive for, to become like this person who is successful."
Credit: Randi Berez
ACME had its seeds at John A. Rowland High School, in east Los Angeles County, where Master launched an animation course in 1977. He saw it, he says, as "a great way to get kids to see art in motion." Animation embraces every art form -- visual principles such as design, color, drawing, and composition, of course, but also storytelling, drama, acting, music, and precision choreography. Master, a painter and illustrator, knew nothing about making cartoons, but he had enough nerve and passion to persuade heavyweight animators to volunteer in his class every other week. He soaked up the sessions, as did his students.
By the early 1990s, Rowland ranked as a leading source of talent for the animation industry, on a par with colleges. When Master left in 1994 to become director of artist development at Warner Bros., he carried the idea of creating an animation mentoring program. The more he reviewed portfolios of recent art-school graduates, the more he wondered, could he apply the Rowland experience broadly -- and remotely -- to give students the training to land jobs? A naysayer warned that such an endeavor might blow up in his face, so Master named the project ACME, for the brand of mail order gizmos used by the hapless cartoon character Wile E. Coyote to try to trap the Roadrunner (and in honor of Roadrunner creator Chuck Jones, Master's mentor during his stint at Warner Bros.).
Credit: Randi Berez
ACME began with live telecasts that linked students at several schools with a panel of animators. The sessions shattered the barrier of geography: For the first time, a twelfth grader in Alabama could get regular hands-on help from an animator in California. "At first, you're afraid," says Eric Gates, who plans to attend art school and work in video game animation. "You're on camera. Everybody sees your artwork, so you're basically standing there naked. But you get used to it. And you're not afraid to get in front of people and talk about this work that means so much to you."
Master wanted to do more than replicate a classroom-type discussion on screen. He dreamed of creating a mentor system for the digital age. In November 2005, after several years of experimentation, ACME Animation went live online around the clock.
The ACME Web site has a learner ladder from auditioner to intern to apprentice. At every level, students post their work, including ACME "challenges." They start with classic animation exercises, such as a bouncing ball or a falling leaf, and increase in technical difficulty and storytelling sophistication -- an advanced student, for example, might create a fairy tale sequence to strict specifications. Students receive comments on their work and revise it until it is deemed acceptable for their portfolio. To step up a level, students must collect a set number of portfolio-ready pieces.
Credit: Randi Berez
That's not all. Students don't automatically get feedback from the revered pros; the kids must earn it by critiquing the work of learners at their own level or lower. A quick note -- "Nice job!" -- earns a point. A detailed critique with concrete suggestions or visual attachments may earn five points -- more to "spend" on a guaranteed critique from an animation guru. Art professor Dana Lamb, coordinator for the entertainment art and animation program at California State University at Fullerton, says this chain of mentorship is the magic of ACME.
"You're not just getting it from above but trying to teach it to someone else as well," Lamb says. "You have to really think very carefully about what you've learned. And when a college student takes a high school student seriously, that kid tightens up and tries to perform better. It's like the students start seeing themselves differently."
Because everyone visiting the Web site can see every comment, students are exposed to expectations of the highest technical standards, the language of the guild, and the art of mentoring. They also get a taste of the hierarchy and work culture of an animation studio -- the relationship between rookie and veteran, and the back and forth, as well as the constant revision and the collaborative, often maniacal, pursuit of perfection in the making of a film.
"Kids want to know, 'Is it good enough?'" Master says. "That doesn't fly with the pros. I always say a B doesn't make you a professional. There are only A landings. The rest are different levels of crashing."
The pros, including some of Master's former students at Rowland and a growing number of ACME alumni, donate their time. More than 3,000 students in thirty-five schools from middle school through college participate, and those numbers are expected to roughly double by fall. Foundation support keeps costs to schools low -- about $25 per student in a sponsored program. (An individual may sign up on the Web site for $100.)
For many students and educators, ACME represents a lifeline. "We are so isolated," says Brad Schofield, who teaches animation at Campbell County High School, in Gillette, Wyoming. "I'm an old industrial arts teacher. I got a master's degree in computers in education in 1985 on an Apple IIE. I can build furniture and run a machine shop. I have a lot of students who are way better animators than I'll ever be. But I'm the kind of teacher who's willing to walk on a limb. It's nice to have help when you walk onto that limb. ACME has been a wonderful resource."
Credit: Randi Berez
Drawing Conclusions: Century High School animation instructor Don Isbell (rear, center) and tech Melony Myers (rear, right) unwind with students after an on-air session with professional animators.
Don Isbell, the animation teacher at Century High School, in Santa Ana, California, agrees. His school is a 15-minute drive from Disneyland, but in many ways it, too, seems light-years away. Many students are first-generation Americans, sons and daughters of laborers. The ACME videoconference "is the first time they interface with a professional other than a teacher," Isbell says. "Sharing who they are, showing their work, having someone comment instead of patting them on the head and saying, 'Good job' -- these are all new things."
Camilla Sanders-Avery teaches in Birmingham, Alabama, an unlikely animation hot spot. But with ACME's help, her school has become a feeder for art colleges throughout the South, and Carver grads are beginning to show up in animation studios. Successful as her students are, she says, she has learned as much as they have.
"As a teacher, you go in, teach the material, and test them on it, and then you move on," she says. "We have a curriculum, and we try to get through it."
ACME showed her an altogether different model, built on student creativity and consistent critiques. The goal isn't simply to get the work finished but, rather, to get it right.
"I tend to reteach more," Sanders-Avery says. "ACME has made me slow down and make sure my students really get it."
Fran Smith is a contributing editor for Edutopia.