Project-Based Learning (PBL)
How to Get Students to Use New Skills
Teachers use a practitioner model to move away from memorizing and encourage depth of learning.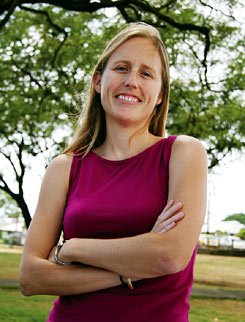 Credit: Nina Lee
She Walks the Walk: Marybeth Hamilton, an alumna of ULS, helps prepare her students for real life.
This how-to article accompanies the feature "Hula High: Where Everybody Is a Doer."
"What use is technical knowledge or facts youlearn from books if you don't know how or whyto use them?" asks Marybeth Hamilton, an English teacher at the University ofHawaii's Laboratory School. Under ULS's practitionermodel, she says, students are requiredto employ the skills they learn, using knowledgegrasped in the classroom, like experts inthe field.
A practitioner model moves students awayfrom memorizing what Don Young, director ofthe ULS Curriculum Research and DevelopmentGroup, calls "independent factoids." By treatingstudents who are studying science like scientists,he adds, teachers encourage depth oflearning, long-term retention of concepts,and awareness of the interconnectedness ofdisciplines.
Young, Hamilton, and hula instructor AlisonHartle explain how any teacher can turn studentsinto doers.
Think about how real practitioners study andlearn new concepts. Identify the core questions of yoursubject area -- What are the big questions in math? What dohistorians puzzle over? -- then set up some classroom ritualsthat mimic how practitioners learn. In science classes, let studentscreate their own labs to test hypotheses. Have art studentsemulate and imitate work by masters. Integrate lots ofinterviewing into a history curriculum and have studentscompare stories they hear. Add a five-minute reading componentto journal-writing time, emphasizing to students thatreal authors share their writing and need to have a sense oftheir audience.
Work locally with a real practitioner. In the ninth-gradeMarine Science class, ULS students work with otherschools and zoology graduate students collecting data in intertidalzones that no one else is researching. Contact your localuniversity to tap into existing partnerships with researchersor graduate students (like the National Science Foundation's Graduate Teaching Fellows in K-12 Education), or talk to a professor whose work interests you and start a small exchange that can grow.
Create opportunities for students to teach. Lastfall's hula focus was the historical ali'i, or royalty, includingQueen Lili'uokalani. Students brought what they learned inthe Modern History of Hawaii course to hula, making evenmore relevant the meaning of the hulas and chants. Teacherswho can't integrate their curriculum with colleagues can createindependent assignments to help students share context andknowledge with each other.
Encourage students to use multiple sources tofind many "correct" answers. ULS hula studentshave a "hula book" designated for notes and vocabulary work.After receiving Hawaiian-language versions of hulas andchants, they have to consult family members, dictionaries, andonline resources for definitions. Back in class, students discussthe different definitions of words they've located, then debatein order to establish group translations of the hulas and chants.
"In a student-as-practitioner classroom,teachers need to be open," Hamilton says. Her English students talk aboutcomponents of a good short story, which they pick up from listeningto stories read aloud. "I will ask students to use thesecomponents, but when the final product comes in, it is ultimatelyup to each student to use the devices appropriate to hisor her story," says the teacher. "As long as students are makingdeliberate decisions about how they want to write, I need to letthem try it. I have been surprised a number of times by studentswho chose to do something against my advice and endedup with a better final product without my change."
Have an end goal. Performances, presentations, displays,publications, and entries into contests are essential for studentbuy-in. ULS's hula class spends the semester gearing up for afinal performance, and Hamilton's seventh graders forget howhard they're working on their writing when they focus on creatingpodcasts. "When I tell students they are going to create apodcast of their own stories, they get excited," she says. "Thisbuy-in from the students gives them a purpose to learn newskills and a reason to come to school."
Use what's already out there. Many teachers andorganizations already are experimenting with these instructionalideas. Along with resources that may be more local toyou, check out ULS curricular materials and professionalopportunities online.
Lisa Morehouse taught secondary English for twelve years in San Francisco and rural Georgia. She is now a public-radio journalist and an education consultant.