Project-Based Learning (PBL)
How to Create an International School
Make global education a priority.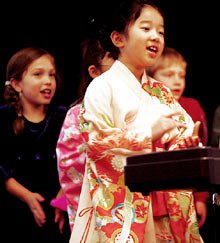 Credit: Barry Wong
Wee Diplomats: Pupils provide the entertainment at a school fundraiser.
This how-to article accompanies the feature "World Party: Cultivating a Student's Global Consciousness."
Terry Acena is principal of Seattle's Hamilton International Middle School, which is molding itself into a higher-grades counterpart of the John Stanford International School.
Like Stanford, Hamilton makes international arts a core subject and emphasizes global topics in every class. All 750 students must take a foreign language. Thirty sixth-grade students -- mostly Stanford graduates -- are enrolled in Spanish immersion, studying history, art, and physical education entirely in Spanish. Next year, the school will add seventh-grade Spanish immersion, and the following year, it will launch a Japanese-immersion program to accommodate graduates from Stanford. Here, Acena discusses what it takes to launch such a school.
Did the John Stanford International School produce a blueprint for its success?
There really wasn't a blueprint. We took some things from Stanford, like having artists-in-residence play an important role, and making sure that no matter what you teach -- I don't care if it's PE, I don't care if it's science -- you incorporate an international theme in your curriculum. But we had to create things, because elementary school and middle school are different.
Can an international school happen anywhere, or does it need a particular kind of community?
It could happen anywhere, but it's more beneficial, more real, if that school is diversified. And I don't mean all black or all Latino or all white -- that's not diversity. For example, I visited one of our sixth-grade classes, and they were studying Africa. There were a couple girls in there from Somalia or Ethiopia, and they raised their hands and started talking. It was just amazing. The kids were in awe. The kids asked questions. This wasn't a book thing.
Does size matter?
I don't think size matters. It does create a situation where there's a commitment of resources. For instance, Hamilton has no electives. Students coming in here have to take science all year; they have to take math all year. They have to take a language arts/social studies block. They have to take a language. They have to take international arts for one semester. Rather than size, it's more about commitment. It's more what you want to do.
Is there a minimum investment?
At least one full-time position for an international-school director, just for that person to be able to get this thing going, plus some money in reserve so this person can travel to see different examples and then start getting some resources, such as books. There are very few grants out there that will supply full-time positions, and that's why it's so difficult. You've got to have a commitment from the district, because I don't think you could really do it all by yourself as a school.
Where should a school look for outside resources?
The international-school director also does a lot of grant writing. If you have a college close to you, that's also an area where you could at least get personnel to come out and help, such as by tutoring.
What challenges have you found in implementing language immersion?
It's just a matter of scheduling. It's not as smooth as in elementary school, where all the fifth graders are with Ms. So-and-So, and they stay in one classroom. In middle school, you've got five transitions a day.
How long does it take to create an international school?
I'd say five years to really develop, and you've got to have at least a year prior to that to plan.
How can a school emphasize internationalism even if it doesn't have the resources for language immersion?
Having a commitment within the staff that no matter what they're teaching, they have an international theme. I have a science teacher here, and he had a gentleman come in and show the students how to make biofuel, and then they discussed that in Brazil, this is what they are going to do. The kids were so excited. That's what I mean by an international theme -- and that was in science. Also, having people acknowledge that differences are okay, and throughout the world there are differences. It's not just terrorists wanting to bomb us.
What advice would you give an educator starting an international school?
Number one, they've got to start within their own school, just to get a feel first. Say to people, "If we had an international school, here are some of the things we're thinking about. What do you think about this?" You've got to get buy-in. Another thing is parent commitment. You might have a little survey go out asking, "Could you please give us some feedback?" You want to have parent support, too.
Grace Rubenstein is a senior producer at Edutopia.