Classroom Management
A Simple Notebook System for Classroom Management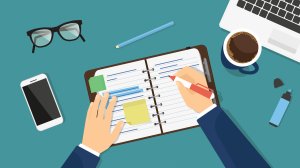 Image Credit: ©Shutterstock.com/Julia Tim
When I taught middle school, I tried lots of different methods for classroom management, but I found that basic notebooks were ultimately the thing that saved me, in two ways. I have videos on my website that explain both uses, but I'll summarize them here:
First, notebooks served as an emergency brake when things got really bad. This happened more often in the earliest years, but I even found myself using this technique in year seven. When my students started getting really talkative and I felt at my wits' end, I would simply stop teaching, pull out a notebook, and start writing. In less than a minute, the whole class would be dead silent. See the video description of this technique.
video
Later, I ended up developing a much more proactive use for notebooks, one that really helped increased students' intrinsic motivation. I kept a 3-ring binder, and each student had a blank page. Anytime a student did something that got my attention -- good or bad -- I just recorded it. That's it. Over time, a student's page would fill with details, and I found that most of my students really just wanted good things written about them, with no other external kind of reward or punishment. I used this effectively with seventh graders AND college students. I go into more detail about this in the video here.
video
Hope this helps someone else!
This piece was originally submitted to our community forums by a reader. Due to audience interest, we've preserved it. The opinions expressed here are the writer's own.