Social & Emotional Learning (SEL)
Grand School: A New Design, a New Year
At Chicago's North Grand High, great design inspires great attitudes.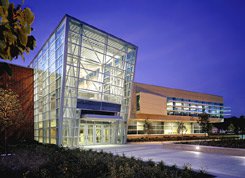 Credit: OWP/P
Sweet Clarity: Architectural firm OWP/P designed for transparency, literally and figuratively.
For beleaguered public school systems that wrestle with trying to turn failing institutions around, efforts that sometimes include starting from scratch with entirely new facilities, one question always looms: Can a well-designed school really make a difference to students and teachers?
The new, 206,800-square-foot North Grand High School, somehow tucked discreetly into the urban sprawl of a poor, predominantly Latino community in northwest Chicago, would seem to represent a resounding yes vote.
The brick, stone, precast-panel, and tempered-glass school, which opened with a freshman class in fall 2004 to relieve overcrowding at nearby Kelvyn Park High School, has emerged as a diamond in a rough neighborhood. It has earned respect not only for a majestic two-story atrium that bathes the hallways in natural sunlight or for its natatorium -- what mere mortals call an indoor pool -- but also, more notably, for students' improved test scores and a magnetic ability to attract ambitious, high-performing students.
"I try to downplay the building," says Asuncion Ayala, the no-nonsense principal who presides over the school's nearly 500 freshmen and sophomores. "It's a beautiful building -- don't get me wrong. But what we do is not about the building. It's about what we bring to the kids who come here." Ninety percent of her students, she adds, are on track to graduate.
But later, on a tour of the school's 500-seat state-of-the art theater and its resplendent gymnasium, Ayala concedes, "But the building, I know, is a factor."
North Grand offers amenities on a grand scale: four computer labs, a math and science wing, a commercial kitchen for the culinary-arts program, separate classrooms for engineering- and medical-career pursuits, and two garden courtyards.
"I think the students feel they weren't shortchanged," says Edward Fantis, coordinator of special projects at the school. "They got a school comparable to a college-prep school. For a general high school, it's a unique facility."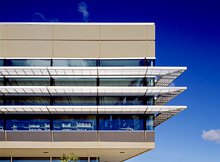 Credit: OWP/P
Inside Looking Out
Literal transparency was a key component of North Grand's design. Design director Trung Le and lead architect Bjorn Hallsson made no attempt to shield occupants from their urban surroundings. The library's large windows frame the front entry plaza of the building. And the "L," Chicago's venerable elevated train system, whooshes past walls of windows lining the cafeteria on the second floor -- though, thanks to modern sound-proofing technology, its rumblings are neither felt nor heard.
"We're trying to learn a lesson from ecology," says Le, design director of the education group at OWP/P, the managing architectural firm for the Chicago Public Schools, the third-largest school district in the country. "Basic life requires easy flow, natural daylight, a sense of playfulness about the environment, and the ability to connect with other people." Le divided the school into two parts: private, instructional spaces, including lockers and classrooms, on the left side as you enter the school, and communal spaces such as the gym and the fitness center on the right.
"Anything that goes wrong is on the left side," jokes Ayala, who likes the fact that the wide main corridor provides unobstructed views -- there's no place to hide.
"Where do you belong?" Ayala barks in Spanish, then English, at a student wandering the hall after the bell, shirttail out and belt dangling. Then, before he can answer, her voice snaps like the crack of a whip across the sun-drenched atrium: "Ricky, tuck that shirt in; pull that belt up."
"We're constantly on them," Ayala says of her students, 90 percent of them Hispanic. She initiated a no-jeans policy and doesn't allow students to play team sports until sophomore year. And, more significant, every tenth grader must enroll in at least one Honors class -- that is, if they're not already among the 25 percent attending an Advanced Placement class. "We talk to them about how privileged they are. A lot of these kids already have baggage. But I believe they all can be successful."
This kind of restrictive but respectful atmosphere is why sophomore Mariveliz Ortiz transferred to North Grand. "I was looking for a better learning environment," she says. "At my last school, I'd do my homework, and people would hate me for it. Here, it's OK to be smart."
Ortiz can recall when the school was under construction: "I thought, 'Wow, this is going to be really cool.' There's a lot of energy in here. You can't fall asleep."
See the Light
On some days, so much natural light pours into North Grand that energy costs are significantly reduced, but the oversize windows are designed to prevent glare, which cuts down on air-conditioning costs. Safety, too, was a design consideration in a community that has seen more than its share of gang violence. Seventy-five security video cameras monitor the school, and students are required to wear ID badges to gain access to the building. Visitors show up on camera and must be buzzed in.
"We were able to convince school administrators that from a psychological standpoint, a transparent school filled with natural daylight will improve security," Le says. "It's not necessarily about installing more cameras, but about making the school pleasant." Security also figured in the placement of various functional spaces. For instance, Le put a casual hangout space for students next to an adult-supervised area.
All the administrative offices are clustered to the right of the entrance, a convenience that also helps keep the school's main corridor clear of foot traffic.
"Right now, if you go out there, the hallway is clear," says Fantis, who believes the newness of the building has contributed to feelings of ownership. "There is pride. The parents and kids feel good about it."
North Grand has fast become a valued part of the neighborhood, doubling as a community center at night. During the spring, a women's softball league meets in the gym on Mondays; a men's mentoring group plays basketball with boys there on Fridays. On Sundays, parishioners from nearby Grace and Peace Community Church, which is undergoing renovations, hold worship service in the theater.
"The school is really for the community," says Le, who received a citation of merit from the American Institute of Architects for his design. One juror commented, "The architect is respectful of the children."
"As architects," Le contends, "we can foster a casual relationship between students, and between students and teachers. It's more than just what's being taught in the classrooms. It's how that person becomes a human being in a democratic society."
T. Shawn Taylor is a freelance writer in the Chicago area.