Social & Emotional Learning (SEL)
Global Nomads: At-Risk Students Connect with Peers Worldwide
An ambitious videoconferencing program brings together teens from all over — and wakes them up to the world at large.
Take a group of kids -- let's say they're at-risk high school students -- and give them the opportunity to not only participate in but also design and direct a worldwide videoconference with other teens in remote or war-torn or poverty-stricken locales. Then sit back and see what happens.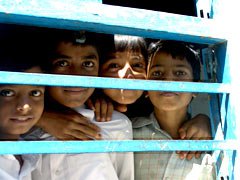 Credit: Christoph Schmitz
"Usually, I have to make sure the kids are awake in class," says Shirley Herrin, a social studies teacher at ALPHA Academy, in Magnolia, Texas, outside Houston. "Here, they were on the edge of their seats, interested." Herrin's students dove into the Global Nomads Group videoconferencing program in fall 2005, and they haven't been the same since.
The GNG's Currents program brought kids from countries such as Brazil and Japan into American classrooms (such as Magnolia's) to talk about HIV/AIDS. "My kids assumed they knew it all," says Herrin, when in fact they understood very little about the global AIDS situation. Working on their own, they decided to bring their newfound knowledge to the rest of the school by organizing an assembly at which the district nurse came and spoke about HIV. "This was a group of kids who had never done anything on their own, and they went after this with such a passion."
GNG, whose mission is to bring young people face-to-face across spatial, cultural, and national boundaries through videoconferencing, has been doing so since its founding in 1998. Though the open dialogues have a theme and structured content (designed by the students), the conversation also includes what music they listen to and how they get along with their parents -- in other words, teenagers talking to teenagers about teenage issues. One goal of the interaction is to get rid of some of the ignorance that exists simply because we live in different places. GNG has broadcast from many countries, including Brazil, China, Honduras, Iraq, Japan, Jordan, the Sudan, and Vietnam, while meeting and speaking directly with the young people living in those locations.
The ALPHA students have responded to the GNG message enthusiastically. Distance-learning coordinator Charlie Brown said these kids -- not "your usual motivated crowd" -- "soared" when they began preparing for the videoconferences. At a school where 84 percent of the population is designated at-risk, the upturn in academic achievement has been notable and, it turns out, long lasting. Along with lessons in social studies, geography, culture, politics, religion, the military, the government, and resources, the students learned a little diplomacy, which, Herrin says, is a "huge lesson for our kids."
Most of these students have never ventured outside of Magnolia; the GNG programs brought them some perspective as well. After the Mozambique program in spring 2006, Herrin's students decided they didn't have it so bad after all. They held a fundraiser (again, all on their own initiative) and sent the $170 they collected to Mozambique, where, they had learned, it costs $130 to feed, clothe, and educate a child for a year.
"It doesn't sound like a lot of money," Herrin admits, "but this school had never held a fundraising event before. There's not a lot of money floating around our school."
That feeling of being able to effect change has spilled over into other aspects of the students' lives. "They are part of something so special, they get to do something not a lot of people get to do," says Herrin, and that factor has improved self-esteem as well as grades.
"They represented our country in a positive way, and maybe changed how people think of Americans," she adds. Herrin says she experienced "the highest high you can get as a teacher, seeing your kids want to know more, asking thought-provoking questions, and then wanting to know even more."
The GNG programs at ALPHA would not be possible without the school district's commitment to videoconferencing technology. In 2000, Magnolia director of technology Rob Miller installed camera systems in every school and administrative building. "We just put in fiber optics," says Brown. "And we have a VirtualLAN for videoconferencing, which keeps things fast and clear because there's no other traffic." In a district with 8 to 10 percent growth per year, investment in technology is a necessity.
When Brown was hired, he was given the task of finding interesting applications for the videoconferencing system, which, up to that point, had been used only for professional development. He followed up on a Center for Interactive Learning and Collaboration (CILC) advertisement for GNG and ran a trial at Magnolia. The 2004 GNG program, filmed from a refugee camp in the Darfur region of Sudan, was enough to convince him that his videoconferencing system could become a GNG hub. "I liked what happened in that classroom," Brown says.
It isn't enough to have the students watch a video or take a virtual tour of a place, though. A videoconference has to have academic content, and it has to be interactive. "We do no conference where we are not interactive," Brown insists. In an ordinary class, he says, he usually feels he has reached or changed one, maybe two kids by the end of the year. He believes that, after the GNG conferences, every student was affected.
GNG got them out of the classroom and into another part of the world without taking them away from their home. "It has had an impact on their lives," he says. One student decided to graduate early and become an intern with GNG in New York. When her parents balked, she compromised by attending a Texas university, majoring in communications and media. "This is a kid who had trouble just being in school," Brown recalls, and, all of a sudden, she was on fire, graduated early, and is now working toward a college degree -- thanks to GNG's window on the world.
Elizabeth Crane is a freelance writer in San Francisco who writes about many things, including education, parenting, technology, and food.