Project-Based Learning (PBL)
Telling Tales: Pakistani Students Share Their Culture's Lore Online
Students create a collaborative, international network
of fables and folktales that celebrates and shares cultural heritage.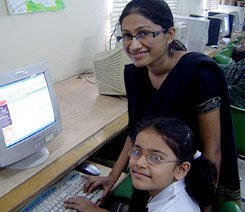 Credit: Saleem Ibrahim
Ayesah, a seven-year-old student in Karachi, Pakistan,clicks a link with her computer mouse and enters herusername and password to open a page. She clicksProjects, then Language Arts, then Folk Tale, andfinally the discussion window: Folk Tales from Pakistan. On the screen appear short folktales posted by Ayesah and her fellow students,who look on. Their faces brighten as they read responses tothe folktale they posted the day before. From the other side of theglobe, a student has sent a note of appreciation for their writingand shared her views on the story. In many schools in many countries,similar scenes play out.
These Pakistani students and their teachers are participatingin the online collaborative project called Folk Tales, organizedby iEARN (the International Education and ResourceNetwork), a nonprofit organization of 25,000 schools andyouth organizations and 1 million students in more than 120countries. The group helps teachers and young people worktogether online using the Internet and other communicationtechnologies.
One-hundred-fifty iEARN projects, designed and facilitatedby teachers and students to fit their curriculum and classroomneeds, create an extraordinary international network. To join,participants select an online project and look at how they canintegrate it into their schools. Teachers and students enteronline forum spaces to meet one another and get involved inongoing projects with classrooms around the world.

The Folk Tales project is an exchange of the lore and fablesthat are a part of every culture, a sharing of the storytellingthat is a centuries-old tradition in many societies. In a sense,the idea is a digital re-creation of the way stories were passedalong by caravans and travelers taking goods to and from Indiaand Central Asia along the old Silk Road. (In the real, analogworld, in Peshawar, Pakistan, a city on the Afghan border,there still exists a place called Qisa Khawani Bazaar, a namethat means "market of storytelling.")
Reviving Riches
In a modern childhood world, populated by Barbie and Harry Potter (not together, of course), schoolkids often know very little about the folktales of their own country and almost nothing about those from other parts of the world. And yet these old stories remain a rich source of learning about life's problems, customs, traditions, and beliefs. The iEARN Folk Tales project creates a new market of storytelling to revive not only the stories but also the shared experiences and learning they offer.
Osama, a student in Ayesah's class, talks about a crucial by-productof the project. "I like listening to the tales and thenrewriting them," Osama says. "I also share them with my mother.Before this, I'd never written these kinds of stories."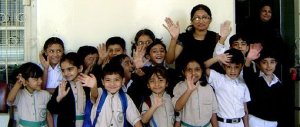 Credit: Saleem Ibrahim
Active involvement in the project offers a chance for realcommunication with a real audience that results in betterunderstanding of other cultures, respect for others' ideas, tolerance,awareness of global issues, and improvement in languageproficiency. Resources for teachers, including lesson plans, areprovided on the project's online forum. Teachers can use theseresources, share their experiences with other teachers, and discussrelated issues.
The iEARN Folk Tales project enables students to go globalusing the Internet, sharing their ideas with students fromaround the world. Just as important, it gives opportunitiesfor reflection on the lessons and morals of local and nationalfolktales, stories told down through the generations as away to pass along lessons that still have much to teach studentstoday.
Saleem Ibrahim is senior program officer for iEARN-Pakistan, in Karachi.