Social & Emotional Learning (SEL)
Child's Play: Japan's Groundbreaking Child-Development Web Site
When the conformist Land of the Rising Sun forges ahead in education innovation, we'd better pay attention.

Credit: Getty Images
It may come as a surprise that Japan, a nation often characterized as valuing conformity and group obedience over individual creativity, produces one of the best Web sites on innovation in child development and education.
Child Research Net (CRN) publishes articles and commentary on wide-ranging topics that relate to children, from genetics, evolutionary biology, anthropology, robotics, and technology to obstetrics, parenting, child care, and school curricula.
Along with commentaries by researchers, teachers, parents, and students, the site includes surveys on such important topics as students' use of mobile phones (more than 90 percent of Japanese high school students use one) and computers (over four-fifths of students have computers at home, but they use them surprisingly little).
CRN is more than a compendium of research, however. On a recent visit, the site featured a report from a conference held on children, evolution, and brain science, including a keynote speech that discussed how Charles Darwin recorded his own children's growth and development while creating his theory of the evolution of the species. Apparently, when his son was born, Darwin instructed his family not to speak to the baby, who proceeded to babble in "baby talk," leading Darwin to speculate on the innate nature of oral language. (Do not try this at home.)

Launched in the late 1990s, CRN is a nonprofit organization supported byBenesse, a major Japanese publisher of curricula and teaching materials. Translated from Japanese into Chinese and English, the trilingual site espouses a multidisciplinary view of child development and education, called kodomogaku, or child science. Learning is viewed as something that is not solely the province of educators and is broadened by the latest knowledge in neuroscience and psychologists. As the site proclaims, children "are both biological and social human beings." This interdisciplinary view reflects the approach of CRN's director, Noboru Kobayashi, an eminent pediatrician who is president emeritus at Japan's National Children's Hospital and a University of Tokyo professor emeritus.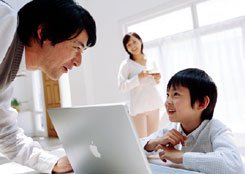 Credit: Getty Images
I have been an occasional adviser to CRN, beginning in 1999, when I participated in a "playshop" for 150 Japanese parents, organized on the startling notion that mothers and fathers there do not play enough with their children. As confirmation, several fathers said it was the first time they had drawn, made paper costumes, or sung with their young kids. The playshop project resembled many family programs children's museums, science centers, and other nonprofit organizations offered in this country. Throughout its work, CRN has spread a fundamental truth about education, in Japan and around the world: Parents are a child's first and most important teacher.
Milton Chen is executive director of The George Lucas Educational Foundation.