Assessment
Educators Innovate Through Technology Integration
Technology and NASA help teachers and students at a South Carolina elementary school aim high.
Credit: Mark Wagoner
School Boards: Fourth-grade students learn Revolutionary War History by combining handmade board games with simulation software.
At Forest Lake Elementary Technology Magnet School, in Columbia, South Carolina, a typical school day begins with students and staff tuning in to Forest Lake Today, a live, ten-minute, CNN-type news show.
Under the direction of technology specialist Paulette Williams and media specialist Elizabeth Padget, fifth graders create, produce, and present the news show each day. Adorned in red polo shirts with the Forest Lake school logo, the news crew prepares most of the program's sophisticated content before and after school.
Every morning, the show includes school, local, and national news presented by two anchors, who have also interviewed such special guests as the Cat in the Hat (a.k.a. Brenda Richards, a retired Forest Lake teacher dressed as Dr. Seuss's mischievous character) and Lucas McFadden, former host of a popular show on local television station WIS (and current anchor with the local CN2 News). In September 2006, McFadden guest cohosted Forest Lake Today with the students when it was featured on NBC's Today Show.
Each day, a puppet of the school's eagle mascot delivers the lunch menu, while the weather reporter retrieves the most up-to-date data from a weather station that sits atop the school building, relaying the day's forecast on a magnetic board. All the while, two student members of the technical team are behind the scenes, manipulating the video and mixing the sound.
A Magnet Pulls Students In
Columbia, the state capital and home to the University of South Carolina and the U.S. Army's largest initial-entry training center, attracts families of varying socioeconomic, racial, and ethnic backgrounds; the school's 580 students in grades preK-5 include children from 15 countries who speak 13 languages. By integrating technology into the classroom, maintaining an affiliation with the National Aeronautics and Space Administration, and promoting project learning, Forest Lake accommodates the various learning styles of such a wide-ranging student body, developing strong literacy and strengthening students' science, technology, math, geography, and even engineering skills.
Principal Kappy Cannon, along with curriculum resource teacher Marian Scullion (a former Forest Lake teacher), believes that although the school's technology tools offer a new twist on old ideas, the true attraction of this magnet school lies in the way it incorporates technology into every aspect of teaching through innovative instructional strategies.
The school's tech team even includes fourth and fifth graders who help make sure all the technological equipment is in working order for each class. "Technology is just a tool," says Cannon. "The teachers in this building could teach with a stick, a rock, and a paper bag. Good teaching all comes down to the relationship between a teacher and child."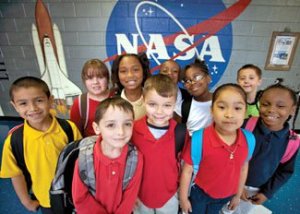 Credit: Mark Wagoner
Take Off: Since 2006, Forest Lake Elementary Technology Magnet School has been a National Aeronautics and Space Administration Explorer School, which lets students take advantage of the U.S. space program's research and technology.
No Subject Left Behind
One of Forest Lake's most prized programs comes from its status as a NASA Explorer School. Like the more than 50 other such schools in the United States, it has a three-year partnership with the national space program that enables students to draw from NASA's resources and collaborate with its members to study technology, science, engineering, and mathematics -- and to encourage kids to investigate careers in these fields.
"When we became a NASA school, we reworked our major teaching units to ensure that science and NASA were included," notes technology specialist Paulette Williams.
Beyond the classroom, Forest Lake sponsors four NASA Family Nights during the school year so parents can experience and participate in the types of investigations their children are conducting. During one recent Family Night, students demonstrated motion and force by building rockets and cars to see which one could move the fastest and by constructing wind socks to learn about the strength of wind. "As with our magnet program," says Williams, "every child, teacher, staff member, and family takes part in the NASA Explorer program."
Back on terra firma, each classroom has a prominently labeled Tech Zone, a circular station of six to eight networked computers used to do research, create Microsoft PowerPoint or Photo Story presentations, and provide remedial instruction. Students also use Microsoft Movie Maker and PowerPoint for digital storytelling.
A vital component of the reading curriculum is Scholastic Reading Counts!, a software program used to monitor and inspire independent reading. With a computer-to-student ratio that ranges from 4-to-1 to 1-to-1, teachers can tailor instruction to a child's specific needs.
In addition, teachers conduct games and activities with Smart Board interactive whiteboards, while students use the same company's AirLiners, wireless slates that can interact with the teacher's board. "When you walk into a classroom," says Scullion, "you see students engaged in learning and technology that's so seamlessly integrated into the curriculum that you almost don't know it's there."
In music class, students experiment on a Yamaha keyboard to learn about pitch, tempo, and rhythm. To encourage reading, third-grade students take turns using Flip cameras to photograph their fellow costumed students acting out fairy tales. And in Kevin Durden's fourth-grade class, students learn about the Revolutionary War by playing simulation strategy games and reenacting military battles through games Durden and the students created using Vassal, a game engine for building and playing online adaptations of board and card games.
For assessment and evaluation, teachers employ Palm PDAs to test reading skills in prekindergarten through second grade. By using handheld clickers, each student communicates with the teacher's interactive whiteboard.
The kids' responses are recorded so the teacher has an instant snapshot of each student's performance. If everyone answers the questions correctly, the teacher moves on to the next lesson. If most students get the answers wrong, the teacher knows it's time to back up and review the material again.
Log Me In, Coach
The school's approach to project learning incorporates technology first by getting teachers on board. "We spend a lot of time working with teachers to help teach them not only how to use the technology but also how to incorporate it into their instruction," says Williams. "We bring new teachers into the fold very easily.
"A new teacher was afraid to use the AirLiner for the first time," she adds, "so she asked me, 'Will you just come to my room?' And I said yes. I went there and sat patiently. She didn't need me, but I was there if she did."
To help teachers meet the challenge of integrating ever-changing tech tools, Forest Lake holds regular training sessions based on the interests and needs of the teachers. Twice a month, the school's weekly skill-building session, "Momentum Monday," is dedicated to infusing technology into the curriculum, with an emphasis on teachers sharing their expertise and learning from each other.
The Richland School District Two also contributes by providing a technology specialist (at Forest Lake, that's Williams) for each of its 35 sites. A districtwide mentoring program beefs up the digital skills of select teachers from each school, who then are expected to share that knowledge with their colleagues.
Teachers have extended project learning into an intensive and innovative classroom called SciTech, which students visit for 55 minutes each week. Wireless laptops enable students in grades 1-5 to create projects involving technology, geography, engineering, and math.
According to Cannon, recent projects include the study of oceans during which students participated in a live Web broadcast about estuaries. The program, sponsored by the South Carolina Educational Television Network, provided hands-on activities about the ocean floor. A teacher-created WebQuest, which used information from the U.S. Geological Survey and the National Oceanic and Atmospheric Administration's (Ocean Explorer site), gave students additional hands-on instructional opportunities about ocean life.
"Using images of Earth taken from space, students are able to see the seasons of the year, how hurricanes are formed, and how erosion has occurred over time," Cannon explains. "Students also gather information about how to become a geographer."
Entrepreneurial Spirits
To help finance all this technology, Forest Lake established an educational foundation. The school partners with area businesses and solicits contributions for fundraising events, such as this year's student performance of Annie, Jr., and a silent auction that raised more than $12,000.
The Forest Lake administration continually applies for grants, awards, and programs that enable the school to purchase and maintain technology. In addition, the school district provides software, hardware, Internet access, and support.
Clearly, its efforts have paid off: Forest Lake's success is reflected in its standardized-test scores, which have shown significant gains over the past few years. The school's scores on the South Carolina Palmetto Achievement Challenge Tests (which measured student learning in language arts, math, science, and social studies) for the class of 2016 increased 10 percent in science and 5 percent in math between 2006 and 2008.
In addition, Forest Lake has won numerous awards for the way its faculty uses technology to enhance learning. The litany of honors includes being named one of the Magnet Schools of America's 2008 Schools of Distinction and a 2006 Intel and Scholastic Schools of Distinction Award for Technology Excellence.
In 2008, Principal Kappy Cannon was a finalist for the Distinguished Principals of the Year award, sponsored by the South Carolina Association of School Administrators. But perhaps the best indication of the school's success is its students' excitement and enthusiasm. Says fifth grader Krishna Gorrepati, "It's a surprise every day!"
Go to "How to Build a Technology-Based Curriculum."
Mary Best, a freelance writer based in Charlotte, North Carolina, writes about technology, health, and travel.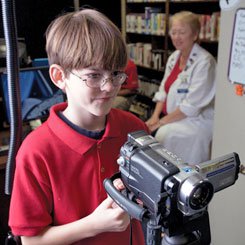 Credit: Mark Wagoner
Lights, Camera, Action!: Fifth graders at Forest Lake film,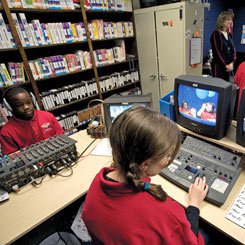 Credit: Mark Wagoner
mix sound for, and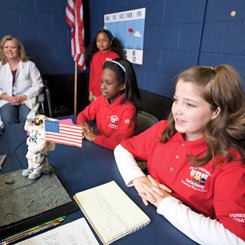 Credit: Mark Wagoner
anchor the daily news program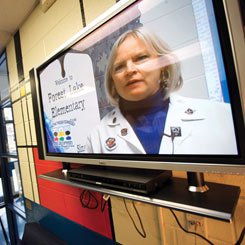 Credit: Mark Wagoner
Forest Lake Today.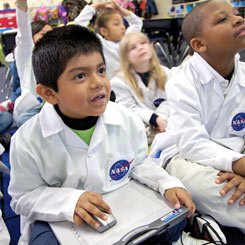 Credit: Mark Wagoner
All Aboard: Third graders in the school's NASA program use wireless tablets to coordinate with their teacher's interactive whiteboard. Similar tools enable students to work on activities, take notes, and launch software applications.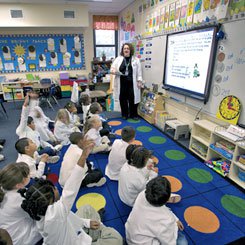 Credit: Mark Wagoner
School Boards: Interactive whiteboards enable teachers to integrate software, games, and other tools into daily lesson plans.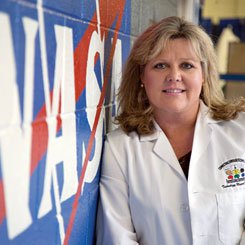 Credit: Mark Wagoner
'Teachers need to know not only how to use technology but also how to be comfortable with it when those teachable moments arise,' says Principal Kappy Cannon.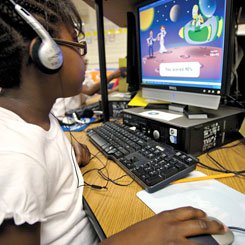 Credit: Mark Wagoner
Objects of Study: With tools such as a Classroom Performance System remote control device, students send teachers the immediate feedback that enables them to assess performance in real time.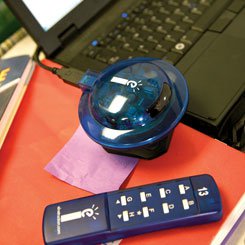 Credit: Mark Wagoner
Classroom Performance System remote control device.
v>