Social & Emotional Learning (SEL)
Foreign Intrigue: Living in — and Loving — America
A German exchange student reflects on what she learned, and loved, at an American high school.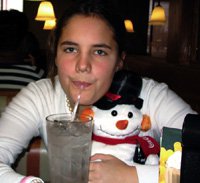 Credit: Charlotte Heine
When I first told my friends in Germany that I'd be spending an exchange year at a high school in the United States, many said my stay would be a vacation, a year off from school in Germany and other duties I had to fulfill before graduating.
Though in some ways West Johnston High School, in Benson, North Carolina, was easier than my school in Frankfurt, there were lots of things I had to work out, most having to do with a clash of cultures.
I visited my new school for the first time the morning after arriving in the States. My first impression was -- clean! There was no graffiti, not a thing that didn't go with the school colors of green and white. It was hard to believe that a school with more than 1,500 students could be so different than my German school (also quite large, with 1,000 students). At my school, graffiti is common (just as it is in the city outside), and the chairs and tables don't match, as they do at West Johnston.
Some differences were not so welcome. Getting my schedule was very complicated, and throughout the year I found that bureaucracy seemed to slow everything. This surprised me, because in Germany we have the impression that American students have more freedom.
On my first day of school, I could see more differences between home and North Carolina. Though my schedule was less crowded than in Germany -- four courses instead of the ten I was used to -- the classes were longer and required more study.
Credit: David Julian
I had my four classes every school day, each ninety minutes long, with only five-minute breaks in between. Such long classes were annoying, but they gave structure to my day, which I do not have in Germany. In some classes, we took a test every other week, with quizzes in between. But these weren't too hard, because they were multiple choice. In Germany, I take two tests per class each semester, and we rarely have quizzes, but those two complicated tests count for about 50 percent of my grade. The rest of a grade depends on participation. I was relieved participation didn't count so much at West Johnston, because in the beginning I was shy about my English.
I started out with art. My art teacher was very young, about twenty-three years old. In Germany, in the equivalent of middle school and high school, I had never had a teacher that young before.
The next thing I noticed was the age difference among the students in many of my classes. Except for math and English, there were always pupils ages fourteen to eighteen in my classes, which I found weird, because I had never experienced having a class with anyone not my age. There was also much more of a mix of students. In Europe, I attend what's called a Gymnasium, a high-level high school for students who intend to go on to a university. Realschule and Hauptschule are more for people who want to go to work right after high school.
At West Johnston, people from many races and economic levels attend together. But I found that they tend to stick with their own racial and economic groups. Even so, due to the many types and backgrounds of my fellow students, I learned a lot about the different cultures that make up America. In Germany, because of its history, there's a lot of discussion of racial problems, but in my school, few students are of other races. In North Carolina, these discussions in mixed classes affected me much more.
Credit: Charlotte Heine
People think Germans are very disciplined, but I found West Johnston much more strict than what I was used to. We were not even allowed to go to the bathroom without having a teacher fill out a pass. Even during lunch in the cafeteria, all of a sudden, one of the assistant principals would call out to us that we should be much more quiet. Though I didn't really mind the restrictions, it did annoy me that there wasn't much chance to just walk around and talk to friends. We also had a dress code, which didn't make much sense to me. My host family would go shopping at a mall almost every Saturday, and when I wanted to buy a pair of jeans with small holes worn in them, there was a lot of discussion about whether I could wear them to school.
Looking back on my year in North Carolina, I very much miss some of the classes offered -- especially journalism, acting, choir, and color guard. In Germany, my school offers very little other than strictly academic subjects. But what I liked most about my American high school was the school spirit, and the competition between schools -- things I never experience in Germany. At West Johnston, we had something called Spirit Week, when everyone would get involved in promoting a feeling of school loyalty. I liked Spirit Week so much that when I got back to Germany a friend and I tried to organize the same thing. It hasn't worked yet, but I haven't given up.
Charlotte Heine is back home in Frankfurt for her final year of high school.