Project-Based Learning (PBL)
Financial Literacy: Making Sense of Dollars and Cents
The economic crisis signals that schools need to get in the business of teaching money matters.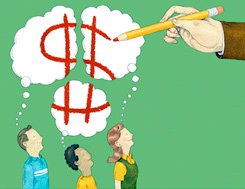 Credit: Wesley Bedrosian
Every day, headlines bring us troubling news of our increasingly fragile and faltering economy. The largest collapse of financial institutions since the Great Depression ricochets across the globe, as investors, politicians, and homeowners scramble to make ends meet over expanding chasms of debt.
When the economy rides and stumbles on $700 billion promises -- and pocket money vanishes with a few clicks of a mouse -- it becomes increasingly urgent to teach young people the basic survival skills of personal finance. It is today's students who will pay for yesterday's poor choices. Their journey through a slowing economy will be greatly enhanced by learning how to spend wisely, maintain good credit, and take out safe, reasonable loans.
In this special report, Edutopia has gathered a variety of insights and tools on financial education that will equip your students for the years ahead. From student entrepreneurship to student-run credit union branches, the topics in this collection of articles and other resources cover hands-on activities and real-world projects in economics, money management, and business skills. Here's hoping little Fannie Mae and Freddie Mac -- with some early lessons learned -- won't repeat their parents' mistakes.