Social & Emotional Learning (SEL)
Give Your Space the Right Design
Feng shui principles transform a classroom.
When Nic Taylor returned to his classroom at Bancroft Middle School, in San Leandro, California, after a two-year leave, he immediately felt his spirits sag. The room was long, narrow, and white, with doors at either end. With no windows, and just a few skylights exposing gray skies, "it felt so sterile," recalls Taylor, "not like a creative space."
He made an emergency call to Deborah Gee, a Bay Area feng shui consultant, who quickly confirmed Taylor's suspicions: His classroom was suffering from a case of very bad chi.
Feng shui is the art of designing for good chi. "Chi is a vital life-energy force," says Gee. "It's what makes trees grow, mountains form, rivers run; it's what makes your heart beat." Feng shui consultants such as Gee specialize in affordable decorating changes that help chi move fluidly through a room. Good chi, she says, promotes good health, good spirits, ability to concentrate, and creativity.
Over the remaining few days before school started, a transformation took place in Taylor's classroom: A friend painted the walls bright green and blue, and Gee put his desk in the far corner, situated toward the door, and students' desks in a semicircle facing the whiteboard. A metal chime and a crystal were hung in the center of the room.
Two Ikea lamps gave a soft glow to the back of the room and framed what Taylor's students have come -- in a testament to the power of human imagination -- to call their "window": a 4-foot-by-6-foot poster of an alpine lake surrounded by snowy peaks and wildflowers. "I sometimes ask the kids to open the window and let the smell of wildflowers come in," he says.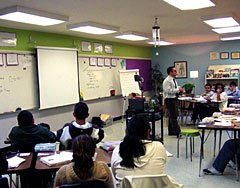 Credit: Courtesy of Bancroft Middle School
Breathe Deeply: New wall colors of blue and green have a calming effect and inspire creativity.
Feng shui principles informed all these changes. Blues and greens have both a calming effect -- critical for hyperactive sixth graders -- and inspire creativity. The two facing doors were a "major no-no," says Gee, because they allow "energy to enter into the classroom and immediately shoot out." Students caught in the crossfire, she says, are likely to be "tense, restless, unable to focus, overactive."
To counteract this sensation, Gee and Taylor placed paper over the outer door's window, effectively closing it off. Classroom walls were cleared of most student work, posters, and other clutter. Furniture was placed according to the feng shui system, which separates space into quadrants for specific functions, such as quiet study or creative work.
The metal chime and the crystal "awaken the mind," says Gee, and bring kids to focus. "Because there are no windows in the room," explains Taylor, "it really feels stagnant, so the crystal kind of stirs the pot."
Together, the changes add up to a classroom that feels markedly different from others at the school -- calmer, more like a living room or a library than a sixth-grade classroom. On the first day, Taylor watched his students react to the changes.
"It was amazing to see," he recalls. "Kids are usually jumpy and nervous on their first day. But instead, they walked more slowly, calmly to their seats." According to his students, the effect has lasted. "It's pretty and colorful," says a sixth grader named Celina. "It's easier to learn in here."
Taylor says there's much about feng shui he doesn't understand but that the results are palpable. "Sometimes, I feel like I've been in California too long when I explain it. But then, you know what? I don't care, because it works!"
Classroom Feng Shui Fundamentals
Here are a few basic principles of feng shui as they apply to classrooms:
Credit: Courtesy of Bancroft Middle School
Outside In: A poster at the back of the windowless room offers a calming view, framed by the soft glow of two lamps.
Both teacher and student desks should be in what feng shui considers the "command position," facing the entry of the classroom to absorb chi as it enters the room.
Bright greens and blues encourage learning and development, particularly in younger students. Older students will benefit from darker colors, such as brown and black, which encourage wisdom and deep thinking.
The entry to the classroom should be unobstructed, leaving a clear path for chi to flow. Obstructions to the path, says feng shui consultant Deborah Gee, "create tension and stress with the students and the teacher."
Bookshelves should be placed in the far left corner of the classroom, from the perspective of the front door. According to feng shui principles, this area encourages learning and critical thinking.
Windowless classrooms lead to stagnant energy and stagnant minds. A painting or a scene of nature creates a sense of bringing outdoors in and has a very strong life-energy force. Plants can have a similar effect.
-- AS
Amy Standen is a former contributing editor to Edutopia. She reports on science and the environment for KQED-FM, in San Francisco.