Social & Emotional Learning (SEL)
Emotional-Intelligence Research: Indicators Point to the Importance of SEL
Research finds that students who receive lessons in appropriate social and emotional behavior do better in school and life.
Following is a summary of research on the effectiveness and workplace benefits of social and emotional learning programs in schools.
Academic achievement and student behavior improve in schools with good social and emotional learning programs.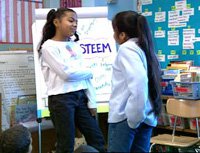 Credit: Edutopia
Research backs up assertions that role-playing lessons in self-awareness and empathy, like this one at Patrick Daly Elementary School in Brooklyn, lead to personal and academic success.
Child Development Program
For almost twenty years, the Developmental Studies Center in Oakland, California, has documented and evaluated results of its Child Development Project (CDP), which integrates lessons on caring, responsibility, and other positive traits with a rigorous curriculum that stresses cooperative learning, class meetings designed to build unity and a sense of shared purpose, buddy programs, and parental involvement. The research has consistently shown that students in CDP schools are more cooperative, helpful, and empathetic, are able to settle disputes among themselves without adult intervention, and are more committed to such democratic values as fairness and justice. They also drink and smoke marijuana less than their peers in their teen years and engage less in delinquent behavior.
Resolving Conflict Creatively Program
A two-year study of 5,000 second- through sixth-grade children in fifteen New York City schools by the National Center for Children in Poverty at Columbia University found a positive impact on children who received regular instruction in the Resolving Conflict Creatively Program (RCCP) curriculum from motivated teachers.
Children who received about twenty-five lessons a year in the RCCP curriculum, which is a violence prevention program with a core underpinning of emotional and social instruction, performed significantly better on standardized academic achievement tests than other children. Their teachers also reported that students in the RCCP classes showed greater emotional control and social skills such as cooperation, were less violent, and felt better about themselves. A separate study of RCCP teachers in Atlanta found that their listening skills, their understanding of children's individual needs and concerns, and their own use of conflict resolution had improved. RCCP, which was highlighted at the 1998 White House Conference on School Safety, also resulted in fewer suspensions, less physical violence, and a lower dropout rate in Atlanta.
Responsive Classroom
A two-year (1996-1998) University of Wisconsin study by researcher Stephen Elliott of two Springfield, Massachusetts, schools -- one that used a social and emotional learning program called Responsive Classroom and one that did not -- found significant social and academic dividends for the students in the Responsive Classroom program. The program is based on six components: a morning meeting, classroom organization, rules and logical consequences, guided discovery, academic choice, and assessment and reporting.
Responsive Classroom teachers reported an increase in such student social skills as using time appropriately, initiating conversations with peers, and getting along with people who are different. They also reported a decrease in such problem behaviors as interrupting, excessive fidgeting or moving, and feeling anxious among other children. The control group reported much less improvement in those areas. Over the two-year period, the Responsive Classroom group also showed significantly greater growth on the Iowa Test of Basic Skills. In 1999, fourth-grade test scores at the school using Responsive Classroom, Kensington Avenue School, were the most improved in the state.
Seattle Development Project
Since 1985, University of Washington researchers have followed three sets of students from public elementary schools serving high-crime areas in Seattle: those without access to a social development program; those with access to a social development program in the fifth and sixth grades; and those who participated fully in a social development program that consisted of parent and teacher training and regular student lessons in cooperative learning, communication, decision-making, conflict resolution, and refusal skills.
An evaluation of the three groups of students at age eighteen found that those who had participated in the full social development program from grades one through six were involved in fewer violent acts, were less likely to use alcohol, drugs, or tobacco, were less sexually active, and had fewer teen pregnancies, and were better behaved in school. They had a greater commitment to school and better academic achievement than both the group with no program at all and the group that had participated in the program in the fifth and sixth grades.
Emotional Intelligence is a key factor in workplace promotion and success.
The Business Case for Emotional Intelligence
A compilation of studies called "The Business Case for Emotional Intelligence," by Rutgers University researcher Cary Cherniss found repeated evidence that possession of such emotional competencies as cooperation, accurate self-assessment, optimism, and ability to handle stress led to greater productivity, job satisfaction or worker retention.
What Work Requires of Schools
Interpersonal skills such as being able to communicate well, teach others new skills, negotiate, and work well with people from diverse backgrounds were included as necessary qualities for success in the workplace. The report, "What Work Requires of Schools: A SCANS Report for America 2000," cites responsibility, self-esteem, sociability, self-management, and integrity as vital job skills.
U.S. Department of Labor
A U.S. Department of Labor survey of employers in the 1980s found that IQ was less important to those hiring teen workers than skills related to interpersonal relations. The ability to learn something new was a priority, but a host of "people skills" dominated the employer wish list: listening and oral communication, adaptability, self-esteem, self-motivation, pride in work, negotiation ability, teamwork, organizational effectiveness and leadership, and making a contribution.