Professional Learning
Resources for Organizing an Edcamp
Organizing an Edcamp? Kristen Swanson, chair of the Edcamp Foundation Partner Program, has curated resources from Edutopia and across the web to help you on your journey.
March 24, 2014
Updated April 12, 2016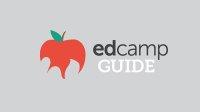 What is Edcamp?
Edcamp: Innovation in Professional Development (Getting Smart, 2012)

In this interview with Getting Smart, teacher, Edcamper, and learner Kristen Swanson describes how the Edcamp movement began.

Why Edcamp? (Edutopia, 2013)

Swanson discusses characteristics of Edcamps, what takes place during Edcamp sessions, and the positive, personal outcomes for educators.

EdCamp (Bill Selak, 2012)

Teachers explain what to expect from an Edcamp in this promotional video. For more specifics about schedule and format, you may also want to check out Mike Caulfield's Common-Craft-style video, "What is an Edcamp?"
video
I'm Ruining Professional Development. Want to Help? (Massachusetts Teacher Association, 2012)

Edcamp founder Dan Callahan talks about how and why the Edcamp unconference movement has grown so quickly and challenges educators to share great ideas with their communities and the world.

TEDxPhiladelphiaED - Kristen Swanson – EdCamp (TEDxPhiladelphiaED, 2011)

Swanson urges teachers to take control of their own learning and throw a bigger party than the one available through traditional, "sit-and-get" professional-development opportunities.

For more educator voices on Edcamps, check out these news and promotional videos, produced in association with specific Edcamp events:
Planning an Edcamp
Planning an Edcamp (Edutopia, 2010)

In this four-part series, blogger Mary Beth Hertz discusses planning for an Edcamp, including advice on how to secure a venue and get the word out, obtain funding, and take care of all the small details.

Hangout On Air: Organizers Discuss How to Run an Edcamp (Kristen Swanson, 2012)

A panel of Edcamp organizers tackles common planning questions.

Edcamp STL Sample Organizer Checklist (Coaching In and Out of the Classroom, 2012)

Use Chris McGee's checklist as a guide for what to address the month before, the week before, the night before, the morning of, the day of, and after your Edcamp event. You can also access a downloadable and printable version of the checklist.

Edcamp organizers share experiences and offer additional guidance and tips in these videos:
Sponsors and Finances
Organizers discuss finding sponsors, fundraising, securing supplies, and managing finances for Edcamps.
Edcamp in a Box
Suggestions for Finding Additional Monetary Donations
Go to local education organizations (e.g. state ISTE affiliates, unions).
Ask local foundations.
Organizers have found that local funders are much more likely to give a monetary donation.
Sample Letters Asking for Donations
Running an Edcamp at Your School
Edutopia blogger Andrew Marcinek gives us a personal perspective on how the Edcamp model changed his professional focus and provides examples of how he's adapted this model for staff, students, and community.
Principal Joe Mazza explains how he set up an Edcamp-style in-service day for the teachers at his Philadelphia elementary school.
Principal Patrick Larkin writes about the experience of organizing teacher-centered, Edcamp-style professional development at Burlington High School in Massachusetts.
People to Follow on Twitter for Running an Edcamp at Your School:
Additional Resources