Project-Based Learning (PBL)
Earth Calling: Teaching Awareness About Our Planet
These articles and videos will put you in the Earth Day spirit.
Earth Day is Saturday, April 22. These articles and videos will put you in the spirit and give you ideas about how to bring your students down to earth.
Juan Martinez grew up in crowded Los Angeles, barely noticing the earth and sky that was masked by the concrete and smog. Six years ago, when Martinez was fifteen, his science teacher proposed he earn extra credit and raise his failing grade by joining the school's ecology club. It changed his life. (Accompanied by video interviews with Jon Young, cofounder of the Wilderness Awareness School, and Victor Wooten, the bass guitar master who runs the Bass and Nature Camp.)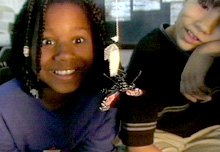 Credit: Annenberg/CPB
It's spring, and monarch butterflies are making their annual 2,500-mile voyage to Canada from Mexico. "What I want you to do is mark on the paper map right now where Mexico is," teacher Frances Koontz tells her class of third graders. "We're going to follow the path of the monarchs and identify the states where they travel. If you need help with the name, look in your atlas."
Erin Rietow was a straight-A but "bored stiff" student at her old high school when she transferred to the project-based West Hawaii Explorations Academy. What changed Rietow's attitude was the approach toward learning at WHEA, located on property of the Natural Energy Laboratory of Hawaii Authority on the lava-covered Kona coast.
Ian's work as a scientist began with a contradiction: "The scientists said that you can't find any horny toads here. And I said, 'My dad and I go out and catch them.'" The thirteen-year-old has now traveled to Idaho and California, where he and three classmates surprised working scientists by describing new discoveries about where the 3-inch-long lizards live and what they eat.
Welcome to the kitchen at the Edible Schoolyard, located on the campus of Martin Luther King Junior Middle School, in Berkeley, California. This 1-acre urban garden and fully equipped kitchen are home to a thoughtful curriculum-based program designed to connect students with the Earth, the environment, and an eclectic group of adults outside the traditional classroom.
When Mark LaCroix and his classmates at Minnesota's School of Environmental Studies discovered patches of buckthorn crowding out native species at a local park, they didn't just write up their findings as a science report to be read by the teacher and then handed back. They compiled data in a form familiar to government agencies and submitted a technical report to local officials, who used the information to direct park gardeners to eradicate the invasive plant.
Related Resources
Kaboose: Celebrate Earth Day -- Every Day