Social & Emotional Learning (SEL)
Pop Quiz: Dolly Parton
The musician's Imagination Library sends a new book to more than a quarter-million preschoolers each month.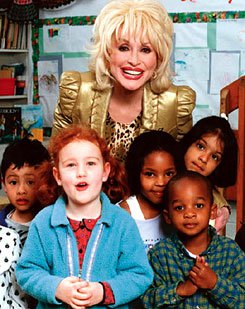 Credit: The Dollywood Foundation
What is your idea of the perfect teacher?
The same things that make for a great person -- a heart full of love, commitment, curiosity, a good listener, a lifelong learner, and a great sense of humor.
What was your most memorable school experience?
In 1964, my class took a senior trip to Washington, DC, and New York. We were country through and through, so this was a very big deal. When I arrived in New York, I felt very special. Everywhere I looked there were billboards, taxis, and buses with signs that said, "Hello, Dolly!" Of course, those signs weren't really for me -- they were for the play, which had just opened on Broadway -- but I had great time joking that New York had done all this just for me.
What was the low point of your school career?
Believe it or not, it was graduation night. I had already made plans to leave for Nashville the next day to pursue my singing career. We had a very small class, so each person was asked to stand up and announce their plans. When my turn came, I stood up and said, "I'm going to Nashville to become a star!" The entire place just exploded with laughter. I sat down, hurt and confused. They just didn't know the fire that burned inside of me -- and why in the world would they laugh at me?
It was also a turning point, because at that moment, my dream became my resolve. Their laughter made me more determined to succeed, and during many a tough time in the early years of my career, their laughter made me work just that much harder.
Did you go to a public school, or a private one?
Definitely a public school. The only private school I ever heard of was one where they sent all the juvenile delinquents!
Where did you fit in your school's social hierarchy?
I certainly wasn't at the top. I was always a bit different. We never had any money, so I could never dress as cool as many of the other kids in school. Lucky for me, I had several real close friends, so we laughed and cut up and had a great time. We tried not to care too much what other people thought about us, because in our eyes we were the most popular girls in school. My song "Coat of Many Colors" was all about being at the bottom of the pile. I believe that is why that song has remained so popular, because each and every person has probably felt the pain of ridicule. It's a pain that can last a lifetime.
What was your favorite subject?
Boys! (Laughs.) To tell you the truth, the most important thing to me was music -- playing and writing songs was about all I ever thought about doing. I did play the snare drum in our little high school marching band. I wasn't really into band music, but I had a great band director. He saw I had a different calling and encouraged me to play the piano and guitar and, most importantly, supported my songwriting habit.
If you could change one thing about education in America, what would it be?
We would better prepare kids for school. I have devoted a lot of time and resources to my Imagination Library, because I know firsthand that so many children come to kindergarten without ever even seeing a book. My dream is that one day we can make sure that every single child in this country will grow up with a room full of books.
What is impossible to learn in school?
I have always believed you can learn anything, anywhere, at any time, so I guess it's possible to learn just about anything in school. We always think of school as book learning, but you also learn about character, integrity, and honesty. Many a life's lesson was learned (and unlearned!) in school.
What should they teach that they don't?
Maybe the problem is just the opposite -- schools are expected to teach too much. Families and communities used to be the best teachers and, unfortunately, they seem to be worrying about everything but teaching their kids.
I'm a real big fan of nurturing kids' imagination and helping them be who they want to be. Everybody is different, so the more we can celebrate our uniqueness, the better.
What did you learn today?
I learn something every day. I wish I never had to sleep, because every single hour of the day is full of possibilities for me.
What did you teach today?
I'm not really much of a teacher, but I was given the blessing to often inspire folks. It's not that I try to do that, but, given my measure of fame, people often seem to think I have something to offer. Probably, they are drawn to my happiness and, through the blessing of my writing and singing, they can hear their own words in mine.
What is in your dream lunch box?
When I was a kid, all I could ever bring to lunch was something left over from breakfast -- like a biscuit. So back then, my dream lunch would have been a sandwich with store-bought meat -- like a bologna-and-cheese sandwich. But if we are talking about today, it would be a big old steaming dish of my chicken and dumplings.
If prom were tomorrow, whom would you take?
Since I've been married to him for forty years, I should take my husband, Carl. However, he probably wouldn't want to go, because he would have to wear a tux -- so I guess I would ask George Clooney!
If you wrote a textbook, what would it be called?
Maybe a physics book called Go Figure. Or a biology book called Tight-Fitting Genes.