Literacy
Why Read? 5 Student Attitudes
October 16, 2015
Updated October 17, 2015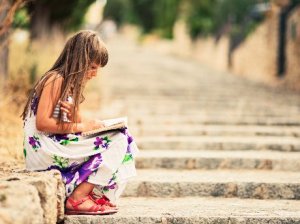 "We don't read," a teenager kindly informs me. She's not being unkind—she's just describing a phenomenon, and that much is clear in her tone. Students read and refuse to read for a variety of reasons. Over the years I've spent in a middle grades classroom, I've seen a variety of attitudes each time I place a book on a desk.
What follows are five attitudes toward reading teased out of that experience. It should be noted that these are not responses to a survey of any kind, but rather generalized statements demonstrating a variety of perceived attitudes toward literacy. I'm sure more attitudes exist and abound in the classroom and beyond.
It will help me get a job: This is perhaps a beginning response and is fairly common. Maybe you've heard it too. I consider it as a representation of the capitalistic approach to education, very much like the concept of getting rewards for work done well. The notion behind this statement is that each part of school results in some material gain. So the question remains, what about intellectual gain?
In other words, if I can just get through this reading thing, maybe I can get a real job and be a happy person. Unfortunately, reading neither guarantees employment nor provides a roadmap to happiness.
As Anne Lamott suggests, those who are engaged in the process of reading and writing are usually beaten by the process, appearing like lab test dogs, shiftless, mangy, and wandering.
Should I award points for this student's position? I would love to push this student to consider the inward, unseen payoff for the learning process, including reading.
It makes us better: Bless you and thank you to the students who at least grasp the concept that reading will somehow make them better. They may not even know how or be able to articulate the long-term effects of a reading life. Better, at least, is a positive word for some kind of sudden or incremental change.
This response definitely gets points for attempting the question of reading. Most teachers (most people?) probably accept the idea that reading makes us better in some way. It sharpens our minds, exposes us to different viewpoints, and makes us more rounded individuals. It enriches our conversation and allows us to move into new conversations we never thought possible.
A response like this one can be good fertilizer for a deeper conversation about what better actually means, rather than just letting better linger as the last word.
It will help us write other stuff: This is the statement from the student who knows that there is an inevitable written test. Common Core's approach to writing ensures that students will be required to engage in a written response, be it narrative, argumentative, or explanatory. My students have practiced these tests for years now.
As one brave teen said, "All we do is read stuff and then write about it."
For my part, I try to make that "stuff" as engaging as possible. I have attempted to expand my library over the years, including graphic novels, car manuals, sports magazines, the flavor of the week book, and a variety of classics. Then I try to construct prompts that sound engaging and include opportunities for creativity.
Reading often leads to writing and this student knows a little bit about the way the educational world runs behind the scenes, having noticed hints that reading and writing work as a cyclical process. This explains why every notable writer I have corresponded with has told me to read more in order to become an effective writer.
It helps us get ready for life: I like to joke with my students that when my principal hired me, he did not ask me for a poem about my feelings or a story about a polar bear wearing a hat. Those kinds of texts do have their place, though. So, obviously, parts of reading come into play in different arenas in life. By having this conversation, my hope is that my students begin to see the place for business letters along with high-class prose, research articles along with popular song lyrics. The relationship is surely not one-to-one; I'm not saying Demi Lovato is the same as Dickens.
Literature represents life, and popular texts, along with nonfiction, can provide inroads to the prized experiences of literary essentialism. Skills like critiquing and analysis can be birthed and sharpened with comic books and then applied to Ulysses later on when the learner is ready.
A generous fist-bump to the student who says reading can help learners get ready for life, yet another place for a valuable conversation to begin with a class.
We have to because of school: My desire for this student is that they begin to see their learning process as more than temporary incarceration with time off, regardless of behavior.
This notion of reading can cause the mind to travel in directions we never supposed and build a world, fashion it out of words. I saw a wrecking ball tearing down a building recently. A pile of that building lay in front of its former structure. Sometimes, that is what reading does. It tears us up so we can build something stronger for ourselves.
I am reminded of a student who recently asked, "Why bother with figurative language? Why not cut to the chase?"
Maybe simply being able to interpret that elusive question is reason enough to read.
This piece was originally submitted to our community forums by a reader. Due to audience interest, we've preserved it. The opinions expressed here are the writer's own.