Student Engagement
Strategies for Reaching Apathetic Students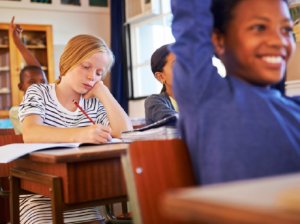 "I don't care." Those three words can cause the most experienced of teachers to grow frustrated: how do we reach students who give off the vibe that nothing matters? Use these questions to better understand and reach apathetic students.
If your student has his head down, is nonresponsive, or won't complete schoolwork, apathy is only one of many possibilities.
Is the student having a hard time at home? Struggling with mental or physical health? Do they have an undiagnosed learning disability, making it feel impossible to complete any task at hand? Have they recently experienced a trauma, or might be experiencing impacts of a past trauma?
Often, what looks like a lack of motivation can be a way to hide the underlying story. It's easier to say "I don't care," than "I need help." Spend time getting to know your student, reaching out to his/her family and guidance counselor, and assessing whether a lack of motivation is truly the issue at hand.
Is the behavior localized to your class or across the board?
Touch base with the student's other teachers. Is the seeming apathy something that's just happening in your class, or is this the student's presentation across all of tbeir classes? Be sure to check in with extracurricular instructors as well: does your apathetic student come alive during basketball practice or chess club? Once you get a fuller picture of your student, you can then begin to refine your interventions.     
What's the big picture, and can the student connect it to the daily details?
It's difficult to stay motivated when we can't see the connection between what's in front of us and what we want out of life. What does your student want for themself in the long term? Is it a high school diploma? A college education? A career? A family?
When we know what students are working toward, we can help contextualize the daily work for them. If I know my student wants to become a chef, I can help them see how working on grammar skills will help them with menu-writing, or how chemistry will lay the foundations for expert baking. If my student wants a high school diploma, I can help them understand how each block of time in class or each completed project adds up toward their graduation requirements. When the little stuff clearly adds up to the big stuff, the little stuff becomes more important.
Where can you build bridges?
If an apathetic student is excited or passionate about even one thing, you have somewhere to start.
Challenge yourself to build bridges between a student's interests and the skills or content you wish to teach. Can a passion for video games turn into an exploration of the scientific method? Can a talent for BMX biking lead to a skillfully written narrative?
Use problem-based learning, inquiry-driven methods, and real-world context to help your students create bridges, rather than feeling like they're jumping off a cliff every time you ask them to do an impossible task in class.
Does your student know you care?
At the end of the day, you ultimately aren't in control of whether your student succeeds or not. You can't make them do work, you can't make them learn, and you definitely can't make them start to care. You can, however, influence all of those things through a caring relationship with your students.
Let your students know you care about them, and then give them the safe space to take risks rather than shutting down.
Finally, sometimes when a student says, "nothing matters," what they really mean is "I don't matter." Be sure that your student knows they matter, no matter what.
This piece was originally submitted to our community forums by a reader. Due to audience interest, we've preserved it. The opinions expressed here are the writer's own.