Media Literacy
Social Media & Students' Communication Skills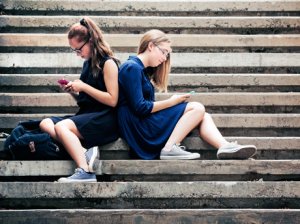 With social media taking up such a large space in our lives, many of us question whether it's impacting our communication skills, more importantly, our students' communication skills. As an English teacher, a writer, and a mom, I am always worried about the repercussions social media will have on my kids' critical thinking, writing and personal & academic communication skills.
But I had to pause and think. We worry about social media's impact, but "impact" itself doesn't necessarily mean negative impact. I needed to remind myself that the use of social media by students can either have a positive or negative effect.
But what if we focus on and drive the positive impact that social media can have on student communication?
Let's start by narrowing down some of the main platforms that students use:
Instagram: A photo sharing app that allows users to edit photos and upload them to share with their followers. Users can choose to have a private or a public account. They can also share a photo directly with a selected few people. This is the equivalent of a private message.
Snapchat: A messaging app that allows you to set a timer on the photos and videos the user sends before they disappear.
Tumblr: A blogging platform but is also similar to twitter in terms of Retweeting and sharing others' posts. Users can post videos, photos, and writing.
Facebook: A forum that is used to post pictures, videos, write status updates, articles and comments. Facebook also contains an option to create pages for different causes and events.
Twitter: 140 characters microblogging platform to share ideas, thoughts, and what you had for dinner.
Interesting Facts About Students' Use of Social Media
Although we assume that most students have smartphones, research suggests that students who come from low-income households do not own smartphones, thus making their digital communication means mainly through text messaging (Washington Post). This is an interesting fact, as there is an assumption that all students have smartphones, and that can impact the pedagogical strategies that we use to integrate social media in the classroom. As a result, it's important that we think about accessibility and students' circumstances when thinking about integrating technology in general in the classroom.
With that being said, a recent study focused on Millennials' use of social media indicates that the most used social media forum is Facebook (PRRI's millennial Survey). That is not to say other apps are not used, Snapchat is generally used by students whose family income is over $75000 annually. Income is one of the differentiating factors in the use of social media, race, ethnicity and gender also play a part in determining students' use of those apps. These factors are important to take into account as the use of social media is determined by the user, who they are, where they come from etc.
Impact of These Tools on Oral and Written Communication
We come back to the question, do these digital tools impact students' oral and written communication in the classroom?
There is a general consensus amongst teachers that these tools do blur the line between "formal" and "informal" writing. But with that being said, in a survey conducted by The National Writing Project, teachers point out that "writing" does not just encompass academic writing done in the classroom. This indicates that more teachers are attuned that writing as a genre is evolving further than essays, reports, and in class writing assignments.
However, when teachers and students were asked if they would consider blogging, posting and texting to be writing both parties did not think so. Writing to teachers and students was confined in the parameters of classroom assignments. (AP & NWP).
We need to help students see that their blogging, texting, tweeting on social media is real writing. Their writing is real writing because their writing is their voice. Student voice needs to be nurtured and appreciated in the classroom, regardless the outlet they use to communicate it. When teachers show the importance of formal communication to be practiced on social media platforms, students are more inclined to practice good digital citizenship.
Students will believe in themselves if we believe in them. We can believe that they produce great thoughts and ideas. We can also believe that social media's powerful element of connectedness can help to pass on students' thoughts to drive impactful change in this world.
This piece was originally submitted to our community forums by a reader. Due to audience interest, we've preserved it. The opinions expressed here are the writer's own.