Technology Integration
Paper, Pencil, Chalk, or Doc: Which Medium for Which Lesson?
March 20, 2015
Updated March 19, 2015
As much as I love the myriad ways that the internet and a variety of digital tools have engaged and empowered my students, I'm in no hurry to become a paperless classroom. This means that when I'm planning my lessons, in addition to asking, "What is the best way for my students to tackle this concept, practice this skill or learn this new material?" I have also learned to consider, "Should we pull out the laptops or smart phones, or will our spiral notebooks be a better medium?"
Here are just a few examples of when and why I decided to keep our lesson unplugged:
Writing
Although writing in a Google Doc allows students to more easily draft, cut, move and revise their writing, I find students dig in more to the writing process if they can work through some of the stages with paper and pencil. They might brainstorm first on paper (doodling, webbing, listing, etc.), then draft in a Google Doc, and then double-space, print out and use a colored pen to edit and revise on paper (we all know that colored pens are better for the revision process, so I try to keep lots on hand). I show them pictures of authors' drafts that are full of hand-written changes to inspire them to go ahead and get messy with their writing - it's a messy process! And they seem to be most productive when they are working with a hard copy of their current piece.
I remember the days of final drafts written by hand, and how students hated that part of the process. Often they wouldn't actually improve their writing, they would just rewrite it. Much neater. So I'm all about final drafts in a Doc. But for revision, we're sticking with the good ol' messy, marked up paper.
Notebooks
In the August weeks before school starts each year, I watch for spiral notebook prices to drop to a quarter or dime each. I buy enough for all of my students, and store them in the classroom so they don't get lost or used up for other classes. My students use these notebooks for a variety of purposes: taking notes, practicing new concepts, making lists of "books to read someday," journaling, brainstorming, etc.
As we move more of our work online, I wonder if I still need to buy the notebooks. We usually use only half of the pages by the end of the year. But studies like this one ("The Pen Is Mightier Than the Keyboard: Advantages of Longhand Over Laptop Note Taking," by P. A. Mueller and D. M. Oppenheimer, Princeton University) suggest that there are brain benefits to writing by hand. Even more than that, though, I want my students to be able to doodle as they listen, list, web, scribble and brainstorm with all the freedom that pencil and paper give them in a tactile, hands-on way.
Blogging
I know what you're thinking: blogging is done online, isn't it? Yes, of course. But before my students launch their own blogs, they practice blogging on paper. And here's why: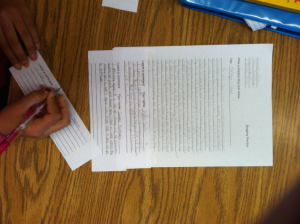 Before they write their first blog post on paper, I tell them that what they write will be passed around the class for all to read. Their eyes get big and they glance around to see who will be reading their work. I point out that blogs are like that: whatever they post on their blog is passed around the internet for all to see. And now "audience" takes on a whole new meaning.
After their paper blog post is passed on to someone else in class, they each write a comment in response to a classmate's blog on a small piece of paper. Then they tape their comment on to the blog. My hope is that this physical action of taping their words on top of another blog post will help them see the responsibility they have when commenting online on any blog or website. They are attaching their words to someone else's piece of writing. And that is powerful.
How do you decide when to use digital tools and when to go the more traditional route? What benefits do you see to paper and pencil vs. digital? Please share in the comments below.
This piece was originally submitted to our community forums by a reader. Due to audience interest, we've preserved it. The opinions expressed here are the writer's own.