Classroom Management
Mindful Classroom Management & the Power of Patience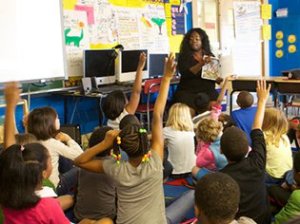 Photo Credit: US Department of Education (CC BY 2.0)
This week, I called in a substitute for my third grade class. When I returned, along with a stack of spelling projects, I found a little post it note which nearly knocked me off of my feet. It read: "I'm not sure how you did it, but you have transformed this class since the beginning of the year." Needless to say, her notes from two months ago sounded markedly …well…different. 
Looking back over the course of this year, I had my moments of doubt with this particular class. "Will I ever get this class in working order? Are they even capable of behaving?" These were just a few of the pesky little thought clouds that popped up at those not-so-comical moments with my third graders.
In November, I was called in to take over as a second language teacher at a local school. With over a decade of teaching experience and a few education degrees under my belt, I felt confident that I could breeze into any classroom feeling cool and calm. 
Entering my new school, I was greeted with five sets of students who would come to see me throughout the week for second language instruction. While several of the students knew how to "test limits" as so many do, there was one class of third graders that nearly ripped the cool and calm out from under me. 
Flying paper airplanes, shouting, standing up on chairs, and forgetting every possible school supply were just a few of the antics on my long list. Walking into this same class a few months later, it is hard to believe that any of that ever really happened. 
What I would like to share with my substitute, and anyone else who has ever struggled to control a group of (extremely) rowdy children, is that it can be done. Here is the gold standard treatment that worked for me.
Patience. In this day and age, it seems that everything is instant. Instant music downloads, instant picture uploads, instant soup, and of course, the instant gratification that comes along with all of that. Forget about it. This one will take time. 

Faith. Believe in your students. Believe that they can and will behave; one behavior modification at a time. If they don't know how to walk into your classroom, give them the opportunity to try again. One routine at a time. Again and again.

Respect the little people. Know that one day, in ten years, you will walk down the street and meet face to face with the sweet little airplane throwing third graders and that they will remember you. When you speak to them and give them directives, speak to them as you would like to be spoken to. Never use shame to modify behavior.

Praise the positive. When you notice your students on task and doing what is expected of them, let them know. Some students appreciate being mentioned individually, and others may like to be praised in pairs or groups. Experiment with rewards, and find a system that works for your environment. 

Relationships, relationships, relationships. Take every opportunity to get to know your students. Incorporate opportunities for them to share about themselves in daily assignments and discussions. Respect their willingness to share or not to share. Provide multiple avenues for students to share opinions. Rather than sending the "trouble makers" out of class, draw them closer and invite them to have lunch with you. What appears to be "bad" behavior may actually be a cry for help. 
This piece was originally submitted to our community forums by a reader. Due to audience interest, we've preserved it. The opinions expressed here are the writer's own.