Student Wellness
Dear Micaela: An Open Letter to Our Daughter, the Teacher's Kid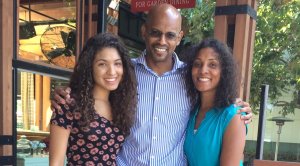 As educators, we have witnessed children, from the elementary-level to high school, as well as adults in college, excel incredibly in some cases and fall short of potential in others. In fact, the most concerning thing for an educator-parent to observe in a very capable student is not realizing her/his potential. We are sure you understand that the pressure we put on you to excel is not a case of us asking you to do something that you aren't capable of doing, but rather our expectations represent what we know you have the preparation, support, and intelligence to handle. Having said that, we also have witnessed some students become demotivated by inordinate amounts of pressure being placed on them at an early age. Thus, it is our hope to be thoughtful and caring while encouraging you to reach the great potential we see in you.  
To answer your first question, "Mom and Dad, are you proud of who I am becoming?"
We are definitely proud of the promising young woman you are becoming.
We are particularly proud that you have become so confident in your own ability to reason, that you do not allow peers to distract you from your long-term goals with short-term thinking. You have done as you encourage other teens to do - Set yourself apart from others.
We know you are going through a challenging time. Much of what you are experiencing seems abnormal to you and you are likely tired of hearing us say, "when I was your age..." or "I was 16 once too". Yes we see a little bit of ourselves in you, but the truth is you are going through the very changes that many teenagers go through and we commend you for being you in the process. Continue on this path. We do not expect you to be a "replica" of us, but rather to chase your own dreams as far as they take you. With your intelligence, determination, and above all else, integrity, you bring a combination of preparation, skills, and heart to the table that make your journey unique and fascinating to watch.
As you mentioned in your letter to us, "Communication is key" and "Your parents are there to help". Your (learned) practice of communicating with us whenever you find yourself facing difficult choices provides us with confidence in how you will handle potential challenges along your path. By being open to advice now, you are gaining experiences in analyzing life's dilemmas and searching for reasonable solutions that will serve you for a lifetime.    
As for your second question, "Dr. Mom and Dr. Dad, how do I successfully balance the pressure of performing academically with my social life, sports, and extracurricular activities?"
We can answer this one with a single word: prioritize.
As a student who has excelled both academically and athletically, you have had to come to grips with the relative importance of sports and other social or extracurricular activities as compared to your academic studies. Some uncomfortable decisions had to be made, given that your academics have always been primary in our minds. This is not to say that these other activities are unimportant - they are important. Sometimes these activities are the very ones that help you to relax. Here again, we are proud that you have grown to recognize when you have needed to pull back on non-academic pursuits to make sure that your studies are given their proper attention.  
It is important to us that you have acknowledged the unique road that an African-American scholar must take. Although you recognize that, in some circumstances, African-American students face challenges that other students may not have to endure. Stereotypes about the intelligence of any student can impact both their confidence and motivation despite their desire to do their best academically. It definitely pleases us that you view this circumstance as a challenge rather than an obstacle. Your determination to succeed is in no way reduced by the need to prove yourself over and over again to allay those unfounded stereotypes. As such, you are a shining example for other African-American students (and for that matter, any student) to emulate.
Finally, and perhaps most importantly, when you start to think about pressure associated with your academics, we want you to realize that we recognize that you, just like us, are a "work in progress." As you continue to embrace who you are (the child of educators):
Don't forget that even the greatest academics have learned from their own mistakes in order to become successful in their pursuits. If there is an instance wherein you do not achieve what we know you are capable of, our focus is not to try to characterize it as a "failure" but rather to recognize it is an opportunity to improve.
Any pressure you feel should not be to be perfect every time, but rather to learn from your mistakes and use them as motivation to push forward to your capabilities.
We will always be here to support and encourage you through the process, and we will continue to marvel at the intelligent, determined, and mature young woman you are becoming.  
This piece was originally submitted to our community forums by a reader. Due to audience interest, we've preserved it. The opinions expressed here are the writer's own.