Classroom Management
Collaboration Ottomans? Chairs on Wheels? Which 21st Century Furniture Works for You?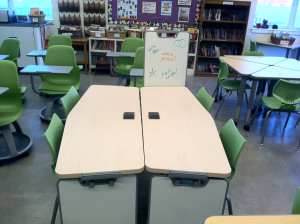 I know exactly what my students will do when they walk in the door tomorrow. They'll push in with gusto, as always, and then they'll stop dead in their tracks, mouths agape, blocking the path of those behind them, as they take in the sight of our new furniture: bright, light, triangle tables on wheels; neon green chairs; swiveling chair/desk combos on wheels; a table-group with attached whiteboards for brainstorming; and best of all, a cluster of four soft ottoman-style perches surrounding a low, round collaboration table.
Once they take it all in, they'll dash to what they think will be the best place to sit. Do they want to be in a group with their friends? Do they want those whiteboards? Or will they all run for the Jetson-style chair/desks with a saucer underneath to store their backpacks?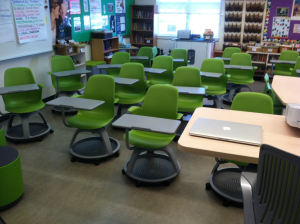 Thanks to our generous community, a school bond was passed last year that includes new furniture for every classroom in the district. While some may question the use of so much money for furniture, it is easy to see that the factory-model of education (which dictated the line-'em-up factory-style furniture our classrooms have always had), is no longer the best way to educate our children. When I look at the brand new cozy collaboration center in the corner of our classroom, I picture kids eager to try it out, to sit, lean or sprawl on the ottomans as they put their heads together (literally) to brainstorm, work on a project or study new concepts. While I have always had my students collaborate in groups or partners, I can see how much more naturally collaboration will occur (at any time, when my students feel the need) when we give them the furniture and actual spaces that encourage the kind of teamwork germane to so many careers today.
We haven't decided which style of furniture we will be purchasing, so my students have the exciting task of testing out a variety of models. Eventually we will have to choose which style and combination work best for our particular subject area, age group, etc.
I'm hoping some of you have invested in 21st century furniture similar to what we are piloting and can share your experiences. My initial thoughts are: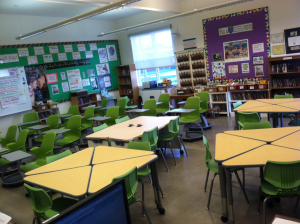 the first question that everyone asks is: middle school students in chairs on wheels? Are you crazy? But I love the flexibility: so easy to move to a partner, to a group, to solo, and no fingers-on-the-chalkboard screeching noises as they drag chairs and tables across the floor. How do you help your kids manage a chair on wheels?
the Jetson-style chair/desk with the saucer underneath looks really great, but that desktop doesn't look big enough for a laptop and notebook or textbook. Is there enough room? I wanted to also pilot the Jetson-chair/desk without the desktop (in combo w/a table), but they didn't send me that one. Anyone out there had experience with either one?
the tables with attached whiteboards look really cool, but I haven't been hit with an "oh, I know exactly how we'll use that!" moment. Is that more of a math/science set up? I teach English and Digital Media… My students do a lot of brainstorming, but I'm not sure the whiteboards are better than their notebooks… What do you think?
the triangle desks look great for group work, but the surface area looks a little small. Can students work with a laptop and/or notebook and/or textbook on those surfaces?
My students will be recording their feedback over the next few months on a Google form so that they can share their experiences with the district as they notice whether or not the furniture works for them. We would love to hear your experiences as well!
This piece was originally submitted to our community forums by a reader. Due to audience interest, we've preserved it. The opinions expressed here are the writer's own.