Technology Integration
The Digital Promise Project: Using Technology to Transform Education
How to use technology to widen the educational scope.
October 16, 2002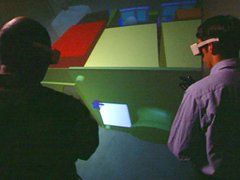 Credit: Edutopia
Digital Promise Project: An Education Initiative
Editor's Note: In January 2010, after over a decade of nationwide effort, the Department of Education made funding available to establish the National Center for Research in Advanced Information and Digital Technologies, one of the major goals of the Digital Promise initiative. Find out more at the Digital Promise website.
For the Digital Promise Project, The George Lucas Educational Foundation has produced a short video to share the potential of new technologies in learning for schools, universities, and the workplace. Digital Promise is a project advocating the establishment of a major federally funded educational trust fund to support the use of digital technologies, especially the Internet, to transform education, training, and lifelong learning.
This educational trust fund (called the Digital Opportunity Investment Trust, or "DO IT") would be financed by billions of dollars in revenue from auctions of publicly-owned telecommunications spectrum, as mandated by Congress. The Digital Promise Project is chaired by Lawrence K. Grossman, former president of NBC News and PBS, and Newton N. Minow, former chairman of the Federal Communications Commission. Two bills have been introduced in the U.S. Senate and House of Representatives.
DO IT's proposal is in the spirit of the great American educational innovations of previous centuries such as the GI Bill of 1948 and the Land Grant Colleges Act of 1862 that helped transform our nation's economy and strengthen our democracy.
Examples of activities that could be funded by DO IT include:
Training teachers in the best uses of new information technologies
Digitizing America's collected memory stored in our nation's universities, libraries, and museums to make these materials available for use at home, school, and work
Creating inviting training materials for workforce development, adult learning, and civic engagement
Developing programs that measure the progress of individual students so teachers can adjust their teaching to the specific needs and abilities of each learner
Utilizing new technologies to disseminate the best of our arts and culture locally, regionally, nationally, and even globally
For further information, go to www.digitalpromise.org.